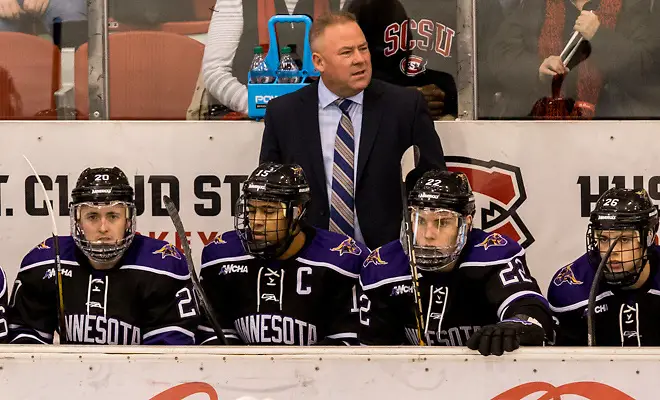 Minnesota State was eager to set the record straight.
The Mavericks had already lost once earlier this season to St. Cloud State, as well as Minnesota Duluth — both big instate rivalry games for MSU. The Mavs had been shut out by the Huskies in their season opener in Mankato. Then, a few weeks later, they went north to Duluth and lost 3-1 on the Bulldogs' home ice.
The fact that the Mavericks had the opportunity to avenge defeats to both teams in the span of one week, then, was a big deal. And they took advantage. MSU beat St. Cloud 5-2 on Saturday in Mankato before going back home Tuesday to edge Duluth 1-0.
"With us starting the season losing to St. Cloud and and then going into Duluth and losing that game, we put ourselves a little bit behind the 8-ball, and the two opportunities we had to get back, we really needed them," MSU coach Mike Hastings said. "(It was good) to have the guys feel good about some efforts and make bigger efforts than they did the times we played them before."
Saturday's win at third-ranked St. Cloud State on Hockey Day Minnesota somewhat made up for the fact that the Mavericks were blanked 4-0 when they faced off with the Huskies on Oct. 7 — one of just two times this season they've been shut out. In that October game, MSU actually outshot the Huskies 42-26, but had nothing to show for it.
On Saturday, the situation was reversed, with the Huskies holding the slight shots advantage in the confines of the Herb Brooks National Hockey Center. But the team with the No. 3 scoring offense in the country poured it on with five goals. The Mavericks took an early lead on Conner Mackey's goal and Zeb Knudson scored the first of his two on the evening to make it 2-0, which set MSU up well for the rest of the game. Jake Jeremko and C.J. Suess also scored.
"The place is sold out, and I've been in this building when you're running uphill all night," Hastings said after that game. "So it was important for us to get a lead. I thought we played a pretty smart first period."
After Tuesday's win, the Mavs had a quick turnaround against an entirely different opponent in Minnesota Duluth. The Bulldogs came into the game unbeaten in their last seven games — including a sweep against North Dakota the weekend prior.
And unlike Saturday's high-scoring affair, it was defense which proved the difference for MSU. The Mavs held the Bulldogs to just 15 shots on goal — al. of which Connor LaCouvee turned away for the shutout. The Mavericks power play was also a perfect 4-for-4. Parker Tuomie scored the lone goal in the second period.
"Somebody's got to step up and make a play, and (MSU forward Marc) Michaelis made a great play to Tuomie, and he finished," Hastings said. "Then I thought Connor LaCouvee was rock solid. That and our penalty killing, which was really important. I'm happy with the effort. It was a very important win for us at home."
The two victories helped the Mavs, now 19-7-0 overall, push their nonconference record to 4-2-0 — in addition to splitting with SCSU and UMD, they also swept Boston University on the road. The WCHA league-leaders are currently No. 6 in the current Pairwise rankings — which means they're set up pretty well for the NCAA tournament no matter what happens in the conference tournament.
The Mavericks have a break this weekend before returning to action Feb. 2-3 with a home series against Alaska Anchorage. They're currently two points ahead of second-place Northern Michigan with eight regular-season games remaining.
"Because of the amount of games we have on our regular-season schedule, we don't have a lot of opportunities to play out of conference," Hastings said. "So (winning both games was) very important. We've talked about it in the past, we're trying to get better as a league outside of league play."
Home, finally
After a long, long road trip Alabama Huntsville will finally play a home game this weekend.
The Chargers haven't played a home series since Nov. 24-25 — a split with Ferris State — and have spent the past two months traversing around the WCHA.
They flip the script this weekend when they host Bemidji State and won't play another road game in the regular season. That's a stretch of eight games that could help the Chargers make a late, well, charge up the standings.
It's also going to be an emotional weekend in Huntsville. The Chargers and Beavers have a history with each other from their pre-WCHA days, and the Chargers are going to be celebrating the 20th anniversary of their 1997-98 NCAA Division II championship — which they won against Bemidji State.
That championship was the penultimate Division II title. After the 1998-99 season Division II hockey folded, with most of the teams joining College Hockey America — like the Beavers and Chargers — of going down to Division III.
Ice Chips
— Alaska rookie forward Steven Jandric ranks fifth in scoring among fellow league freshmen with 17 points. Jandric has tallied two goals and 15 assists in 26 games this season and leads the WCHA in plus with a plus-8 rating.
— Bemidji State refuses to lose a conference game. The Beavers' two wins in their sweep at Ferris State were their seventh and eighth straight WCHA victories, respectively. They're unbeaten in 11 straight league games. And BSU goalie Michael Bitzer moved one step closer to a national men's shutout record in Friday's 2-0 win. He surpassed Vermont's Joe Fallon for his 21st career shutout. He's now in sole possession of second place and five back of former Michigan State goaltending great Ryan Miller, who is first on the D-I men's list with 26. The Beavers have 10 regular-season games remaining — so he could conceivably pass Miller in that span if the Beavers continue playing solid defense.
— Michigan Tech saw to different players suit up for their 100th career games during their weekend sweep with Alaska: Dane Birks and Dylan Steman. Birks has a career-high 13 points this season with four goals and nine assists while Steman is currently on a four-game point streak with two goals and five assists over the span.
Players of the Week
This week's WCHA players of the week are Minnesota State senior Zeb Knutson (offensive), Northern Michigan sophomore Philip Beaulieu (defensive), Bemidji State senior Michael Bitzer (goaltender) and Bowling Green forward Brandon Kruse (rookie).