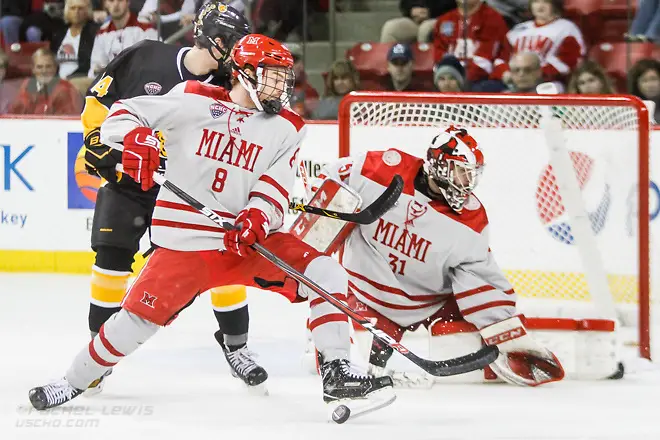 Miami is fresh off its last bye week of the season, one last breather before a grueling lead-up to the postseason.
The RedHawks had picked up decent results recently in splitting with top-15 teams Cornell, Western Michigan and Denver, but MU's last three outings all ended in losses.
After a 4-1 home defeat against Denver on Jan. 6, Miami scored 10 goals in two games at Omaha on Jan. 12-13 but lost on both nights. The series opener, an 11-7 Omaha win, was nobody's idea of a typical game at this level.
UNO scored four power-play goals and broke an 11-year-old school record for the most goals scored in a game.
Even Mavericks goaltender Evan Weninger was credited with one late on an odd play where he was the last UNO player to touch the puck before it went in at the far net.
Miami scored three goals in both the second and third periods and got seven in a game for the fourth time this season, but in the end the standings points went elsewhere.
In the teams' rematch, a valiant third-period comeback effort fell short as Miami dropped a 4-3 decision. Two goals from Phil Knies and another from Josh Melnick weren't quite enough to cancel out a four-goal second period from UNO.
Miami coach Enrico Blasi suggested this week during his regularly-scheduled press conference that his RedHawks have drawn a line under that series at Baxter Arena.
Now, a Miami team leaking 3.27 goals per game this season (good for 50th in the country) will try and shore things up on the road against Colorado College, which has won two of its last seven games.
"You always want to play good team defense, and I think we've already turned the page from that weekend," Blasi said. "Certainly, it's not indicative of what our team's capable of, so we moved on and we've got to play better in all three zones with or without the puck."
Doing so in Colorado Springs could do wonders in the long run for a Miami (9-11-2, 4-7-1 NCHC) team that, despite being last in the NCHC standings, could still threaten to clinch home ice for the first round of the conference playoffs.
There's a tough road to hoe, however:
After visiting CC, the RedHawks' lowest-ranked remaining opponent out of five is No. 12 Western Michigan.
Mavericks still have plenty to play for
After giving Miami a weekend to learn from, Omaha got one of its own.
The Mavericks have now lost each of their last 12 games against Denver and hasn't scored in the last three. Two of them came last weekend at DU's Magness Arena as the then fifth-ranked Pioneers rode to a 5-0 win Friday before blanking UNO again Saturday, 4-0.
Nineteenth-ranked Omaha could certainly be in a worse situation than it is, as the Mavericks are 5-3 in their last eight games dating back to a home sweep over Union just before New Year's. However, with regards to UNO's strength of schedule, the hits just keep coming.
Western Michigan comes to Omaha's Baxter Arena this weekend before the Mavericks visit current No. 5 St. Cloud State next week. There's a week off after that before 11th-ranked North Dakota comes calling.
In fact, of its five remaining regular-season series, the only currently unranked team on Omaha's docket is Colorado College (in Omaha on Feb. 23-24).
With opposition like that, there's no looking past one opponent toward another. Omaha coach Mike Gabinet gets that, and he knows his team needs to get back on the horse after a tough weekend in Denver.
It's fair to say that Omaha (12-11-1, 5-9) isn't having quite the level of success the Mavericks' first-year head coach would've preferred. There's still much to play for, though, with UNO 14th in the PairWise Rankings despite being second to last in the NCHC.
Racking up wins over the next month and a half – beginning this weekend against Western Michigan, of course – could give the Mavericks more than just a fleeting pick-me-up.
"We've got to figure out ways to get some wins here down the stretch against these top teams, and so you're right back to work on Monday," Gabinet said. "You're talking about the things we need to focus on, you're making sure that their mindsets are refocused and you're also sharing with them what it takes to be a top program, and so I think our guys are slowly figuring that out.
"It takes time. There's no magic switch just to turn into a national contender right off the bat."
Players of the week
Offensive player of the week: Joey Anderson, Minnesota Duluth. The sophomore forward enjoyed a six-point weekend as UMD picked up a home sweep over North Dakota. Anderson posted a goal and five assists against the Fighting Hawks.
Defensive player of the week: Ian Mitchell, Denver. The freshman defenseman had five points in Denver's home sweep last weekend against Omaha. A goal and four power-play assists bumped Mitchell up to 20 points for the season.
Rookie of the week: Scott Perunovich, Minnesota Duluth. Perunovich had two goals and as many assists in Duluth's big weekend against UND. The freshman defenseman leads all NCHC rookies with 23 points on six goals and 17 assists.
Goaltender of the week: Tanner Jaillet, Denver. Where else would you go on this one? The senior pitched back-to-back shutouts for the first time in his collegiate career and made 64 saves in the Pioneers' sweep over Omaha.