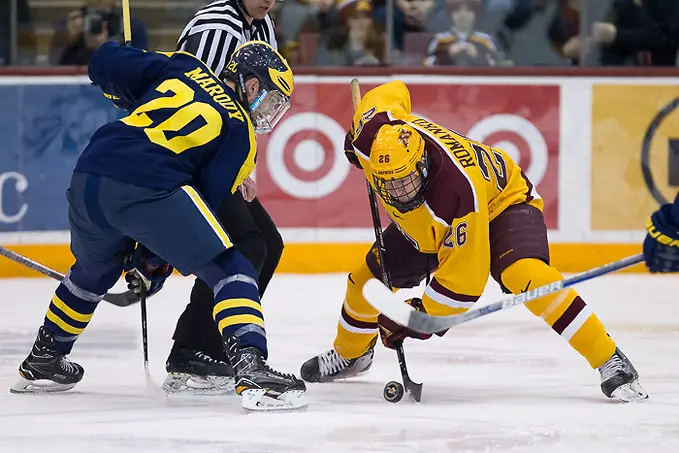 By Dean Spiros
Despite being among the nation's leading scorers and a Hobey Baker Award nominee, Michigan's Cooper Marody would like to think that he's not one to sing his own praises.
But he's more than happy to sing his own songs.
On the ice, he's a pass-first center who has helped lead the resurgent Wolverines to back-to-back sweeps of Minnesota and Penn State. In the weight room or at team functions he's the voice providing the pop-country tunes that entertain his receptive teammates.
The once-shy kid who limited his singing to carpool karaoke has become, at 21 years old, a burgeoning singer/songwriter. Marody said he has written 20-25 songs, most of which have been recorded and produced locally.
NCAA rules prohibit him from making any earnings from the music, but his plan is to one day release the music on Spotify and iTunes.
At that point, the 2015 sixth-round pick of the Philadelphia Flyers plans to be well on his way to establishing himself as an NHL player.
"It's definitely hockey first," Marody said.
That was always his dream while growing up in Brighton, Mich., to play first for the Wolverines and then in the NHL. But the boy with tunnel vision has matured into a young man who has embraced the notion that "hockey first" does not have to limit him to a one-dimensional existence.
Marody credits Michigan executive associate athletic director Greg Harden with helping him understand the difference. Harden is a highly-regarded life coach and performance consultant who gained notoriety by serving as a "guru" to former Michigan and current New England Patriots quarterback Tom Brady.
An admitted Brady fan, Marody realized that Harden was a valuable resource at his disposal, so he sought him out.
"Greg talks about being great at everything you do, and to work as hard as you can at everything you do," Marody said. "Working at being a good musician will help me be a good hockey player. A lot of people look to be good at one thing, so if it doesn't work out as a hockey player [you feel that] your life is over.
"I talk to Greg about being a multi-dimensional person, and having different passions. Greg instilled in Brady that, without or without football, he will do great things. Once I captured that mindset I have never felt more confident on the ice, and in all aspects of my life."
Confidence was something Marody used to lack when it came to singing. Sure, his mother told him he had a good voice when she listened to him sing along to the radio, but to sing in public?
He had no choice but to do just that one night while out to dinner with his teammates while playing in the USHL. In a game called "Shoe check." if a teammate marks your shoe with something without you noticing it, you have to stand up and sing. Marody got shoe checked.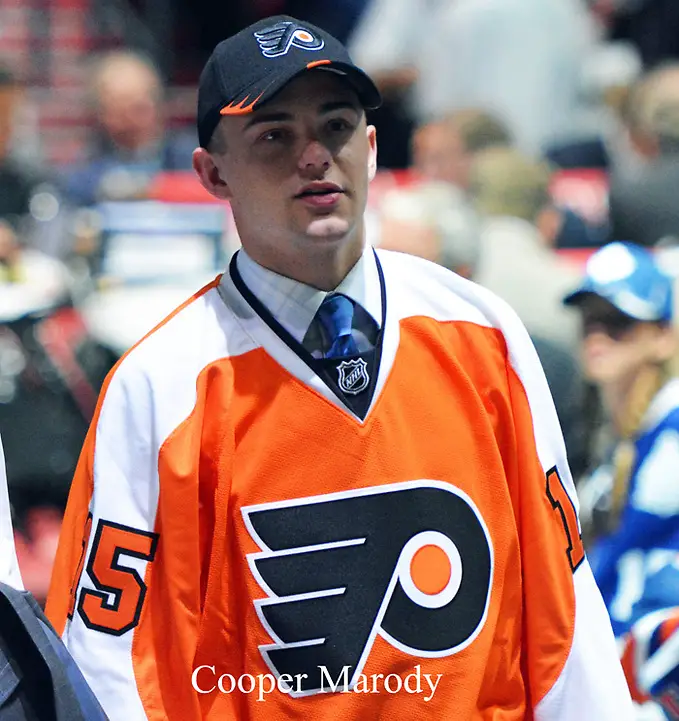 He sang "With you" by Chris Brown.
The "audience" seemed to like it.
Just as importantly, Marody felt surprisingly comfortable doing it.
Not long after, in the summer prior to Marody's freshman year at Michigan, his father surprised the family while on vacation by pulling out a guitar and playing a few songs. The next day, Marody went out and bought a guitar of his own, and he's been playing ever since.
Once settled in his freshman dorm, Marody began spending much of his free time in the music room. He taught himself to play the piano, and he began writing songs.
"I've always been drawn to the fact that music can draw out emotions in people," Marody said. "I like music that tells a story. Everyone goes through the same things, and it's cool to hear those things expressed musically."
It's too soon to consider the possibility of a Grammy in his future, but winning the Hobey Baker is a different story. While he slipped from third to eighth in the national scoring race after a scoreless weekend against Penn State, Marody is only five points out of the lead, with nine goals and 22 assists for 31 points in 24 games.
"I put in a lot of hard work over the summer and it is paying off," Marody said. "But it's definitely a reflection of my linemates. Playing with Tony [Calderone], he's a pure goal scorer. And Dexter [Dancs] has a lot of skill; a big body who works hard in the corners. So it's a good combination."
The 6-foot, 190-pound Marody has tried to pattern his game after Washington Capitals center Niklas Backstrom,
"He's very poised with the puck," Marody said. "He protects the puck well in the corners in the offensive zone. He finds goal scorers, he's good on draws and he's reliable defensively. I think I possess certain qualities and characteristics that I think resemble his game."
Marody is confident that those qualities will translate into an NHL career.
"Going into the draft I was hearing that I would go in the second or third round, and that it would be a shock if I went in the fourth round," he said. "So I definitely was expecting to go a lot higher, but that's just another lesson. I've never been a hyped guy; I've had to earn everything.
"Tom Brady was a sixth-round pick, 199th overall. We've both been taught to develop the mindset that you have to try to earn it every single day."
Sounds like a good subject for a song.