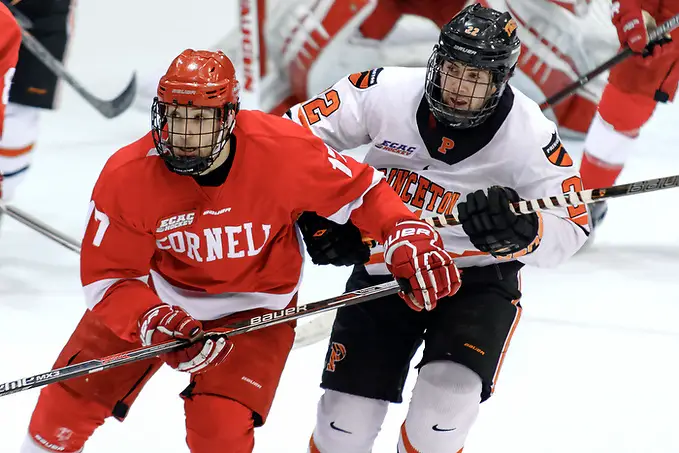 Each week during the season, we look at the big events and big games around Division I men's college hockey in Tuesday Morning Quarterback.
Jim: Despite the fact that the calendar is about to turn to February, we have a new No. 1 team in the USCHO.com poll as Cornell jumps into the top spot for the first time this season – and first time in almost 15 years.
The Big Red have done it the patient way. They've slowly climbed up the poll, consistently posting win after win while the teams most have believed in all season – Denver, St. Cloud State and Notre Dame – have all faltered along the way.
Cornell is doing it with defense, boasting the best back end in college hockey. Cornell has allowed just 1.43 goals per game, and that's heated up of late, allowing just two goals in the last five games.
I mean, read that.
Cornell has shutout three of its last five opponents while allowing a single goal in the other two games. Goaltender Matthew Galajda now has six shutouts on the season.
This reminds me of the Cornell teams of old, particularly those of the early 2000s, when Cornell won two ECAC tournament titles and reached the Frozen Four in 2003.
I'll admit that it's taken me some time to warm up to this Cornell team, but also believe when a team simply becomes a shutdown defense in hockey, there is a lot of potential for success.
Paula: Cornell's current undefeated streak (9-0-1) is particularly impressive because the Big Red has allowed on average 0.80 goals per game in this 10-game stretch.
In addition to the three shutouts and just two goals allowed in Cornell's last five games, the Big Red allowed more than a single goal just once in January – the 3-3 tie with Yale Jan. 12 – and Galajda has four total shutouts in the first month of 2018, including the three consecutive that you mention.
While Cornell steadily improved through the first half of the season, I'd say that the team's January numbers indicate a definite arrival. That was an insanely good month of hockey for the Big Red. Like you, it took me a while to warm up to Cornell, but I am convinced. As I've mentioned before, I also have a healthy respect for unbeaten streaks, especially when they come in the second half of the season.
A brief mention of the team that lost the top spot in the poll this week. The 5-0 Wisconsin win that snapped Notre Dame's win streak seemed like an anomaly, but an important one: it was a lesson in what can happen when a team nearly completely dependent on defense has a defensive breakdown. The Irish are 23rd nationally in scoring offense. Their defense was superb in their 1-0 overtime loss to Minnesota Friday, but again that inability to score was exploited.
You mention Denver, too, a team that received a single first-place vote. The Pioneers are unbeaten in their last five games (3-0-2) after tying North Dakota twice this weekend, and like Cornell and Notre Dame, Denver has one of the top defenses in the country. They didn't have the month that Cornell had, but the Pioneers allowed more than a goal in two of their six January games, a 4-3 loss to Miami Jan. 5 and a 3-3 tie with North Dakota this past weekend. Tanner Jaillet was in net for all six of Denver's January games with two shutouts and two games in which he surrendered a single goal. That's in tough NCHC competition, too.
Jim: I guess the point to be debated here is whether or not defense alone can win a championship. It's a well-debated, almost overdone topic in college hockey as I feel like somewhere around this point in the season we're always asking this exact same question.
My gut is to say that defense alone isn't enough. A solid defense with a better-than-average offense can be enough. So let's look at the stats as to which team is where in the national rankings.
Cornell, Clarkson, Notre Dame and Ohio State are your top four offenses. But when it comes to offense, Clarkson and Cornell are the only two of those schools to be in the top 10. So let's go to the other side. The top four defenses are Minnesota State, Penn State, Omaha and St. Cloud State. Minnesota State, tied for fifth in defense, is the only one of those teams in the top 10.
So where does that leave us? I guess it's a matter of opinion.
Personally, I feel like a team that can score and be able to be pretty good defensively is the team I'd put my money on in the NCAA tournament. Defense is great, trust me. But in a single-game scenario, when a great defense meets a great offense, so often that defense can break down. Thus, if you're not able to score at the other end, a good defense isn't enough.
Do you agree?
Paula: I am 100 percent with you, Jim.
In an email conversation Monday morning, I was discussing this very thing with another college hockey devotee and the conclusion that we came to is that defense – or any one specific skill set – isn't enough in single-elimination play. If you can't score, you can't win. A team may be able to ride a really hot goalie into the NCAA tournament, for example, but without the ability to adjust to whatever a game throws at you in single-elimination, you just can't rely on any one dimension of the game. And defenses can and do break down. We've seen it.
The points you make about top offenses versus defenses and the overlap are very interesting. I wouldn't all be surprised to see Cornell, Clarkson and Minnesota State in St. Paul because of each team's ability to play both sides of the puck.
A Tip of the Cap…
Jim: … to the Regents in Arizona for starting the process to build a new on-site arena for Arizona State. This program definitely needs a new home. The current home, Oceanside Ice Arena, is too small, holding less than 1,000 fans. Playing games in Glendale at Gila River Arena is a horrible option as it is too far from campus.
Having been to Tempe this past weekend for the Boston University series, I can say convincingly this is a place hockey will work. But having an on-campus arena is critical. This past week, the process to build that venue moved in a positive direction when the Business and Finance committee of the Arizona Board of Regents voted unanimously to approve a project that would build that arena. The next step is a full vote on Feb. 8, but this seems like a process that is headed in the right direction and will make ASU a very viable program quickly.
Paula: This is a great step for a program that is already a very good addition to the college hockey community. We know that because snowbirds have brought their love of hockey to areas of the U.S. where winters don't lend themselves to outdoor play that hockey is proliferating throughout the country. Arizona is no exception.
By the end of 2015, there were over 7,000 kids registered to play youth hockey in Arizona, and in October of last year, the Coyotes announced that they would be investing $1.2 million in local youth hockey development. As you said, this commitment to a new arena will help the Sun Devils develop quickly and it will contribute to the growing interest in hockey as a sport in the Southwest U.S.