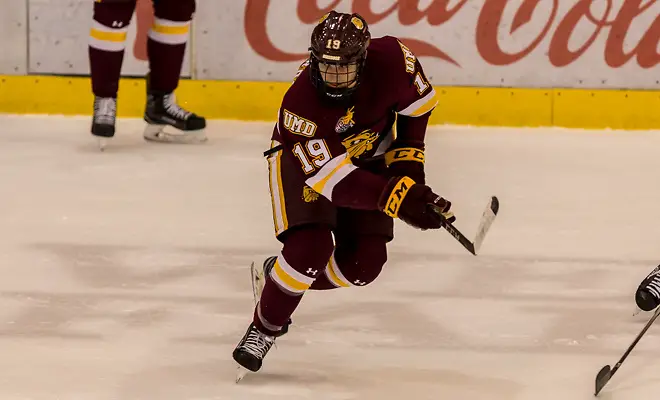 Just a month ago, Minnesota Duluth sat near the bottom of the NCHC standings, a rather large fall for last year's national championship runner-up, even considering the players the team lost to graduation and leaving school early.
However, a strong January that included decisive sweeps of North Dakota and Colorado College and a split last weekend with St. Cloud State has moved Minnesota Duluth into a three-way tie for third place with North Dakota and Western Michigan in the ever-competitive NCHC, and also in possession of a home ice spot for the first round of the playoffs.
"We talked that week before Colorado and before we got into the league and just kind of got guys reset and refocused on what's coming up and try and shoot for putting some wins together to try and get a little bit closer and have an opportunity for home ice," said Bulldogs coach Scott Sandelin. "All of that was kind of the talk, just having goals. We had guys in and out and gone, so we just talked about that, and our guys had a good weekend in Colorado, and we built from there. I was probably surprised that we beat North Dakota twice because they're a good team too, but things went our way, and last weekend against St. Cloud we had a really good Friday, and I thought Saturday they were better. They were better defensively, they were tighter. I thought we didn't have as much energy as we did Friday. Maybe it was because of the five games in nine days, but that's not an excuse."
In addition to finally being healthy, one of the keys to Duluth's success in January was the emergence of Hunter Shepard as the starting goalie. Shepard has finally settled in after not playing much last year due to the outstanding play of Hunter Miska, who departed for the pros after last season.
"Probably since I would say the middle of November, I think he's done a good job for us, given us a chance to win every night, having a pretty good level of consistency," said Sandelin. "Even if he's had a couple off games or bad games, by a goalie's standard he's bounced back the next day or the next game with another solid performance. I think that's been certainly for our team a stabilizing confidence build having him in there playing like he has. He's given us a chance every night. Unfortunately, some of those games we haven't given him enough offense to win games. But he's done a really good job, and it's been a huge boost for our team, and it's kind of stabilized that position."
Questioned about the closeness of the NCHC standings that have five teams within four points of each other, Sandelin chuckles.
"Well, are you surprised? I'm not," said Sandelin. "I think every year our league continues to get better. Again, I'm not surprised that it's as tight as it is. That's a tribute to all of our teams. It's certainly hard every weekend, not that it wasn't in the previous four years. I just think that some teams have really improved, teams have done a good job building their teams. You look at Havi (Mike Haviland) and what he's done at CC, obviously Andy (Murray) in Western, they changed their teams a little to a lot of speed and skill. It's such a fun league. It's certainly challenging every night. I'm not shocked. I mean, it's going to be a heck of a race to see who ends up where at the end of the year, and then we've got to battle in the playoffs. So I'm not sure what's going to happen, but I know that you've got a lot of really good hockey games in our conference, and it'll be a heck of a finish here in the next month."
This weekend, the Bulldogs travel to Denver to take on the Pioneers, who won two close games in Duluth against the Bulldogs in December.
"I think guys are excited to play," said Sandelin. "They are excited to play teams like Denver, and I mean anybody in our league you have to be excited to play. Certainly our guys remember the tight games we had here. It was two games that could have gone either way. It went in their favor. I think they're a really, really good hockey team, good offensive hockey team with real good depth through their lineup. The way they play., they don't give you a lot. They're great off the rush. Offensively, they've got some weapons, and defensively they do a very good job too. … I think our guys are excited to go out there and have another chance to win some games against them, and we know they're going to be great hockey games."
Tigers rebound from tough stretch
It probably isn't hyperbole to say that the last three games were make-or-break for the Colorado College.
After a surprisingly strong start in the first half, the Tigers struggled out of the gate in January, losing to cross-town rival Air Force and then getting swept by Minnesota Duluth at home. The Tigers then traveled to Kalamazoo to play Western Michigan, which is one of the toughest rinks to play in.
After rallying to take a 2-1 lead in the third period of the first game, the Tigers gave up a late tying goal, and then lost just 35 seconds into overtime. The next night, they fell behind 3-1, and things were looking grim. However, CC rallied, eventually gutting out a 6-5 win in overtime, and used that momentum to take five of six points from Miami this past weekend.
"I really thought the response we got on Saturday in Western really kind of showed what this team was really made of for me because of the barn, the building it is, and how hard they play," said Tigers coach Mike Haviland. "I think when we came back the next night and the first period was 3-1 Western and we found a way to come back in that hockey game and win it, I think it got us our confidence back, and I think it just came into this weekend. We're really banged up right now, but I think what happened was that Saturday game in Western could have sank us because if you come out of there and you got swept two weekends in a row, I think you start to question things, but the way they battled and found a way after being down 3-1 in the first shows who we really are. I was really proud of the way we responded there."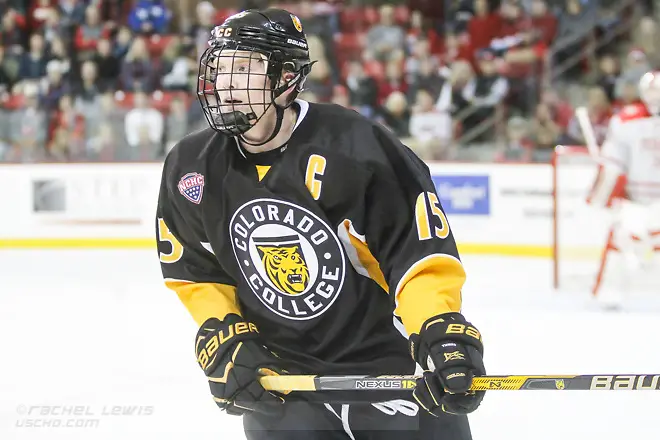 One issue for CC of late has ironically been goaltending, as Alex Leclerc, who often was the rock that kept CC in games last season, struggled. Against Duluth, he came into the game in the third period Saturday in relief of Alec Calvaruso, who was injured in the second period. The Tigers trailed 2-1 at that point, and Leclerc gave up three goals. The previous night against Duluth, he had been torched for six goals, unable to help CC hold a 4-2 lead.
"I think that right now, he could be a little tired, and I think that was one of the reasons why we started Calvy against Duluth, and I thought Calvy played well for the 40 minutes and then Clerkie has to go in there cold; that's not an excuse, but it doesn't go our way as a team," said Haviland. "In Western, we lose in overtime 3-2 that first night, I thought he played pretty well there. You know both goals scored were power-play goals, so I think our PK really struggled out in Western and against Duluth, too. I think he responded on Saturday night (in Western) after the first period. There was a lot of things said in the room between the captains and myself, and he was one of the guys that got challenged, and he responded in that last 40 minutes. We're trying to rest him with the week off so he's fresh going down the stretch. Calvaruso's back now, so hopefully with the rest and this bye week we can get both of them rejuvenated."
However, even with the defensive struggles, CC has been lifted by the play of Nick Halloran, who is tied for the top scorer in the nation with 39 points. This comes after a freshman campaign that saw Halloran score only nine points. Halloran plays on the top line with team captain Mason Bergh, whose production is also well up, nearly double what it was his sophomore campaign. Also on the line is Trey Bradley, who has proven a productive scorer after missing most of his sophomore year due to injury.
"I think Nick, the first thing that draws you to him is his speed," said Haviland. "I mean, he's got elite speed, and I think he's an NHL skater. I think you saw glimpses early on last year, and then he got an injury and was nagged with that the second half of the year. That freshman year's always a tough year unless you're an elite, elite player, and then the guys can step in. I think that line has clicked from day one. I think they compliment each other, and I think Nick's compete level has gone up. Nick and I, we had a long talk at the end of the year, and he said to me, 'Coach, it was kind of an eye-opener.' I think he really committed himself in the off season, and I think he came back and that line was put together and I think they really compliment each other with their abilities. I think they're all trying to prove something, and the line has been outstanding, and I think they complement each other well."
After spending the last three years in the NCHC cellar, CC is in the hunt for a better spot in the NCHC playoffs. The Tigers are only four points out of a home-ice spot for the playoffs. Down the stretch, CC plays North Dakota, Denver, Omaha, and Western Michigan, so it will be tough to get high enough to get home ice, but CC does seem in position to meet one of its goals of escaping the NCHC cellar.
"Getting out of the last spot was one of our things this year that we talked about as a team last year," Haviland said. "Now you put yourself in a position that maybe you can get home ice. You've got eight games left, and you've done a good job to this point. But you know nothing's going to be given to you in this conference. So yes, it's something we talk about and we feel is in our grasp, and we've put ourselves in that position and we want to control what we can control, and that's how we play, and not leave it to other teams maybe having to win or lose. All the teams that are ahead of us, we play, so we control our own destiny by how we're going to play down the stretch here and set ourselves up for the playoffs.
"Listen, this league is as competitive as any league I've been in. If you're not ready to play, you get beat, and anybody can beat anybody. The coaches are very good. Guys are making adjustments, guys are watching their film, and you have to be ready to coach in this league, and the players have to be ready to play. Every point counts, and you have to battle for every inch of the ice out there against anybody. I mean, you look at us and we're all beating each other and then that's why it's so tight, and I think it's not going to change all the way down the stretch here. So, you've got to take it one at a time and really worry about your own team and not watch the scoreboard and just basically control what you can control, and that's your effort each and every night."
NCHC players of the week
Offensive player of the week — Nick Halloran, Colorado College: Halloran had five points in leading the Tigers to a win and tie/three-on-three OT win over Miami. Friday, he had three assists in a 6-3 win while being named the game's second star. Saturday, he scored the first two goals in a 4-4 tie, earning the game's first star. He finished the weekend plus-3 and is tied for the national scoring lead with 39 points.
Co-offensive player of the week — Tyler Vesel, Omaha: Vesel had five points in leading Omaha to a sweep of Western Michigan. Friday, he had two assists, with his second assist coming on the game-winner that broke open a 2-2 tie in the third period en route to a 6-2 win. Saturday, he had three points, including scoring back-to-back goals, one shorthanded, in a 7-3 win while being named the game's second star. His assist gave him 100 for his career. He finished the weekend plus-3.
Defensive player of the week — Joel Messner, Omaha: On Friday, Messner scored the game-winner for Omaha in a 6-2 win over Western Michigan. He also blocked six shots and was named the game's first star. Saturday, he had two assists and blocked four shots and finished plus-1. He also helped Omaha's penalty kill go 11-for-14 on the weekend.
Rookie of the week — Nick Swaney, Minnesota Duluth: Swaney had three points while helping Duluth split with St. Cloud State. Friday, he had two assists in a 5-1 win while finishing plus-1 and earning the game's third star. Saturday, he scored Duluth's only goal in a 2-1 loss and again finished plus-1.
Goaltender of the week — Hunter Shepard, Minnesota Duluth: Shepard started three games on the week, including a rare Tuesday night game against Minnesota State. He made 23 saves against the Mavericks in a 1-0 loss. In Friday's 5-1 win over St. Cloud State, he made 24 saves, including 12 in the third period. Saturday, he made 26 saves in a 2-1 loss and earned the game's third star. He finished the week with a .948 save percentage and 1.35 GAA.