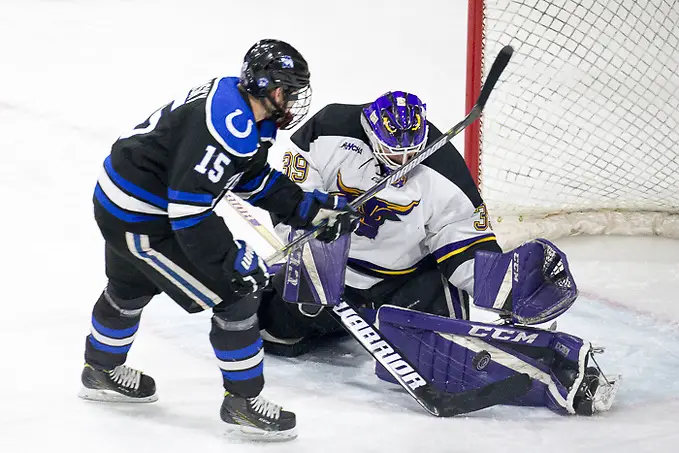 The last two weeks were a bit odd in the WCHA, and perhaps a bit misleading.
By Sunday morning, Bowling Green and Northern Michigan had moved into the top two places in the WCHA standings, each picking up a pair of sweeps.
"At the end of the weekend looking back, it was a good weekend," Bowling Green coach Chris Bergeron said after sweeping Lake Superior State. "Lots of reasons to be happy with the weekend."
It's been a strong move for each of those programs, who have legitimate chances of claiming the regular season title.
But their rise comes with a bit of an asterisk. And if not an asterisk, there should be a quick modifier added to prior paragraph.
That's what happens when the best team in the conference, at least at this point, takes off back-to-back weeks from league play.
And during their time away from the WCHA, Minnesota State only made a stronger case that the Mavericks will be playing longer than most teams this season.
They swept nonconference games against St. Cloud State and Minnesota Duluth, a pair of powerful in-state rivals, and added a depth-testing shellacking of the USA Under-18 team this past Sunday.
"We wanted to use this opportunity to get some guys some ice time," Mavericks coach Mike Hastings said after the win against Team USA. "I just thought we progressed."
While the bottom half of the roster got a chance to progress, the top half of the roster enters the final month of the regular season healthy and rested with just three games in the past two weeks.
On top of that the Mavericks two games in hand on both Bowling Green and Northern Michigan to regain their first-place position, have six of their final eight games at home, and of that final stretch three of the four series are against teams in the bottom four of the WCHA.
So it's a good feeling this week for the Falcons and Wildcats, but let's make it clear, it's still the Mavericks' race to lose with how they've been playing and the schedule in front of them.
So what does that mean for Bowling Green and Northern Michigan? And what about the WCHA in general?
For the individual teams it creates an error-free atmosphere. In their final six games both the Falcons and Wildcats should be favored, but it will be a playoff atmosphere as they each play Michigan Tech, and then split trips across the North American continent to Alabama and Alaska.
If you want to win the conference, you have to deal with that slight adversity. Because it feels like it's going to take a bit of perfection, and some outside help from Minnesota State losing, for Bowling Green or Northern Michigan to hold that top spot.
It also makes the WCHA more intriguing in this final month. The league is already divided by natural tiers and breaks in the standings — it doesn't feel like there is much mystery about which teams will miss the postseason — so having a race to perfection means a bit more.
Teams can scoreboard watch all they want, and they probably will, but the path to potentially hosting the WCHA championship for Northern Michigan or Bowling Green requires winning out.
The stakes, of course, are similar for the Mavericks. While it doesn't seem like they'll falter with recent performances, there still is a bit of a chip on their shoulder to complete the regular season on top. And perhaps coming back to the WCHA ousted from the first place, for the time being, elevates their play.
Either way with Minnesota State back on the conference slate for the rest of the season, the WCHA is in a better place and February is going to be an intriguing race to the finish.
Bulldogs back on track?
Ferris State came into their home series with Michigan Tech last weekend needing some positive results.
The Bulldogs were sitting in eighth in the standings and had won just two games in their last 10 games played. In their previous series, they had been swept at home to streaking Bemidji State.
It's safe to say the Bulldogs needed some positive results from their series with the Huskies — if only to ensure that they wouldn't be mired in a battle for one of the eight WCHA playoff spots in February.
Thanks to the results from that weekend, the Bulldogs can breathe a bit easier, as they swept the Huskies 4-3 and 3-1 at Ewigleben Ice Arena in Big Rapids.
"I'm really happy with the results," Ferris head coach Bob Daniels said earlier this week. "Still within those two games, especially Friday night, there were some things that gave me some heartburn, some things we can improve upon, but overall I'm really happy. We've played some pretty good hockey as of late and the results haven't followed. In particular saturday night we were really strong, that was a good game. It's good to see the guys rewarded for their efforts."
Leading up to the series, they Bulldogs had been swept three times — all at the hands of teams in the top half of the standings — and only a handful of them were extremely lopsided affairs. Against Bemidji State two weeks ago they scored just one goal on the entire weekend despite playing pretty decent team defense themselves. Still, the Bulldogs lost that series 2-0 and 4-1.
But against the Huskies, the Bulldogs found some rewards — especially in the form of their special teams play. Ferris scored four times on the power play against the Huskies, including going 3-for-5 on the man-advantage on Friday (and 1-for-3 on Saturday). That power play strength on Friday helped the Bulldogs get the victory despite Tech's 38-18 shots on goal advantage.
"We got some good looks," Daniels said. "We got pucks to the net. We had good traffic in front of the goaltenders, we made life miserable for them."
Not only is simply getting two victories a big confidence boost for the Bulldogs, but it also directly helped them in the standings. Thanks to other results, they jumped two teams in the standings and are now in sixth place, ahead of Alabama Huntsville and Alaska.
With just six games to play in the regular season — including a head-to-head matchup with Alaska this week — the Bulldogs are very close to clinching a playoff spot and could potentially do so this weekend, depending on what happens to Lake Superior and Alaska Anchorage.
"You know, we needed that sweep in terms of playoff positioning," Daniels said. "We're not mathematically in, but for all intents and purposes that weekend there really gives us a leg up. Now we can set our sights on moving further up in the standings."
Ice Chips
— Alabama Huntsville's Josh Kestner — a Huntsville native — scored his 17th goal of the season during UAH's series split with Bemidji State last week. That's the most goals scored by a Charger since Grant Sellinger in 2006-07. Kestner now has a team-high 23 points — which ties the most by a Charger in the WCHA era. Max McHugh notched 23 points in 2014-15.
— No NCAA freshman tallied more points in January than Bowling Green's Brandon Kruse (2g-9a–11pts), followed closely in second by fellow Falcons forward Max Johnson (5-4–9).
— Bowling Green has 100 overall wins since joining the WCHA. The Falcons join Minnesota State (117) and Michigan Tech (102) in the WCHA's 100-victory club since 2013-14.
— Three teams are in the top-20 of the USCHO.com poll: No. 7 Minnesota State, No. 14 Bowling Green (up one spot) and No. 19 Northern Michigan (up one spot). Bemidji State is garnering votes in the USCHO.com rankings.
— Bemidji State lost to UAH 5-1 on Friday but came back to win by that same score in Saturday's game. Freshman Aaron Miller scored for the Beavers Friday and added a goal and an assist Saturday. Miller, from Superior, Wis., leads all BSU rookies and sits fifth on the team with nine assists.
–Northern Michigan junior forward Adam Rockwood leads the NCAA with 25 assists. The transfer from Wisconsin has nine helpers during a current seven-game point streak, including four assists on NMU game-winning goals.
–This is the fourth of five weekends this season with five league series.
Players of the Week
This week's WCHA players of the week are Bowling Green senior Tyler Spezia (offensive), Ferris State junior Ryker Killins (defensive), Ferris State junior Darren Smith (goaltender) and Bowling Green freshman forward Brandon Kruse (rookie).