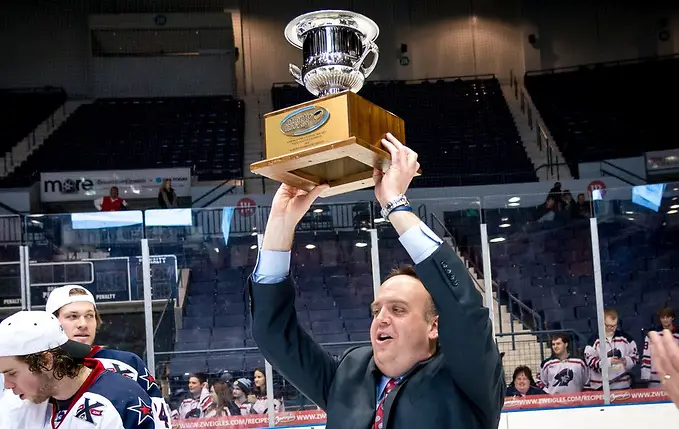 Former Robert Morris associate head coach Mark Workman passed away on Wednesday near his home in Minnesota, surrounded by family.
Workman was 47.
He was diagnosed with an advanced form of liver cancer just before the start of 2018 and had been undergoing treatments since the beginning of the year. The Colonials rallied around his fight, wearing his name on their jerseys in warmups last Friday night, and joined many Robert Morris alumni in sending him messages of support.
"Worky" – as he was known in the hockey community – was an assistant for seven years at Robert Morris, from 2009 to 2016. Workman handled many different areas of the Colonials program, including player development, scouting and game plans, all while primarily focusing on the team's defensive units.
"We are heartbroken to hear the news of Mark Workman's passing," said Robert Morris head coach Derek Schooley in a statement. "Mark was loved by all at Robert Morris. Mark was one of the good guys in the hockey world and effected so many student athletes in a positive way.
"He was well-respected among all with whom he crossed paths and will be greatly missed. Our thoughts and prayers are with the Workman Family during this difficult time."
Workman began his tenure as an assistant coach at Robert Morris in 2009 and spent his final three years at RMU as associate head coach, ending with the 2015-16 season. He departed the Colonials and joined the NHL's Vegas Golden Knights as an amateur scout in the summer of 2016, where he remained for the last two years.
Workman was an assistant at Brown from 2003 to 2009 and also served as a volunteer assistant at Minnesota Duluth during the 2001-02 season.
From 1995 to 2001, Workman was the head coach at his alma mater, Division III St. Scholastica, after serving as an assistant from 1993 to 1995. W
Workman was a four-year varsity player at St. Scholastica, serving as the team's assistant captain as a junior and as captain as a senior in 1993.
Details on arrangements will be available at a later time. The Colonials will hold a moment of silence in Workman's memory prior to Friday's 7:05 p.m. puck drop against Mercyhurst at Colonials Arena at the RMU Island Sports Center.