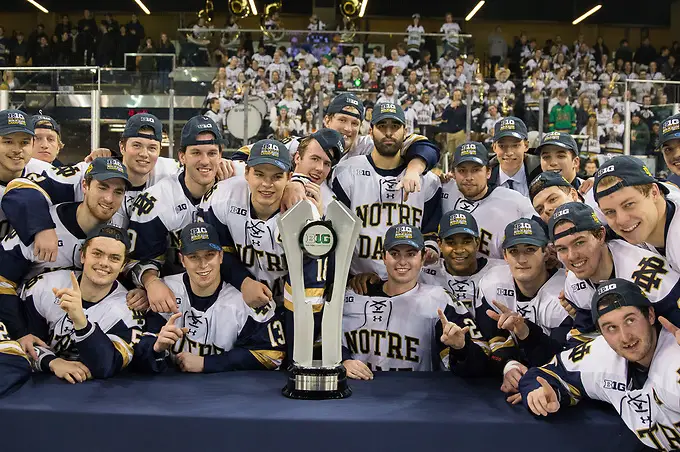 There's something poetic about the last-ever CCHA playoff champions capturing their first-ever Big Ten regular-season title in their first season of B1G conference play.
Notre Dame was a good citizen of the now-defunct CCHA.
The Fighting Irish were among the last holdouts trying to keep that conference together when it was announced that Penn State would build a new arena and play Division I hockey, a move that pulled Minnesota and Wisconsin from the WCHA and all but doomed the league that three other B1G teams once called home.
With Notre Dame's admittance to the Big Ten, the landscape looks a little more familiar for fans of Michigan, Michigan State and Ohio State, and even Penn State's Guy Gadowsky has CCHA roots from his days at Alaska Fairbanks. Last Friday, the Fighting Irish beat the Buckeyes 2-1 in South Bend to capture the regular-season crown; Notre Dame was the last team that Ohio State played a regular-season game against in the old Ohio State Ice Rink in 1999.
There's a lot of history in a new league for the Fighting Irish, yet the transition from Hockey East to the Big Ten was still a little jarring for Notre Dame, a team full of players that had never seen the inside of Yost or Munn Arenas. Of course, you'd never know that from the way the Irish dominated B1G play in the first half.
"What we did so far this year was kind of a surprise, in a way, to me," said coach Jeff Jackson. "We'll probably go through what I expected a little bit more of with the Big Ten right now than we would have in the first half of the year, let's put it that way."
What they did, of course, was put together a 16-game win streak from Oct. 27 through Jan. 19, including a 13-game undefeated entrance into Big Ten play.
What they've done since that streak snapped is go 3-3-1, including a 1-0 overtime road loss to Minnesota and that one-goal win to capture the title against Ohio State. Bookending that seven-game stretch in which the Irish appear again to be mortal was a 5-0 loss to Wisconsin in Chicago Jan. 20 and last Saturday's 5-1 loss to Ohio State.
"The game against Wisconsin in Chicago was kind of like the air being let out of the balloon," said Jackson. "It was just the nature of that game. I actually think the game against Ohio State was the same thing. We clinched the league the night before. That's no excuse, but I think our guys really had to battle to win that game the night before. We were only down a goal going into the third, but again, it was almost like the air going out of a balloon."
Jackson has enormous respect for the Big Ten, calling the league "extremely competitive." He's quick to point out that seven of Notre Dame's wins in that 16-game streak were won by a goal.
"It's never been easy," said Jackson. "Every night is a challenge."
The Irish have built their season on defense, allowing 2.07 goals per game – third in the nation – and relying on a hot sophomore goaltender, Cale Morris. "He's phenomenal," said Jackson, who's correct. With 21 wins to his credit, Morris is fourth-best nationally in goals-against average (1.75) with the top save percentage in the country (.950).
The low-scoring games and one-goal wins betray Notre Dame's weakness; the Irish score on average 2.97 goals per game (26th) with the 19th-best power play in the country (20.2).
"We score by committee," said Jackson.
What Notre Dame wouldn't give for a player like forward Anders Bjork, who left after his junior season, taking his 21 goals with him.
Still, the Irish know how to play to their strengths, one of which is good leadership in the locker room with guys like seniors Jake Evans and Jordan Gross helping to keep things at an even keel, especially in the first half of the season when the Irish were plowing through Big Ten opponents.
"I give our kids credit," said Jackson. "We haven't talked about it much. It started getting more hype in the new year. We never really talked about it much. If we had been beating teams by three or four goals, maybe it would've been different, but we were fighting for our lives. It was never really a focal point, and I think that was partly because we knew we were getting by by the skin of our teeth. We didn't really dwell on it.
"On every team I've ever had, I always knew that at some point, if you're going to make the NCAA tournament, you're going to have a good year and you're going to have to have a little luck, but never 16 games. If we'd rattled off a seven- or eight-game winning streak or 10-game unbeaten streak, I'd have felt like now we were in good shape for the playoffs, for making the NCAA tournament. Every year, you always have to have a little run at some point, but in most cases it's not 16 games."
After the first of the year, Jackson told his team, "Things always elevate in the second half. The second half is always a little bit higher level, just because teams are jockeying for position for the playoffs. The intensity ramps up even more and maybe the fact that we had such a big lead might have worked against us a little bit, as far as maybe feeling a little too comfortable."
This weekend, the Fighting Irish play a home-and-home series against Michigan, a Friday game in South Bend followed by a Sunday matinee in Ann Arbor. Jackson said his team knows well how hard this series will be, even though they swept the Wolverines earlier in the season.
"You've got a really desperate team against a team that's already clinched the league," said Jackson.
The Wolverines are fighting for one of the top four spots in the conference to secure home ice in the first round of the playoffs. With 32 points, Michigan is in third place in the Big Ten, five points behind Ohio State, three points ahead of Minnesota and four points ahead of Wisconsin. The Buckeyes and the Golden Gophers each have two games in hand on the Wolverines, who will close their regular season at home against Arizona State Feb. 23-24.
Jackson is looking forward to a renewed rivalry between Notre Dame and Michigan, one of the benefits of returning to somewhat familiar hockey landscape. At this point, though, the roles of each team are reversed. Michigan is chasing Notre Dame as the Wolverines are rebuilding.
"Generally, rivalries are only formed by two good programs," said Jackson. "When we finally built this program up to this level, we started getting the rivalry with Michigan back in the CCHA. I think we'll end up developing more than the rivalry with Michigan in the Big Ten, though."
One way to begin to build those rivalries is to join a league and to become immediately the team to beat.
The Wolverines and the Fighting Irish face off at 7:35 p.m. Friday night in the Compton Family Ice Arena. Sunday's game begins at 5:05 p.m. in Yost Ice Arena and will be televised by the Big Ten Network.
Three stars of the week
For the second straight week, it's two goalies and a forward.
First star – Minnesota junior forward Tyler Sheehy
Sheehy (Burnsville, Minn.) led all Big Ten scorers with five points in Minnesota's road sweep of Wisconsin. Sheehy had two goals Friday night including the game winner and added a goal and two assists Saturday. This is Sheehy's sevenths career Big Ten weekly award, his first of the season.
Second star – Ohio State junior goaltender Sean Romeo
Romeo (Cary, N.C.) earned a .957 save percentage and 1.55 goals-against average in Ohio State's road split with Notre Dame. Romeo made 27 saves Friday in the Buckeyes' 2-1 loss and helped Ohio State kill all six of Notre Dame's power plays in that game. In Saturday's 5-1 win, Romeo's 15th win of the season, he had a career-high 39 saves. This is Romeo's fourth career Big Ten weekly award, his second week in a row.
Third star – Minnesota sophomore goaltender Mat Robson
Robson (Mississauga, Ont.) made 61 saves on 64 shots for a .953 save percentage and 1.50 goals-against average in the Gophers' sweep of Wisconsin, including a career-high 38 saves in Friday's 4-2 win. This is Robson's third career Big Ten weekly award.
My ballot
1. Denver
2. St. Cloud
3. Notre Dame
4. Cornell
5. Minnesota State
6. Ohio State
7. Clarkson
8. North Dakota
9. Providence
10. Minnesota Duluth
11. Omaha
12. Minnesota
13. Michigan
14. Western Michigan
15. Northeastern
16. Boston University
17. Union
18. Penn State
19. Northern Michigan
20. Bowling Green