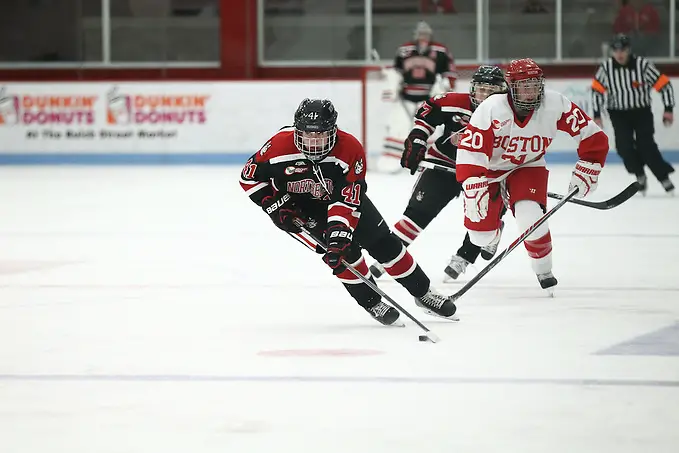 Nicole: We are (mostly) done with the regular season. The CHA has one more week, and it'll come down to the wire to see whether Mercyhurst or Robert Morris takes the regular season crown. Overall, the biggest surprise is probably Colgate sharing the ECAC title with Clarkson. The Raiders had fallen off as the season progressed in years past, and I'm not sure we thought they'd be there at the top when the season wound down this year. Otherwise, the conference winners are the usual suspects.
There weren't too many upsets this past weekend. Harvard's win over St. Lawrence dulled the Saints' hopes at an at-large bid. Bemidji State beat Ohio State, proving once again that nothing is quite assured in the middle of the WCHA. It wasn't an upset, but the Badgers completed their fist-ever four-game regular season sweep over the Gophers.
What was the most interesting outcome for you this week? Did you learn anything that you think will impact how the conference tournaments will play out?
Candace: Wisconsin's sweep of Minnesota seems to indicate to me that the Badgers are ready for the WCHA gauntlet. Yes, anything can happen in a one and done, but I can't see Wisconsin losing.
I also felt Minnesota played well, and with the way Ohio State has been so up and down, it might be time for Minnesota to get its first win of the year over the Buckeyes. I also think Minnesota's past experience will pay big dividends in that regard. With the Frozen Four happening at Ridder, the Gophers will be eager to make it and play on home ice. As long as they don't play Wisconsin on the first round, I think they have a shot, which is also why they will be super amped to play Ohio State.
As for the Buckeyes, I favor them to get to the WCHA final weekend, but could see them falling short. They did lose to Minnesota State two weeks ago. That it is best-of-three gives Ohio State a big edge, but if it gets to a third game, that emotion, plus OSU being nervous, could be a game changer.
Do you agree with that assessment of the WCHA, or do you see it differently?
Nicole: I also thought Minnesota looked pretty good, but they do have to be concerned about only getting 16 and 15 shots on goal, respectively, and no shots on goal during four power plays on Saturday. Their strength has been in their offense, and their record shows they're much more likely to win if they put three or more goals on the board. They seem to really build off the momentum that offense brings, so I'd think they'll be looking at moving the puck and getting pucks on net this week.
It had to be a welcome weekend response for the Badgers, who'd struggled over the three weeks before that. They'd done so well for most of the season and seemed to hit some bumps, but that final series has to sort of wash away any doubts that might have crept in. Not only did they win, but they came from behind, down two goals on Friday. That's the sort of stuff you can't learn until you're in the situation, so getting some of that adversity under their young belt should serve them well here in the postseason.
I've been saying for a few weeks that I expect the Hockey East tournament to produce the most chaos — and we'll get to talking about that — but I also think we could see some interesting happenings in the WCHA. As you said, I don't think Wisconsin loses, but Minnesota and Ohio State have losses to the other teams left in the tournament. I don't think I'd be too shocked by a St. Cloud State upset of the Gophers, honestly, based on how we've seen them play. I definitely don't think any wins are given in this tournament, and we could certainly see someone make a run.
Coming back to Hockey East, I'm certainly not looking forward to trying to pick the outcomes. Boston University, Connecticut, and Vermont are the sixth, seventh, and eighth seeds, respectively, and all have beaten or pushed the top teams more than once this season. In a best of three, BC has the edge on Vermont, but even that's not a given. Maine gets BU, and I actually feel like the Terriers are the favored team in that match, despite being the lower seed. There's no easy path for any of the top seeds, that's for certain.
How do you see Hockey East playing out?
Candace: I still feel that it's BC's to lose; the Eagles are deeper and more explosive than the other teams in the conference. As you pointed out, Vermont is a really tough out, but in a three-game series I think BC has enough margin for error.
Connecticut plays Providence, and it wouldn't surprise me to see three games played, with all going to OT. At this point of the season, UConn can't get a tie, so multiple OT's might even occur. I lean toward Providence though.
I agree that BU might be considered a favorite, but the series is in Orono, and that's a long road trip, and it's a venue where Maine plays well. I think it will go three and at this point am very unsure who wins.
That leaves New Hampshire hosting Northeastern. Once again, the visitors could be the slight favorite, given they beat both Wisconsin and BC, but the Huskies have also been one of the most mercurial teams in the game. I think this one goes three also, and lean toward Northeastern, but a UNH win wouldn't surprise me.
Before I allow you pin me down on the ECAC, do you have anything to add on Hockey East, or do you see it differently than me?
Nicole: The Wildcats have been as unable to pin down as the Huskies, so I agree that series is absolutely up in the air. I still think Northeastern has better pieces then they've shown so far this year, and I feel like that might win out here.
I felt like BC was building toward the postseason, but that loss to UNH in between the two Beanpot games certainly makes me wonder if that is really the case. I was told there's often a letdown for that game that falls on the weekend between the big tournament, but at this point I don't feel like I've got a solid grasp on what any team is going to do from week to week, so who knows.
I mentioned Colgate way up at the beginning, but I think their tie for the top regular season spot is definitely one to note. It was the first in program history and a big accomplishment for the Raiders. They'll host Harvard, which is as scary as any of the visiting teams in this conference tournament in my opinion. The multi-game format favors Colgate, but I do think Harvard takes at least a game.
Cornell gets Princeton, which is also no walk in the park for the home team. The Tigers have pulled out a couple of surprises here late in the season, and Cornell hasn't been the most consistent. In this case, the three-game format might favor Princeton.
Still, this feels like the tournament that that's least likely to have any upsets. How do you see the ECAC playing out?
Candace: Even with the occasional hiccup for Clarkson, I think the Golden Knights are likely to come out on top; do you notice a trend here as far as how I view the top team in conference?
Looking at the first round, Clarkson hosts Yale, and that should be a sweep for the Golden Knights. I just don't think Yale has enough weapons to hurt Clarkson, especially with Shea Tiley in net. Clarkson won the first game between the two during the season 4-0, and the second 2-1. Yale just has too much trouble scoring on Tiley, and Clarkson has too many offensive weapons to be kept in check.
I also don't see Colgate having too much trouble with Harvard, especially in a three-game set. I don't think the Crimson will win a game though; I think it's a sweep for the Raiders, who beat Harvard during the regular season 4-0 just a few weeks ago, and 3-2 back in January. That 4-0 win was on the road, mind you, and came after the Raiders played Dartmouth in New Hampshire the night before. Colgate has too much offense for the Crimson.
As for the other two series, either Cornell or St. Lawrence could fall victim to the upset. Princeton had a reasonably good second half, and but still Cornell swept the season series pretty convincingly, so I have to lean toward Cornell getting the series in three games, and that's dependent on the Tigers showing up like they did two weeks ago against Clarkson and St. Lawrence. Mind you, those were home games. Princeton was a terrible road team this year, going 5-8-1, so a Cornell sweep wouldn't surprise me.
St. Lawrence looks the most vulnerable of the top four, and hosts a tough Quinnipiac team; the Bobcats played St. Lawrence to a 1-1 tie two weekends ago. St. Lawrence's offense has gone on walkabout occasionally this season, and it can't afford to against a Quinnipiac team that plays very solid team defense. I think this one will definitely go three; I lean toward St. Lawrence, because the Saints have slightly better scoring, but the upset wouldn't surprise me.
Nicole: Well when you lay it out like you did, my hypotheses for a few upsets sure don't seem very likely. I have wanted to see more consistency from both Cornell and St. Lawrence across the season, which is why I still think they are susceptible. Looking at the big picture, it feels like both the ECAC and Hockey East should have some shake-ups, but when you dig into each of the matchups, it's difficult to see where that might happen. Maybe I'm just a week too early, and we'll see a bit more chaos in the semifinal and final rounds of the conference tournament.
This column comes out on Wednesday, and on Thursday USA Hockey will announce the Top-10 finalists for the Patty Kazmaier Award. We talked about this in a column earlier in the season. Have your thoughts changed or solidified for who you think will make that list and who you see as the eventual winner? Daryl Watts and Caitrin Lonergan are currently tied with 70 points. I'm not sure how one would choose between the two, but it does seem likely that one of them will walk away with the award this season. It sure looks like we'll end up with the top nine scorers plus Toni Ann Miano, the top scoring blueliner.
Candace: I see it just slightly differently. If you take the top nine scorers plus Miano, you get four BC players out of 10. I have trouble seeing that happening. Given how Maine has improved, and how important Tereza Vanišová has been to the team's success, I think she'll get a nod. I think Kristin O'Neill of Cornell will get one as well because her points per game is pretty high, even if her point totals are less than someone like Michaela Pejzlová of Clarkson. I think Lonergan and Watts, along with Victoria Bach of Boston University, are the likely final three at this point. I just don't think Loren Gabel is doing quite enough at this point to make the final three.
Speaking of events that will happen after this column is published, the gold medal game between Team USA and Canada will be Wednesday night. The Canadians defeated Team USA again in the round robin game, 2-1, and given how the Americans played in those first few games, their hopes of finally winning gold again seemed dim. I've been publicly very critical of how USA Hockey and coach Robb Stauber dealt with the roster and centralization. If the U.S. wins tonight, they will look like geniuses, but I still think to some extent if the U.S. wins, it's in spite of Stauber and USA Hockey, not because of them.
Regardless, for those looking for bright spots, Monday's 5-1 win over Finland after a 3-1 win in the round robin points to possibilities. The U.S. looked like a machine. Whether they can duplicate that against their arch-rivals is up for debate. What is your take on that game, and the larger context of Team USA?
Nicole: That's a good point about the Patty. I'd been saying early on that I thought we wouldn't get a number of players from one squad, but had let Arlan and others convince me that wouldn't be taken into account. I agree with your thought process on Vanišová and O'Neill. Cornell's shortened schedule definitely has to be taken into consideration.
As for Team USA, the semifinal win over Finland was the first time I felt relaxed watching that team in more than a few months. You're right: the biggest question is whether that can be duplicated in the gold medal game. That was the squad that we saw methodically pick their way through the World Championships back in March and the one we've all been waiting to see since sometime around the Four Nations tournament.
I've been in agreement with you about the whole process leading up to this tournament, and I've not much changed my mind. I don't think the showing in the semifinal round undoes or erases the memory of the three games that came before that. My biggest concern with this team of late has been how much they've struggled with things that should be second-nature. In my opinion, that's happening because someone is in their head and messing with their confidence on a fundamental level.
I just don't see any other reason why these players at the very top of their game and coming off a historic win in Plymouth, Michigan, would suddenly struggle with basic puck control and passing. The stuff that they're overthinking and messing up are things they mastered a decade ago and they don't even have to think about when you're as good as they are. That these are the things that are falling apart now leaves me scratching my head and wondering what the heck is going on behind the scenes.
The Olympics are difficult for me because it's one of the few times where I allow myself to be a fan alongside an analyst and writer. So I'm having a hard time feeling objective about how the gold medal game will go. Back after Worlds, I was as high on this team as I've ever been, but the past few months have definitely put a bit dent in my confidence, and I'm more than a little worried to get my hopes up.
Conversely, I think Canada looks infinitely better then we saw them look back in Plymouth. There was so much uncertainty and timidness to the way they played, and it felt like Hockey Canada had a lot of work to do to figure out how to move forward. None of that has been in evidence this tournament. Their passing has been very good, the chemistry is there, and there is a bit more looseness to the play that's allowing their stars to shine. Objectively, it's the best I think they've looked in a while, and that's got me more than a bit scared.
Putting you on the spot — care to make any predictions?
Candace: Right now, I think Canada has all the confidence. Canada hasn't lost in the Olympics, to anyone, since 1998, when Team USA won the very first gold awarded in women's hockey. Since then, Canada has seemed to make it a mission to punish the Americans for that win every chance they get. It started with winning gold on American soil in 2002, continued with the win in Vancouver in 2010, and then the game in Sochi, where the Americans were two minutes and an empty-net post away from winning.
Like you, I was very high on Team USA after Worlds. I was in a bar for a media party during the Frozen Four in Chicago with a lot of other journalists, and we were all on the edge of our seats watching the OT. When Kendall Coyne made the pass to Hilary Knight and Knight scored, there was jubilation. I've watched that moment on YouTube many times since. It felt so historic, especially after what they went through prior to the tournament, and how nasty USA Hockey got about trying to break the strike, reaching out to former players and even D-III top players to try to break the players' will. That they hung strong, got the deal they wanted, and then won the gold seemed to be a turning point.
Then the U.S. won Four Nations, and it seemed like the stars were aligned, so of course USA Hockey and Starr decided to mess with everything, because winning four straight tournament games and two titles against your arch-rival means that everything needs to be changed. It still feels to me like either Stauber or USA Hockey punished the women for their success. I called them out again on Twitter about the cuts in December after the round robin loss.
Having said that, I still hope for the best. Perhaps the players can come together in the locker room and use everything they've suffered in recent months as motivation to win the gold to spite their coach and the organization. Like you, I'll be watching tonight as part journalist/analyst, and part fan, on the edge of my seat.