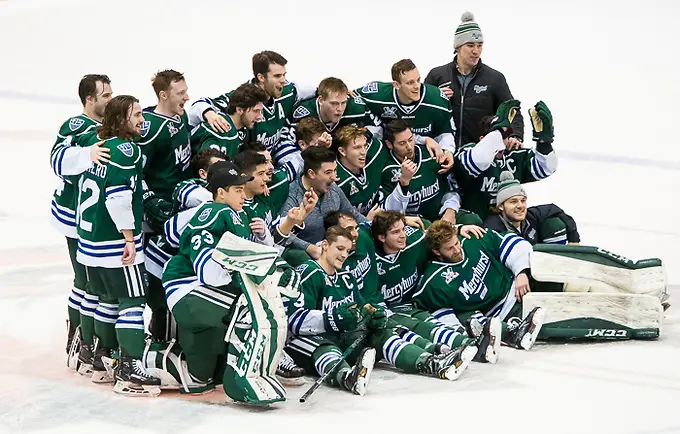 Each week during the season, we look at the big events and big games around Division I men's college hockey in Tuesday Morning Quarterback.
Jim: For five of the six leagues, the regular season is now a memory with the NCHC's final weekend the only exception.
That said, all six leagues have crowned their conference champions, so congratulations to Notre Dame, Cornell, Boston College, Mercyhurst, Minnesota State and St. Cloud State.
Of those six champs, I want to look at Mercyhurst in Atlantic Hockey.
First off, this was a league where with two weekends remaining, things were so tight that a number of teams could have finished with a first-round bye or in last place. This was a wild league finish and the Lakers came away unscathed to the finish. The Lakers trailed Canisius late in the season, but overtook Canisius in the second-to-last week, then had to win twice at RIT this past weekend to clinch the title.
The Lakers were picked to finish eighth by the league coaches, yet they enter the postseason having won seven of eight games and posting a 12-2-2 mark since returning from break.
There's a lot of hockey before Mercyhurst could even claim and NCAA bid, but we've seen many competitive teams from AHC in recent years and if this Lakers team reaches the NCAA tournament, they'd be a club any No. 1 seed would have to fear.
Paula: I agree completely that the Lakers are dangerous.
Mercyhurst has the seventh-best scoring offense nationally, averaging 3.32 goals per game. There are five Lakers who have scored 10 or more goals this season, but the scoring hasn't consistently come from the same players. In the second half, junior Derek Barach has been especially good, but there are other Lakers scoring as well and their power play is clicking along at 24 percent. Additionally, Brandon Wildung has been good in net. Although his goals-against average is 2.81, he's won 18 games and owns the 14th-best win percentage in the nation.
Then there's the confidence this team takes into the playoffs. In a one-and-done tournament scenario, they could knock off anyone – should they get that far.
What are the other dark horses you see in both conference championships and potentially the NCAA tournament?
In the Big Ten, I'm looking right at Michigan. The Wolverines are playing with a lot of confidence and vigor, and even when they make reckless, youthful mistakes, it doesn't seem to hurt them as much as it would have in the first half of the season – and those kinds of bounces can give a team permission to take chances. Good teams can often afford to take chances.
The only Big Ten team Michigan hasn't beaten in the second half of the season is Ohio State. That road sweep of Notre Dame two weeks ago was impressive, but following it up with two wins against Arizona State instead of letting down tells me that Michigan's ready to go in the B1G playoff tournament.
Jim: There are a lot of good underdogs entering each league's playoffs to look at.
In the WCHA, I think fifth-seeded Michigan Tech could be a dangerous team. This is a team that won the Ice Breaker and has been in two other in-season tournament finals. They struggled a bit down the stretch but also won games against Bowling Green and Northern Michigan.
I think Cornell could be a strong favorite in the ECAC based on how well this team played during the season, but you have so many others who could compete. Harvard may be looking at its final games with Ryan Donato and have always been a strong postseason team. Clarkson is so strong and will be an NCAA team. Even sixth-seeded Dartmouth had some great games down the stretch.
I won't even touch Atlantic Hockey because that league is just so wide open given how close the standings were.
But in Hockey East, the darkest horse shouldn't be so dark. Seventh-seeded UMass Lowell has reached the final five straight years. They struggled down the stretch, but Lowell teams have always been good postseason teams and will be dangerous.
Did I miss any great dark horses you were thinking of, Paula?
Paula: As you said, Atlantic Hockey potentially could provide the most interesting, exciting, wide-open playoff hockey we'll see.
You mention Harvard and the impact that Ryan Donato could have and how Clarkson is so strong. I keep thinking of how good Clarkson looked at midseason and how tough the ECAC has been in conference play in the second half. That's another league that could provide some surprises.
On the flip side of this coin, I'd be surprised if anyone but Minnesota State emerges from the WCHA with the title because the Mavericks have been so very good this season – and especially because they've been so good in a conference that has seen its top-tier teams improve so much this season. That Minnesota State has been able to prevail with teams like Bowling Green, Northern Michigan and even Michigan Tech providing excellent competition – and Bemidji State looking so strong at midseason – shows me that the Mavericks have what it takes to succeed even into the NCAA tournament.
As I've written repeatedly, I'm not sure I understand what's going on in the Big Ten except for the league's lack of consistency. Given that Notre Dame has the benefit of not having to survive a first-round, best-of-three series, I think the Irish have the potential to win the playoff championship. I can also see four other teams – Michigan, Minnesota, Ohio State, Penn State – emerge with the title as well.
A Tip of the Cap…
Jim: … to Northeastern goaltender Cayden Primeau.
On this talented offensive team, Primeau has become the rock of the Northeastern defense. He completed the regular season with back-to-back shutouts of New Hampshire this past weekend, stopping all 63 shots he saw over the two games. There have been a lot of impressive goaltending performances this season, but Primeau has become the backstop on a team that had the potential to be a national contender.
Watch out for these Huskies down the stretch.
Paula: I think that Primeau may be the difference-maker that Northeastern needs in postseason.
The Huskies have had firepower for the past two seasons, but the goaltending and defense didn't match. Last year, Northeastern was 33rd defensively; this season, the Huskies fifth. It may not all be Primeau's doing, but having someone as good as Primeau in net can elevate an entire team. I agree. The Huskies may make some noise and Primeau deserves some credit.