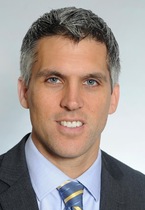 Lake Superior State announced Thursday the signing of head coach Damon Whitten to a four-year contract extension, which will run through the 2021-22 season.
Whitten was named the 10th head coach in program history in April 2014.
"University presidents look for qualities of character more than records when assessing coaches," said Lake Superior State president Dr. Peter T. Mitchell in a statement. "Damon Whitten is a person of great personal integrity and genuine compassion for his players. He emphasizes sportsmanship, hard work, and a commitment to excel on the ice and in the classroom. His team's GPA is consistently above 3.0 and the current players are great ambassadors in the community.
"Winning traditions in collegiate and professional sports have one thing in common, they trust and support a coach of integrity and they eventually become winners. I trust Damon and his assistant coaches; I believe in them and in the players. I have been particularly proud of the way they all have responded to adversity and finished the season with sweeps at Bemidji and Anchorage. With this new contract, I look forward to Coach Whitten building a hockey program at Lake State known for integrity, grit, and class, on and off the ice."
In his four years at the helm of the program, Whitten has compiled a record of 43-90-18, including a 10-22-4 mark in 2017-18.
"On behalf of our staff and our families I would like to thank Dr. Peter Mitchell and Dr. David Paitson for their support and the opportunity to continue to lead the storied hockey program at LSSU," added Whitten. "We are privileged to be at a university and in a community where we are able to build quality relationships. We look forward to continuing that work with our student-athletes, within the campus community and across the twin Soo communities.
"Legion co-advisor Marc Boucher's favorite saying is 'Laker pride community wide.' We were working on bringing excitement and passion certainly into Taffy Abel Arena, but more importantly, across campus and through the community."