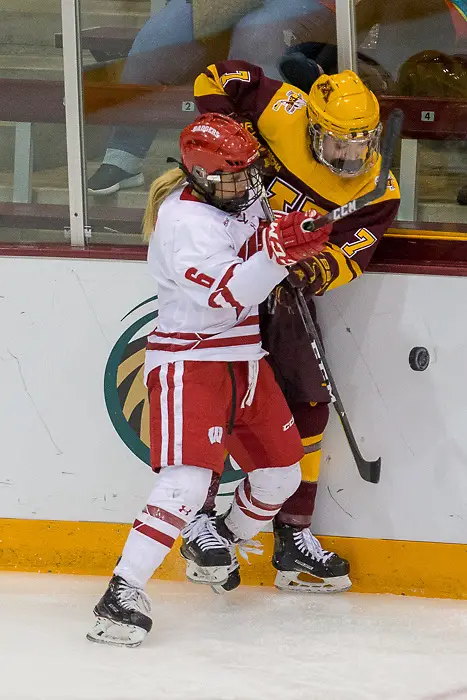 The 2017-18 season wasn't the first chapter in Taylor Williamson's story at Minnesota.
She'd been a big part of two teams that had reached the Frozen Four. As a freshman, she'd scored the first goal in an eventual overtime win over Wisconsin that led to a national championship two days later.
However, her junior campaign looked to be done almost before it began. In the wake of her sophomore season, she underwent brain surgery and was diagnosed with a neuromuscular disorder.
"For Taylor, similar to Amanda [Kessel], she thought her career could have been over," coach Brad Frost said. "A lot of people thought so, and I wasn't sure either. Seeing the muscle weakness, in her legs and her arms, she was nowhere close to playing in the first half."
She tried to play. That effort lasted about a period opening night against Merrimack, but Wiliamson just didn't have it, and neither did her team. The Gophers fell to the Warriors in that opener, the first of 10 defeats that left them in real danger of seeing the program's streak of consecutive NCAA tournament appearances end at 10. Williamson didn't see the ice again in 2017.
"This journey has been unexpected, to say the least," Williamson said.
Over time, things got better for her.
"To see all of a sudden, the improvements, and the work and the effort that she had to put in to get to where she is, it's just an amazing feeling to have her back on the team," Frost said. "Like [senior goaltender] Sidney Peters said, she's a great example to others as to what toughness is. It's one thing to say, 'I've been through a little adversity,' it's another thing to have been through adversity like that and get through it."
By January, Williamson was able to dress for games once more.
"Kippin [Keller] got hurt, and while she was hurt, Taylor was finally getting her meds sorted out so that she could play," Frost said.
Williamson was installed on a line with a couple of other players whose Minnesota careers had taken some twists and turns. Junior center Sophie Skarzynski had started each of her seasons on the blue line, only to be moved to forward at some point. In her third season, that transition came quickly, as Williamson's absence left a hole up front. Sophomore Lindsay Agnew arrived from the Mississaug Chiefs with a reputation as a big offensive producer, but the scoring touch had eluded her in college.
Somehow, the trio of Skarzynski between Williamson and Agnew clicked.
"They're all kind of bigger bodies, really strong on the puck, so they have the ability to win some battles in the corners and down low and generate some opportunities," Frost said.
"I think it's chemistry, and just being able to use our strengths to make each other better," Williamson said. "We're not only just good on the ice, we're super-close off the ice as well. We are continuously just giving each other feedback, what we're seeing. We're never going to get mad at each other for taking a shot on net, because we know the other two are going to be crashing hard. I know it's easy to say that we're the third line, but we don't necessarily think of us like that. We just go out there and give it our all every single shift, and we have an absolute blast doing it at the same time."
The unit was a key offensive component in the quarterfinal series win over St. Cloud State, and they did their part in shutting out Ohio State in the semifinals, landing the Gophers in the league title game.
"This was the most humbling and exciting game," Williamson said. "I was just thinking about it before the game, these past few months and how big of a struggle it has been."
The Gophers got the start underdogs covet when Taylor Wente scored on a tip 66 seconds into the contest to put them ahead of Wisconsin, only to see the Badgers tie it at 1-1 before the five-minute mark. That's where the score stood when Williamson got her first shift of the middle period.
"When I saw [Olivia Knowles] get the puck up at the point, I was doing everything I could to get in get in front of the net," Williamson said. "She had an amazing shot, and I was able to tip it in."
With a slim lead and almost two periods to protect it, the rest of the game was a grind, and Williamson didn't mind that at all.
"It's games like these that you know it's going to be a battle, personally, are the ones that I enjoy the most," she said. "Playing Wisconsin brings the best out of us, and I think we bring the best out of them as well. Knowing that it's going to be a tough fight, one tip, or one deflection, or one random shot that has a bad angle on net, that could be the difference-maker. It think it's super cool and exciting."
Beyond what Williamson contributes to her team on the ice, it meant even more to them off of it.
"She's a warrior, and our whole team has watched her through the entire season," Peters said. "She has had to deal with a lot of question marks and adversity. She has handled that uncertainty with so much strength and much maturity and faith. I think it has really changed our team. When you watch one of your teammates go through something like that, then it gives you no reason to have an excuse."
Slowly, the minutes ticked off the clock versus the Badgers, and the scoreboard remained stuck on 2-1 in Minnesota's favor. Peters did her part, making 31 saves. And Williamson and her teammates did theirs as well, fighting to advance a puck an extra few feet to clear their zone. With 14 seconds left, Nicole Schammel iced the 3-1 victory into an open net, and the celebration of a WCHA Final Face-Off Championship could begin.
"It's games like these; it's the reason I came here, the reason I love to play hockey," Williamson said. "To know that I had a second chance to go out here and lace it up with the most amazing teammates was so special. To top it off now with a win and having an opportunity to hang another banner is so cool and so exciting."