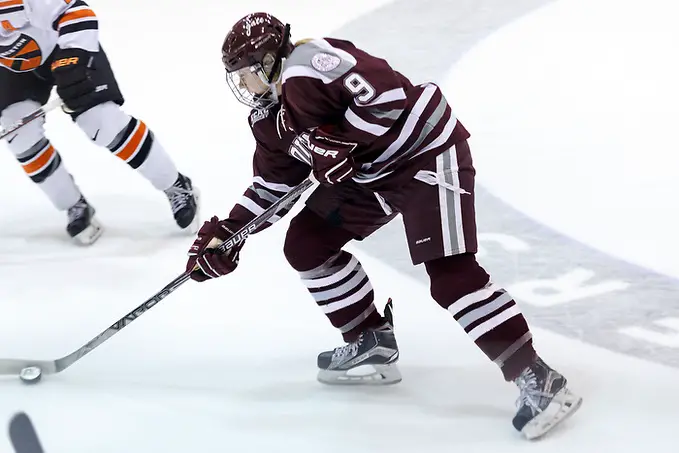 Colgate junior forward Jessie Eldridge has been named the Hockey Commissioners' Association National Division I Player of the Month for February, while Harvard's Becca Gilmore was selected the National Rookie of the Month.
Eldridge led the nation in several offensive categories during the month, including points (16), points per game (2.00), and plus/minus (plus-13). Perhaps most impressive, the Raiders did not surrender a goal with Eldridge on the ice in February. Proving to be a clutch scorer for the Raiders, she recorded two game-winning goals during the month on consecutive days (Feb. 2 vs. Dartmouth and Feb. 3 vs. Harvard). She now has eight game-winning goals overall, which is tied for the most in the nation.
The Barrie, Ont., native became just the seventh player in program history to reach the 100-point plateau when she assisted on three goals in the Raiders' 6-4 victory over Harvard on Feb. 23. The following day, she recorded her first-career hat trick and completed the series sweep of the Crimson in the conference quarterfinals. Eldridge was also named ECAC Hockey Player of the Week on February 6 and tabbed with the league's Player of the Month for February.
She has set a program record with 42 points this season on 21 goals and 21 assists. The previous record was 39 held by four Raiders, most recently Katie Stewart in the 2009-10 season. Eldridge has 106 points on 43 goals and 63 assists in her career, and sits sixth-place on the all-time list. She is one point shy of moving into fifth, currently held by Becky Irvine.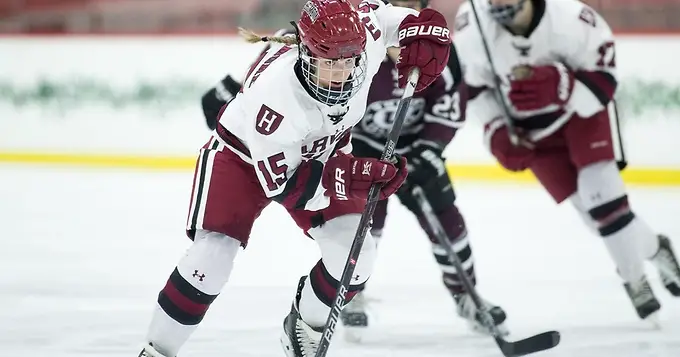 Gilmore recorded 15 of her 35 total points during the month of February, averaging 1.50 points per game.
Among her rookie counterparts, she led the nation in goals scored (9), points (15), face-offs won (115), and tied for the lead in plus-minus (plus-16) and game-winning goals (2). Of the 10 games the Crimson played, Gilmore put up multi-point outings in five, with four being multi-goal efforts. She scored nine goals on 36 shots, for a 25 percent shot conversion rate.
The rookie from Wayland, Mass., also potted back-to-back game-winning goals against Northeastern and St. Lawrence on Feb. 13 and Feb. 16. She scored both Harvard goals against the Saints in Canton, giving the Crimson its first win over a ranked opponent since the 2016 ECAC Hockey quarterfinals. In addition, she was named the league's Rookie of the Week on Feb. 13, her second honor or the season.
Gilmore finished her rookie season with 35 career points in 31 games and led the Crimson in points, goals (16) and assists (19). Her 35 points are the most for a Harvard freshman since Sarah Vaillancourt's rookie campaign in 2004-05.