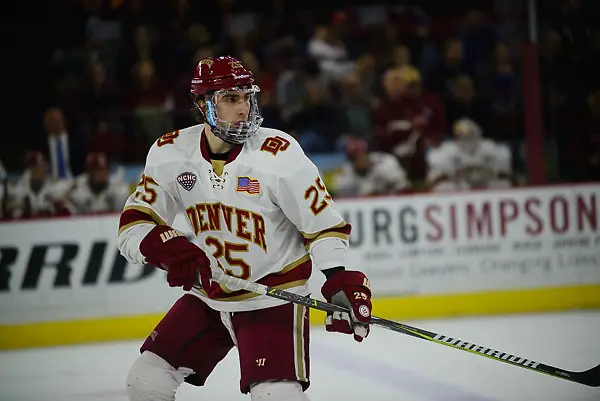 Let's take a look at some of the teams left in the hunt for the NCAA tournament and what the implications of this coming weekend's results might bring.
Atlantic Hockey – It's pretty simple in Atlantic Hockey, one team will get in and that team is the winner of the autobid. Thus, the four series losers this weekend will close out their seasons.
Big Ten – Notre Dame, Ohio State and Michigan are all in. Penn State's sweep this weekend has pretty much cemented its position and a win over Notre Dame will guarantee it a bid. Minnesota is squarely on the bubble now, but looking decent. The Gophers need to wait for two weeks and will most likely be a number four seed, but it is still edge of the seat time.
ECAC – Cornell and Clarkson are in. Union seems to be too far out at 20 to get to an at-large position by going 3-1 the rest of the way. I will group it with Harvard, Dartmouth, Colgate, Princeton and Quinnipiac as having to win the title to get in.
Hockey East – Northeastern and Providence seem to be in. But getting swept this weekend would have both of them sweating it out next weekend. Boston College still needs to win to get in. Will going 2-0 this weekend, and either 0-1 or 1-1 next weekend get it in? I don't think so. If the Eagles can't get out of this weekend, they will not make the tournament. Boston University at 19 is too far out to get an at-large by going 3-1, so it gets grouped with Connecticut, Maine, Massachusetts and Merrimack in needing to win out.
NCHC – St Cloud and Denver are fighting for No. 1 seeds and are in. Minnesota Duluth seems to also be a lock. Then comes the conundrum – Omaha (14) and North Dakota (15) play each other this weekend. The loser of this series will probably not make it to the tournament as they will be sitting on the bubble, most likely below 16, with no chance to do anything the following weekend. Western Michigan, Colorado College and Miami need to win out.
WCHA – Minnesota State is guaranteed a bid, but it is also playing for a No. 1 seed. Bowling Green and Northern Michigan have chances at an at-large bid, but need to sweep this weekend to try to move up and off the bubble. Michigan Tech must win out to get into the tournament.
There is still a lot on the line here, and this weekend will clear a few things up.