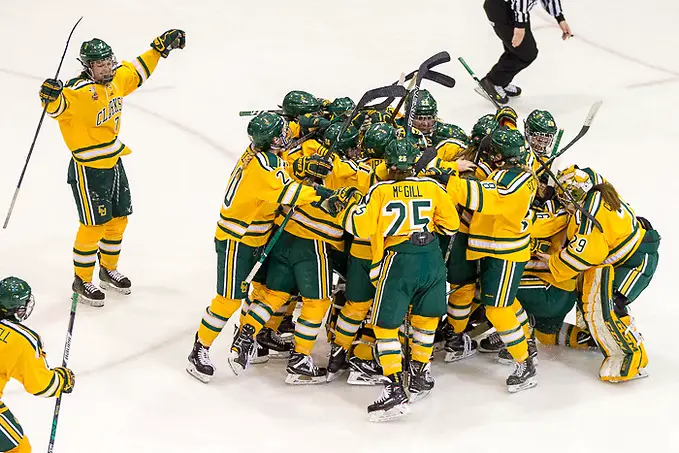 MINNEAPOLIS — There is value in having played in a NCAA Tournament or a Frozen Four previously.
Even if a team such as Ohio State can make it seem like no big deal to debut on the big stage, going toe-to-toe with a seeded team in Boston College and emerging on top, or taking defending champion and top-ranked Clarkson deep into overtime in a semifinal, experience does matter.
"Each team has been hungry to get back there," Clarkson coach Matt Desrosiers said. "They don't think that it is a given to get back there. At the same time, they're confident in what we have in the locker room, in each other, and in themselves. I think that's a big reason why we've been able to get back to this point."
If experience in the tournament is valuable, having been through the drama of sudden-death overtime with a season on the line is priceless.
Back in 2007, Minnesota-Duluth traveled to Erie to face Mercyhurst. It took 11:16 of overtime before Jessica Koizumi scored to make the Bulldogs 3-2 winners. A week later versus Boston College in the national semifinal, 14:19 of a second overtime was required before Koizumi struck again, earning UMD another 3-2 victory and a spot in the championship.
In 2013 in Ridder Arena, the site of this year's Frozen Four, Minnesota survived North Dakota in an epic quarterfinal. Kelly Terry's goal at 18:51 of the third overtime, the first puck to enter the net in more than 80 minutes, gave the Gophers yet another 3-2 win. Back on their home rink six days later, the Gophers played only 99 seconds of bonus hockey before Sarah Davis found the twine to advance Minnesota to the final over Boston College by the familiar score of 3-2.
This season, Clarkson became the latest team to push its way into the final after navigating a path that included playing beyond regulation in each of the first two rounds. While flirting with disaster may be taxing on the fan base, familiarity breeds more than contempt.
"It definitely helps," defenseman Savannah Harmon said. "That's obviously not something you want to do, go into overtime, but we did it last week, and today it was like, 'Here we go again. We finished it last week. Let's finish it again.'"
The Golden Knights opened the tournament with a 2-1 triumph over Mercyhurst, a program that has experienced more than its share of heartbreak in the NCAAs when games stretch beyond 60 minutes. Elizabeth Giguère converted in close at 16:52 of overtime to get Clarkson to its third straight Frozen Four.
"We've had a lot of overtime games," junior Loren Gabel said. "Just bringing positivity, good attitude, and energy into overtime, I think that definitely helps a team and sparks something."
As the minutes ticked away and neither Ohio State nor Clarkson could buy a goal, freshman Giguère and Gabel sparked a winning goal. Racing in two on one, Giguère ladled a perfect pass for the junior to bang into the net, the only goal surrendered by the Buckeyes' goalie Kassidy Sauve in the tourney in 72 shots and nearly seven periods.
"Drawing on the experience of last weekend, we've just been there before," Desrosiers said. "Just keep calm and even keel, and we were able to do that."
Now the Golden Knights need just one more win to parlay those two overtime escapes into a repeat as Minnesota did in 2013.
"It's been pretty crazy, but I think we've done a really good job of making sure we're keeping our emotions in check and making sure we get the job done," senior goaltender Shea Tiley said.