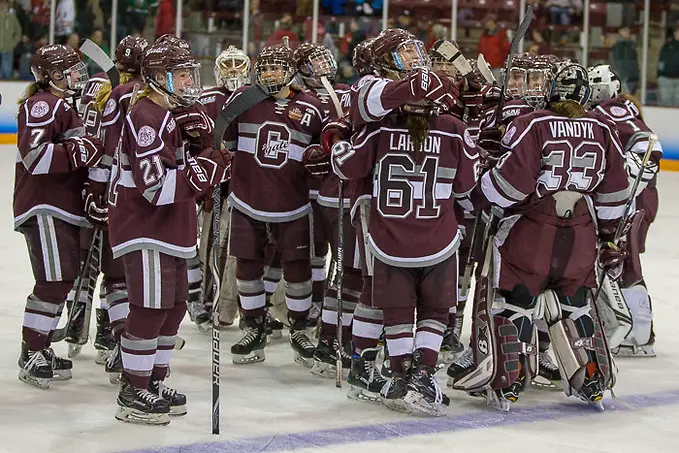 MINNEAPOLIS — A hockey season starts with many stories.
"It's been our goal since the beginning of the season, 3/18," Colgate senior forward Breanne Wilson-Bennett said. "That's the day we want to be playing on; that's the day we want to be champions. We've just had this vision in our head from the start."
Division I hockey has four conferences comprised of 34 teams, all dreaming of finding a way to the championship game. For many, it is a pipedream.
Wisconsin, ranked No. 1 for most of the year, looked fated to realize that dream. After coming up short in the title game as the favorite the season before, the Badgers were on a mission. Unfortunately for them, not all missions are accomplished.
"We had so many chances, and we tried to will those in, but they came up short," Wisconsin senior Baylee Wellhausen said.
Wellhausen willed one puck into the net to tie the game, 1-1, in the second period. Her classmate, Claudia Kepler, scored on a power play early in the third to forge a 2-2 tie. And with just over three minutes remaining in regulation, defenseman Mekenzie Steffen knotted the score once more at 3-3.
"We came back and tied it up, and it's going to come down to somebody making a play, somebody getting a chance, somebody getting an opportunity to get it in the back of the net," Wisconsin coach Mark Johnson said.
On this night, it was one Raider who did all three. Wilson-Bennett opened the scoring at 16:43 of the first period; she gave her team its second lead in the final minute of the second stanza.
"All year, we've had up and downs," Wilson-Bennett said. "We tried to keep calm on the bench, the coaching staff and the veteran players being that voice in our ear, telling us to, 'Keep your head down, stay focused, do your thing.'"
For many years, Colgate's thing was to lose games.
"When I committed, coach [Greg] Fargo had a plan, and I bought in," Wilson-Bennett said. "He looked me in the eye and told me that this is where we'd be, eventually. The seven seniors on this team jumped on board."
This is Fargo's sixth season at Colgate. His teams barely made it to double digits in wins his first couple of years. When Bennett and her class arrived in 2014-15, that win total dropped to seven.
"This group of seven seniors, we brought them in, and you could see that things were changing with them," Fargo said. "It didn't result in wins, but it was them doing all the right things, day in and day out, and not wavering from that."
A couple of 20-win seasons followed. This year, the Raiders chalked up win No. 33 in their first ever NCAA tournament game. That got them to their first Frozen Four, where late in a second overtime, they went on a power play.
"Steph [Decosse], my assistant coach came down and said, 'This is what we need,'" Fargo said. "I said, 'Yeah, if we can get the puck up the ice.'"
The Raiders had the skater advantage, but the Badgers appeared much the fresher team.
"We just needed to make a play," Fargo said. "It was very fitting that we scored off the rush toward the end of that power play."
Wilson-Bennett made that play, as she had made them all night, and her shot found its way into the net to complete a hat trick, and Colgate's 4-3 victory.
"Sometimes bounces are going to go in," Wellhausen said. "It's just the game of hockey."
A game where the tournament rules dictate that there must be a loser, no matter how well that team may have played.
"It's always a tough pill to swallow when it ends your season, and for Baylee, and Lauren [Williams], and Claudia, our three seniors, it's tough," Johnson said. "I told them they should walk out of here with their heads up. They have a lot to be proud of."
They just don't have a game on Sunday, 3/18.
"Now, we're down to two teams," Johnson said. "One of the two teams is going to be happy when they leave here, and the other one is going to be sad."
Wilson-Bennett and her teammates are happy just to be part of the script.