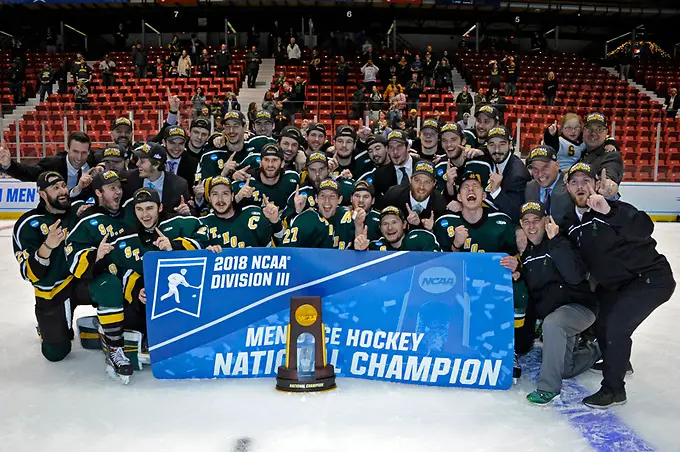 Coach Tim Coghlin was highly confident and comfortable in his young St. Norbert squad during the season and into the Frozen Four because he knew his 10 freshmen would be going into battle with a true warrior and leader in captain Tanner Froese.
Froese proved to be the man of action and role model Coghlin and the Green Knights needed to win their fifth national championship over Salve Regina on Saturday in a 3-2, double-overtime victory over Salve Regina in Lake Placid, N.Y.
"You've seen Tanner's play tonight," Coghlin said after Friday night's 4-3 victory over Colby in the semifinals. "That's what Tanner has done all season long for us. He's been the consummate leader. He's been a selfless guy. He's on the power play. He's on the penalty kill. He has done everything we have asked him to do with this young group."
Froese has led by example all season but put an exclamation point on his game during the Frozen Four.
During Friday night's semifinal win over Colby, Froese scored in the first period to give the Green Knights a 3-0 lead.
With Colby mounting a furious comeback, the senior put a dagger in the Mules with just 35 seconds remaining in the second period when he scored short-handed to give St. Norbert the two-goal cushion that it needed in a 4-3 semifinal win.
On Saturday night, Froese played big-time helper as he set up both Dominick Sacco and Luke Davison for goals in the first and second periods, respectively, to help the Green Knights to a 2-0 lead they ultimately lost to the resurgent Seahawks over the final period and a half.
After a first scoreless overtime period, both teams were searching for energy in the second overtime. Froese had one more piece of magic for the Green Knights.
Once again, he was in the middle of St. Norbert's attack and, in transition, made a perfect drop pass to fellow captain and senior Brad Pung, who snapped home the game-winning goal past the Seahawks' Blake Wojtala.
Froese's third assist of the night ensured his senior class laid claim to a national title during their four years at St. Norbert to continue a streak dating to 2003.
"I can't explain the way it feels," said Froese. "We've had tremendous support from the alumni this past week. We have been getting emails and text messages from everyone around.
"It wasn't like the pressure was on or anything, but all the support we got from our alumni was amazing and it gave us that much more confidence in ourselves and that much more motivation. It was really good."
"For this class, national title game as sophomores," Coghlin said. "Semifinal game as junior and now a national championship for the senior class that goes out the door — that is pretty good stuff."
Froese capped off his career and his final Frozen Four appearance as the tournament's most outstanding player.