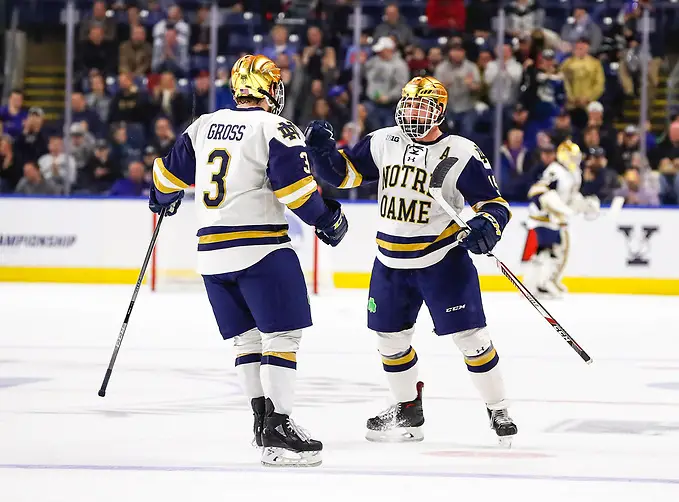 Coming from behind is in Notre Dame's system and has been in the way they've played all year.
After a season of close contests, Jeff Jackson's "cardiac kids" is no misnomer.
In a year where the Fighting Irish want to redeem a hard Frozen Four fall last season to champion Denver, finding a way to win has helped the Irish all season, leading into the Big Ten championship victory that ensured an NCAA tournament return.
"I'm really proud of our guys; they've been resilient all year long," Jackson said. "I call them the cardiac kids for a reason. Hopefully, it's not my cardiac. They find a way to win, regardless of the situation."
That resiliency has come in part to 16 one-goal games this season, including all four playoff appearances. The Irish's 11-3-1 record when tied after the first period this year shows a sense of calm to a team that thrives in chaos.
Those 16 one-goal games include the victory on Saturday over Providence in the East regional championship that propelled the Irish to St. Paul with 37 seconds left in the game — chaos in its own right.
Cal Burke started the play before setting up the victorious goal. Burke dumped the puck into the corner where it was picked up by Andrew Oglevie, who held it for Burke as he went behind the net. Burke took the hasty pass and sent it over to Dylan Malmquist, who scored as he crashed the net, sliding it between Providence goalie Hayden Hawkey's skate and post.
But for Jackson, the elation in the highlight reel moments shows changes to the structure that has to be made to ensure the season lives on beyond April 5.
"We do have to defend more than we are on offense at times, but it's a matter of making sure that we don't put Cale (Morris) at risk for two-on-ones and breakaways, and three on-twos," Jackson said. "We can minimize those situations and score timely goals. That's how we've played all season."
The ability to play close contests is largely due to the elite goaltending. Morris, taking his first reps after backing up Cal Peterson last year, has starred in a Hobey Baker-nominated season. The sophomore's stellar 26-7-1 record, paired with his .945 save percentage and 1.90 GAA, has anchored Notre Dame.
"It's definitely been a roller coaster," Morris said. "We've had those tight games all year, so we're kind of made for that at this point of the year. We know that we can handle any situation."
Morris understands the key role he plays in the team's overall success, helped on the other side of the puck from eight players who have at least 19 points. Offensive contributions from defensemen, including Jordan Gross' two goals against Michigan Tech to open the East regional, further boost the maneuverability for the Irish.
"Playoff hockey is definitely going to come down to one lucky bounce, one play like that, so knowing that we've been there all season and had success definitely helps going into the Frozen Four," said Morris.