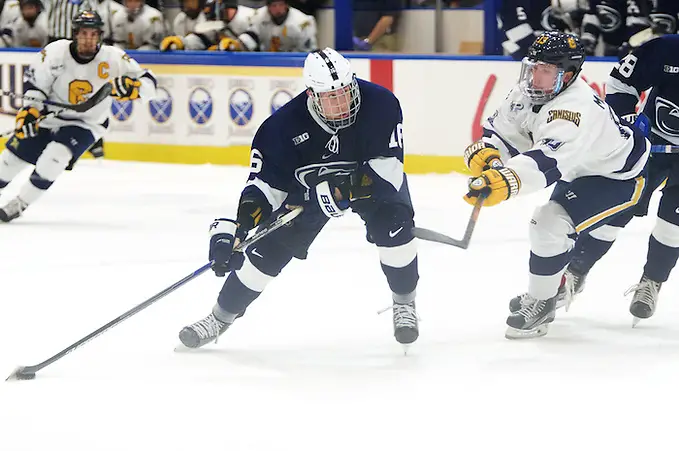 Penn State junior forward Andrew Sturtz will forgo his senior season after signing a two-year, entry-level contract with the Ottawa Senators Wednesday afternoon.
Sturtz led the Nittany Lions with a career-high 40 points on 14 goals and 26 assists during the 2017-18 season.
With neither the Senators nor their American Hockey League counterpart the Belleville Senators in position to make a postseason run, Sturtz will remain at Penn State through the week where he will continue to attend classes to earn his bachelor's degree in Recreation, Parks and Tourism Management over the next few weeks.
"We are extremely proud of 'Sturtzy,'" said PSU coach Guy Gadowsky in a statement. "He's an honors student who's going to graduate with his degree from Penn State and he's signing an NHL contract. He made this program a heck of a lot better and he will always be an integral part of Hockey Valley."
Earlier this season, Sturtz became Penn State's all-time leading goal scorer and just the second Nittany Lion ever to reach 100 career points. He also earned the first postseason accolade of his career with a Big Ten honorable mention selection earlier this month.
"This is a childhood dream come true," added Sturtz. "Five or six years ago, I didn't even think I would be playing Division I hockey and then Matt Lindsay found me in Carleton Place and brought me to Penn State. Being a part of this university and hockey program has opened my eyes to something bigger. The hockey program here is certainly going in the right direction and I think I left it better than I found it."
He leaves Penn State as the all-time career leader in goals scored with 54 while also holding the program standard for short-handed goals with nine, game-winning goals with eight and plus/minus finishing his career with a plus-50 rating in 111 games played. Sturtz also ranks second all-time in points (104) and shots on goal (402) while ranking tied for third in assists (50) and fifth in power-play goals with nine.