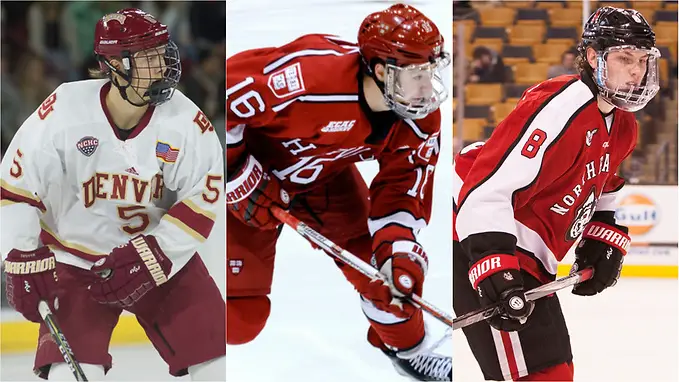 The Hobey Baker Memorial Award Committee announced Thursday the three Hobey Baker Hat Trick finalists for the 2018 award, honoring college hockey's top player.
Alphabetically, they are Denver sophomore forward Henrik Borgström, Harvard junior forward Ryan Donato and Northeastern junior forward Adam Gaudette.
All three have given up collegiate eligibility since the end of their seasons and signed NHL contracts – Borgström with Florida, Donato with Boston and Gaudette with Vancouver.
The three finalists were selected from the initial list of the top ten candidates by the 27-member selection committee and an additional round of online fan balloting to determine this year's Hobey Baker winner.
Criteria for the award includes: displaying outstanding skills in all phases of the game, strength of character on and off the ice, sportsmanship and scholastic achievements.
This year's Hobey Baker Award winner will be announced Friday, April 6, from the legendary Roy Wilkins Auditorium in St. Paul, Minn., during the Frozen Four. The announcement will be televised live on the NHL Network at 6 p.m. ET, and streamed at www.hobeybaker.com.