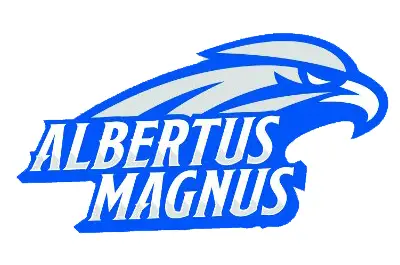 Albertus Magnus College announced Wednesday it plans to launch an NCAA Division III men's hockey program in 2019.
Through a unique partnership with the city of New Haven, Conn., the Albertus Falcons home games will be played at what will be a newly renovated Ralph Walker Skating Rink.
In addition to bringing the first Division III hockey program to the greater New Haven area, the partnership will offer learn to skate and youth hockey opportunities and will help bring back a beloved community resource, the Ralph Walker Skating Rink, notable for its unique open air design. The rink closed in 2016 for renovations, but the upgraded facility will include a new ice sheet and chiller plant, among other features.
"Growing up in New England, some of my fondest athletics memories are of playing ice hockey, which I was fortunate to continue playing into college," said Albertus president Marc Camille in a statement. "The addition of a men's varsity ice hockey team builds on the excitement and spirit of Albertus Falcons athletics, and we will evaluate the potential for adding a women's team in the future. The Ralph Walker Skating Rink is historic in New Haven, and it will offer a unique atmosphere for watching competitive college hockey. I'm especially pleased that our hockey coaches and student-athletes will help bring a Learn to Skate/Youth Hockey program to the city's youth."
"There are 32 Division III hockey programs in New England, but only three in Connecticut," added Albertus Magnus director of athletics Jim Abromaitis. "We will begin an immediate search for a coach and plan to field a varsity team for the 2019-20 academic year. As is the case for all our varsity teams, our ice hockey focus will be to build a competitive program while emphasizing the student-athlete experience in the spirit of NCAA Division III athletics."
A new warming hut, concession stands, and locker rooms will be available to city residents at the renovated rink.
"Through its academic programs and this new sports partnership, Albertus is deepening its commitment to and integration with greater New Haven, providing the types of experiences that broaden and enrich residents' lives," said New Haven mayor Toni Harp.
Board of Alders approval of the initial five-year agreement is required before it becomes official, but Wednesday's announcement ensures that the partnership information will facilitate discussion in a process meant to run concurrent with the city's FY19 budget process, to be completed in June.
Albertus Magnus College, founded in 1925 by the Dominican Sisters of Peace, is a Catholic College in the Dominican tradition. It has an enrollment of 1,500 students in its traditional undergraduate program, accelerated adult degree programs and 11 graduate programs, including the only Master of Arts in Art Therapy and Counseling in Connecticut.
The school fields 14 NCAA Division III varsity teams and competes in the Great Northeast Athletic Conference.