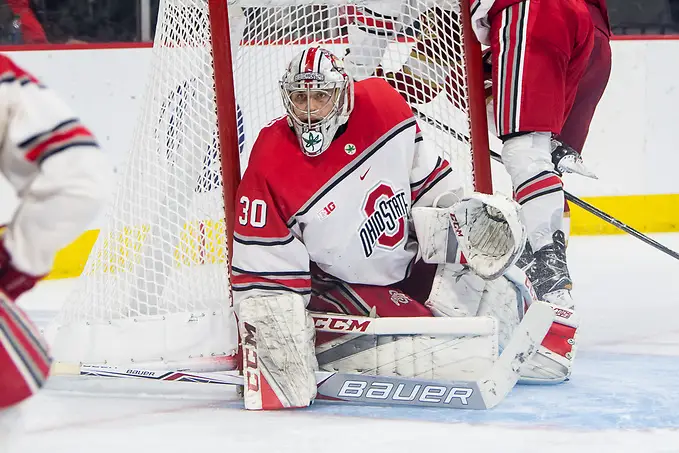 Ohio State junior goalie Sean Romeo is the recipient of this year's Elite 90 Award for men's hockey.
Romeo, a finance major, was presented with the award during the Frozen Four reception Wednesday evening in St. Paul, Minn.
The Elite 90, an award founded by the NCAA, is presented to the student-athlete with the highest cumulative GPA participating at the finals site for each of the NCAA's championships.
Eligible student-athletes are sophomores or above who have participated in their sport for at least two years with their school. They must be an active member of the team, traveling and a designated member of the squad size at the championship. All ties are broken by the number of credits completed.
Romeo, a Second Team All-Big Ten selection, has backstopped the Buckeyes to the second Frozen Four appearance in program history (and first since 1998). The Most Outstanding Player of the Midwest regional, he is in the Top 12 in the NCAA with a 2.06 GAA and a .927 save percentage. His 22 wins this year are tied for the second-most in program history.
He is an Academic All-Big Ten selection and an Ohio State scholar-athlete.
Jacyn Reeves of the Ohio State women's hockey team received the Elite 90 award during their trip to the Frozen Four in Minneapolis last month.