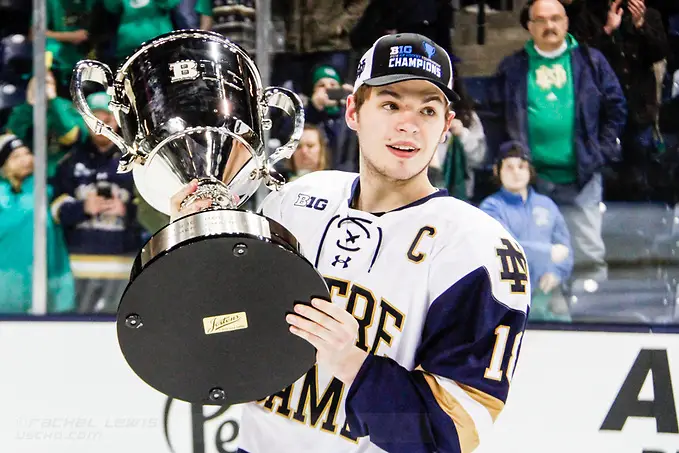 Notre Dame's Jake Evans was named Wednesday as the 2018 recipient of the Senior CLASS Award.
The award recognizes the most outstanding senior student-athlete in Division I men's hockey. It's selected in a vote of coaches, media and fans.
Evans, the Notre Dame captain, has volunteered at the Perley Fine Arts Academy in South Bend, Ind., and spent time in local third-grade classrooms.
On the ice, he was a first-team all-Big Ten selection this season, with 11 goals and 42 points. Notre Dame, which won both the Big Ten regular season and playoff titles, plays Michigan in the Frozen Four semifinals on Thursday.
"I'm honored to win this award," Evans said in a statement. "I think it is a testament to the culture our coaching staff has built here at Notre Dame, where our education and off-the-ice actions are all part of what it means to be a member of the Fighting Irish. Being pushed by my teammates daily also contributed to winning this award, and I also have to credit my parents, who instilled the values that this award honors."
Evans is the fourth student-athlete from Notre Dame to win the Senior CLASS Award after Manti Te'o (football) in 2012, Kerry Hanks (women's soccer) in 2008 and David Brown (men's hockey) in 2007.
An acronym for Celebrating Loyalty and Achievement for Staying in School, the Senior CLASS Award focuses on the total student-athlete and encourages students to use their platform in athletics to make a positive impact as leaders in their communities.
To be eligible for the award, a student-athlete must be classified as an NCAA Division I senior and have notable achievements in four areas of excellence: classroom, community, character and competition.
The Senior CLASS Award first-team All-Americans were: Michael Bitzer of Bemidji State, Evans, Mitch McLain of Bowling Green, Sam Piazza of Michigan and Ryan Schmelzer of Canisius.
The second team included: Dylan Abood of Air Force, Brady Ferguson of Robert Morris, Karson Kuhlman of Minnesota Duluth, Judd Peterson of St. Cloud State and Austin Poganski of North Dakota.