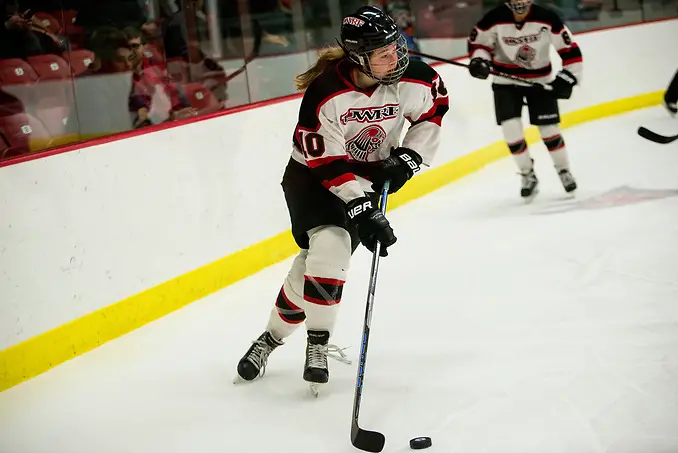 For leading the nation in rookie scoring and having a standout season on a team known for its offensive standouts, Wisconsin-River Falls freshman Callie Hoff is the USCHO women's D-III rookie of the year.
Hoff led all freshmen in goals (20) and points (37) and was second in assists with 17. She stepped into a big role for a young Falcons team –- 14 of their 21 players this season were underclassmen. Wisconsin-River Falls has had two of the best scorers in the game the past two seasons in Carly Moran and Dani Sibley. Hoff showed that she's ready to become the next big name on that list.
Not only did she lead all rookies in scoring, she's 15 points clear of the nearest freshman. She ended the season 13th in the country in goals scored. There are only two other freshman that even crack the top 40 in national scoring.
In the WIAC, Hoff was second only to Moran in points scored and was the highest-scoring freshman. She was named first-team all-WIAC for her efforts.
There were big shoes to fill at Wis.-River Falls, and there are always expectations for the Falcons. Hoff came into a high-pressure situation and performed beautifully. She did it having just recovered from an ACL tear suffered her senior year in high school. All rookies have the difficulty of transitioning to the speed and physicality of the women's game –- it's a truth universally acknowledged that every freshman has to overcome. However, Hoff had the added stress of wondering if her knee was healed and up to the challenge.
She worked with a skating coach in the off season to be fit enough to skate at the collegiate level, and the extra work paid off. The Falcons have a legacy of strong forward leaders and incredible scoring, and Hoff proved this season that she's the heir apparent for that crown.
Hoff scored 15 of her 36 points over the final 10 games of the season, including a three-point game against Wisconsin-Stevens Point in the playoffs. She was plus-29 on the season and tallied two game-winning goals. She also had two short-handed tallies, one fewer than the national leader.