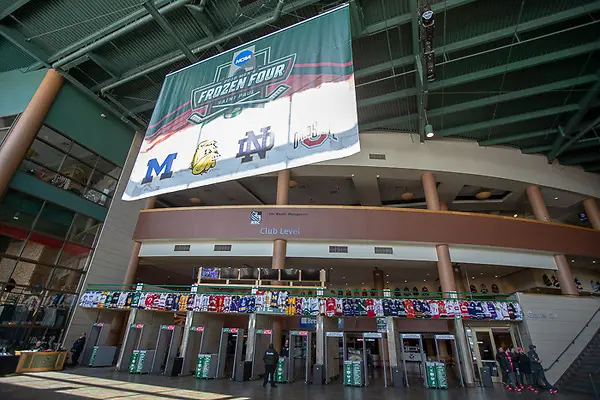 We're live at the 2018 Frozen Four with special editions of USCHO Live! through Saturday at Tom Reid's Hockey City Pub, just two blocks from the arena, 258 7th St. W. in St. Paul, Minn. We'll have prizes and giveaways, and Tom Reid's will have food and drink specials. Stop by if you're in town!
Our guests on the Thursday, April 5, edition of USCHO Live! include: NCAA rules committee secretary Steve Piotrowski, NCAA director of officials Frank Cole, and NCAA rules liaison Ty Halpin to discuss rules and officiating, followed by NCHC commissioner Josh Fenton, anda preview of today's semifinal matchups with beat writers following the teams.
Listen live starting at 12:30 p.m. CDT using the player below or the Spreaker Radio app for iOS, Android or Windows phone, or later on demand.
Be part of the conversation! Send your tweets to @USCHO or your emails to [email protected]. Each episode of USCHO Live! features a look at news around NCAA hockey, a look ahead at upcoming games and events, and conversation with people who coach, administer and play college hockey, and journalists who cover the sport.
About the hosts
Jim Connelly is a senior writer at USCHO.com and has been with the site since 1999. He is based in Boston and regularly covers Hockey East. He began with USCHO.com as the correspondent covering the MAAC, which nowadays is known as Atlantic Hockey. Each week during the season, he co-writes "Tuesday Morning Quarterback." Jim is the winner of the 2012 Joe Concannon award. He a former color analyst for UMass-Lowell hockey's radio network and studio analyst for NESN.
Ed Trefzger has been part of USCHO since 1999 and now serves as a senior writer and director of technology. He is the radio play-by-play voice for Rochester Institute of Technology hockey on the RIT Tigers Sports Network, and has been involved with the broadcasts as a producer, studio host, and color commentator since their inception. He is the owner and president of broadcasting company Dansville Media, and was general manager of the former Rochester, N.Y., sports radio station 97.5 The Team.