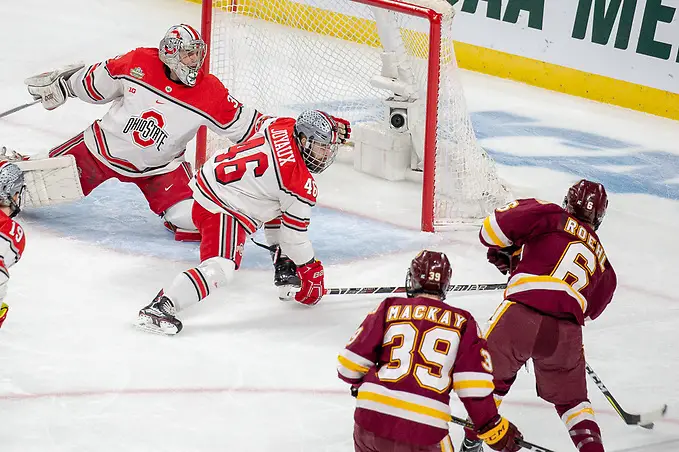 ST. PAUL, Minn. — People watching Friday's first semifinal game between Minnesota Duluth and Ohio State might have felt like they were watching a rerun with slightly funny color settings.
That's because the Bulldogs' 2-1 win over the Buckeyes was eerily similar to their 2-1 win over Air Force in the NCAA West Regional final two weeks ago in Sioux Falls, S.D.
Both games saw the Bulldogs dominate the first period and take a 2-0 lead. On Friday, UMD was up 2-0 not even four minutes into the game thanks to goals by Jared Thomas and Louie Roehl.
In Sioux Falls, it took the Bulldogs a little longer to score — it wasn't until the nine-minute mark that they were finally able to light the lamp — but in both cases, they were up 2-0 after one period.
"It was a pretty similar game if you look at it," said Thomas, who scored what turned out to be the game-winning goal. "We got off to that 2-0 lead. I thought we still played well. We weren't really defending for our lives. We only gave up 11 shots through two periods, I think. We were pretty effective that way. We just couldn't get that third goal."
In both instances, UMD's opponent settled down after the first intermission. Shots against Air Force were 14-0 UMD in the first period but an even 12-12 the rest of the way. Against Ohio State, it was 17-4 UMD after one and 16-11 OSU the final 40.
And in each game, the 2-0 score didn't hold — the other team made it interesting with a late power-play goal and a push to tie with an empty net.
Ohio State's Tanner Laczynski cut it to 2-1 with just more than 10 minutes left. Air Force did the same, only the Falcons did so with just seven minutes to go.
"It's always hard to put teams away," Roehl said. "They come out in the second period after we get a lead and they fight hard to try and save their season. They made a big push but I thought we kind of weathered the storm well. Our defense has been great this year."