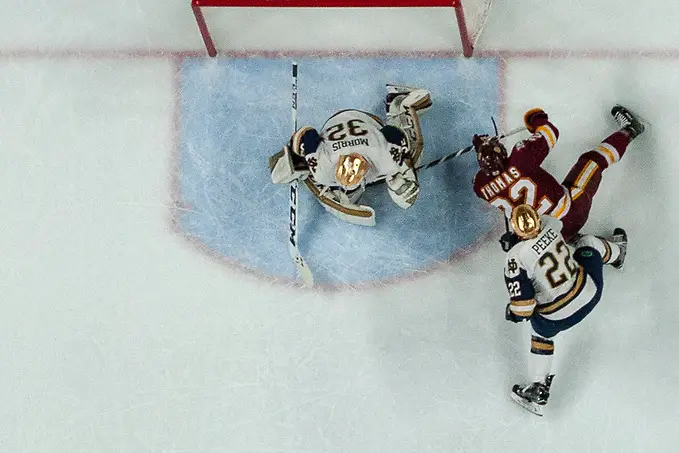 ST. PAUL, Minn. — It was strength versus strength. The irresistible force versus the immovable object. Minnesota Duluth's power play versus Notre Dame's penalty kill.
When Notre Dame's Mike O'Leary was whistled for hooking with 18 seconds left in the first period, the epic special-teams battle moved to center stage. Duluth already led 2-0, and would have clean ice and 1:42 remaining on the penalty to start the second.
Arguably, the game's outcome hung in the balance. A three-goal deficit against Duluth, one of the best defensive teams in the country, would be near insurmountable for Notre Dame. The Bulldogs power play had converted 23.6 percent of the time, the seventh-best mark nationally.
A golden opportunity.
The Bulldogs had had trouble getting that extra goal to make things easier on themselves, instead riding three white-knuckle, single-goal wins to the national championship game. This seemed the ideal time to reverse that trend.
"We haven't been able to find that third goal, for whatever reason," Duluth coach Scott Sandelin said. "I was hoping tonight would be [the night]."
It wasn't.
Standing in the way was Notre Dame's penalty kill, the second-best unit in the country. The Irish PK came out on top of that heavyweight battle, only to see Jordan Gross pick up a tripping penalty to put Duluth back on the power play.
Including an extensive stretch of delayed penalty time, the penalties gave Duluth a total of over four minutes a man up.
The Bulldogs power play generated chances but couldn't deliver the knockout punch.
"We obviously would have liked to see one of them go in and give us that three-goal lead, but we at least got some momentum," Jared Thomas said.
Minutes later, however, Notre Dame scored on a power play of its own, making the 2-1 contest anyone's game. Even so, Duluth had learned its lesson about such missed opportunities in its loss to North Dakota weeks earlier in the NCHC third-place game, a loss that came within a whisker of bouncing Duluth from the NCAA tournament.
"At that time our power play didn't give us any momentum and our bench went bleah," Sandelin said. "[North Dakota] capitalized and they won the hockey game."
This time, the Duluth bench went anything but bleah. The Bulldogs didn't reestablish the two-goal lead, but with a hard lesson learned from the North Dakota loss, they got the momentum back and played shut-down hockey the rest of the way.
The potential for an easier game had flown out the window, but a national championship had not. The Bulldogs were once again the national champion.