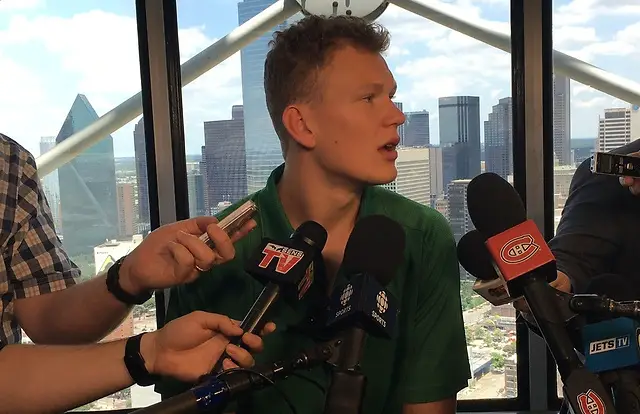 Two of last season's top freshmen in college hockey are among the top prospects heading into Friday night's NHL Draft taking place at American Airlines Center in Dallas.
Boston University forward Brady Tkachuk and Michigan defenseman Quinn Hughes are each forecasted to be early first-round selections when Friday night's draft gets underway. Both could be top 10 selections and either could jump into the top five overall.
Tkachuk is coming off a rookie campaign where he scored 31 points, including eight goals. He scored five points in his six postseason games. He also scored three goals and nine points in seven games representing Team USA at last season's World Junior Championship. He was ranked second among North American skaters in the final rankings issued by NHL Central Scouting.
"He's a complete package who can be impactful in every situation, with or without the puck" said Dan Marr, director of NHL Central Scouting. "If you need a goal, he'll go get a scoring chance. If you're protecting a lead, he'll be responsible defensively. If you need someone to go in there and throw their weight around a little bit, he's a guy who steps up. He seems to rise to those occasions."
David Quinn, Tkachuk's coach last season at Boston University, is now coaching the New York Rangers. The Rangers have the ninth pick in the draft's opening round.
Hughes, who faced and defeated Tkachuk in last season's NCAA Northeast Regional final, posted 29 points and five goals in his freshman campaign, leading all Michigan blueliners. He represented Team USA at both the World Junior Championship and the World Championship. Hughes is ranked sixth among North American skaters in the final Central Scouting rankings.
"[Hughes] is a smooth-skating, mobile defenseman who carries the puck very well and can transform from defense to offense with his feet or by making a pass," said NHL Central Scouting's David Gregory. "He reads the play well and uses good positioning and his use of angles to defend."
Gregory said Hughes is likely to be a top-four NHL defenseman because of his skating and puck skills.
Tkachuk and Hughes are two current college players with first-round hopes, but there are several other players who are committed to college teams with high draft expectations.
Leading that list is Oliver Wahlstrom. Possibly best known for committing to Maine when he was 13 before de-committing from both the Black Bears and also Harvard, Wahlstrom is expected to attend Boston College in the fall and could be a top-10 selection on Friday.
Wahlstrom played last season for USA Hockey's National Team Development Program, leading the team in goals, assists and points.
Joel Farabee, a teammate of Wahlstrom with the NTDP and a Boston University commit, was ranked 12th in the final ranking of North American skaters and is projected as a first-rounder in many mock drafts.
The Buffalo Sabres hold the top pick in this year's draft and are expected to select Swedish defenseman Rasmus Dahlin.
The first round of the NHL Draft is scheduled to begin at 7:30 p.m. ET on Friday night (TV: NBC Sports Network). The draft concludes with rounds two through seven on Saturday morning beginning at 11 a.m. ET (TV: NHL Network).