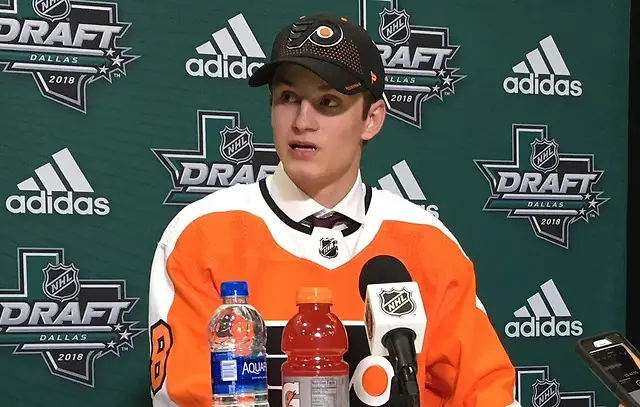 DALLAS — Two current college hockey players and five recruits were selected in the first round of the 2018 NHL Draft on Friday night at the American Airlines Center.
Boston University left wing Brady Tkachuk became the first American and the first collegian drafted when the Ottawa Senators selected him with the fourth overall pick.
Tkachuk scored eight goals and 23 assists as a freshman, helping the Terriers to the Hockey East tournament championship after a subpar first half. His year also included a bronze medal at the IIHF World Junior Championship in Buffalo.
He's most known for his size and ability to dominate below the dots, win battles, and drive the net. As a true freshman, it was hard for him to do that, but he showed flashes of physical superiority.
"He's a true competitor. His game is still getting refined right now, but when he's 22-23, he's going to be a hard guy to deal with in the corners and in front of the net. Plus, he can make plays, he can score and he can do a little bit of everything," said Albie O'Connell who was promoted to BU's head coach on June 5.
Tkachuk, whose older brother Matthew played in the Ontario Hockey League with the London Knights, credited the NCAA route for helping in his development this past season.
"Playing against 25-year-olds," said Tkachuk when asked the benefit of playing college hockey. "We had a great team and it was always competitive practices. We had a great group of guys. You're playing against big, strong 'D.' You have to use your brain more in battles instead of out-muscling them because they're pretty strong guys. Overall, it was a great spot for me. It really helped me develop."
Tkachuk's selection meant he and his father, former NHL and BU star Keith Tkachuk, became the first father-son duo in college hockey to both be drafted. He became the third Terrier in four years to be selected in the top 10.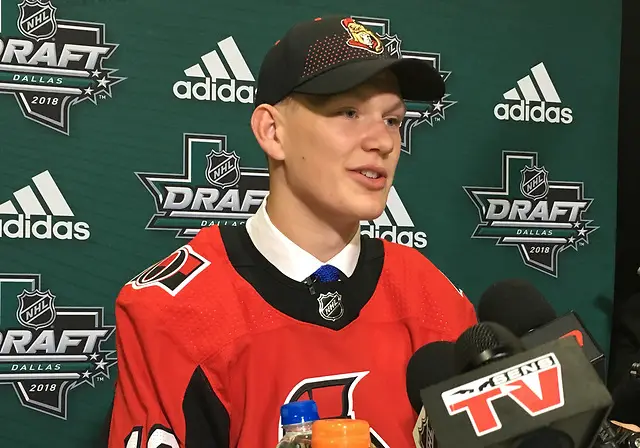 Three picks later, the Vancouver Canucks selected Michigan defenseman Quinn Hughes. While Hughes is undersized, his fluid skating and puck-moving capabilities wowed fans and scouts all season during his freshman year playing for Mel Pearson's Wolverines.
"I'm excited. I thought Vancouver would be right around my spot. It's a great hockey market and they have a lot of young talent coming up," said Hughes, who scored five goals and added 29 assists in 37 games this season.
With Hughes' lack of size, plenty of scouts had concerns that he couldn't defend when he didn't have the puck on his stick. There were certainly moments that he'd like back, but he also endorsed the college route when it came to his progression as a player.
"It really helped me to be around older guys in practice and play against older guys. On the ice, learning to defend against bigger, stronger guys opened up some eyes to people who thought I couldn't defend," said Hughes.
After Tkachuk and Hughes, U.S. NTDP right wing Oliver Wahlstrom became the first college hockey recruit to be taken Friday night. The Boston College commit, who had formerly offered his verbal agreement to Maine and Harvard, was picked by the New York Islanders with the 11th overall pick after his 48-goal season. Whether Wahlstrom makes it to campus is still up for debate, but his lethal shot would be a potential difference maker for the Eagles.
"I'm a big, strong power forward with lots of skill and creativity," said Wahlstrom when asked to describe his game. "My biggest asset is my shot. I can get it off from anywhere. Scoring goals has been my specialty since I've been a little kid."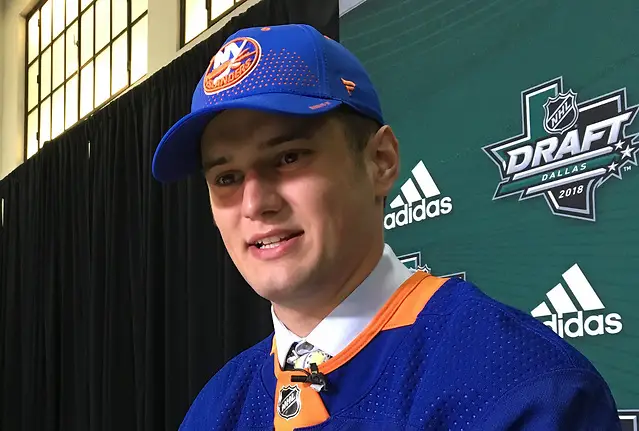 Joel Farabee became the second player with a connection to the Terriers selected in the first round. An NTDP linemate of Wahlstrom, he's committed to play for the Commonwealth Ave. rival.
The Cicero, N.Y., native was drafted by the Philadelphia Flyers with the 14th overall selection. Known for his speed, the left wing put up gaudy numbers in his two years in Plymouth.
"Joel is a great kid. He's a competitor who still has a long ways to go physically. He's a great player and a great scorer. He should hit the ground running come September," said O'Connell.
"Right now I'm more a playmaker, but with my skill set I can play a bunch of different roles. I think that will help me moving on," Farabee added.
Joining Tkachuk, Farabee became the ninth Terrier to be drafted in the first round over the past four years.
"BU has always had great players over the year," O'Connell said. "It's about building a good program and having a development model for those guys. They want to be coached the right way."
Perhaps the biggest surprise of the first round came when Providence recruit Jay O'Brien was drafted 19th overall by the Philadelphia Flyers. Coming from prep school, his stock soared in the first half of the season after several stellar outings while playing up with the U.S. NTDP.
"I play the same way everywhere I go. After playing with the U.S. team in some USHL games and some college games, I think that's why I got picked where I got picked," said O'Brien.
O'Brien is a versatile, two-way center with an incredible hockey IQ and a high compete level. He scored nearly three points per game as he led Thayer to the NEPSAC large school championship game.
The last two recruits taken in the first round were K'Andre Miller, selected 22nd by the New York Islanders, and Jacob Bernard-Docker, picked 26th by the Ottawa Senators.
Miller is a big, athletic defenseman who can skate and play well at both ends of the ice. A native of Hopkins, Minn., he scored nine goals and added 20 assists for the U.S. NTDP this season and will play for Wisconsin.
Bernard-Docker was the only Canadian among the college hockey contingent drafted on Friday night. The Canmore, Alberta, native compiled 20 goals and 21 assists as he manned the blue line for the Okotoks Oilers in the Alberta Junior Hockey League.
Bernard-Docker became the 15th North Dakota player to be selected in the first round since 2000, according to Brad Schlossman of the Grand Forks Herald. The other 14 have all made it to the NHL.
The draft continues Saturday morning at 10 a.m. CT. Viewers in the United States can watch on NHL Network.
| Player's Name | Position | School | 2017-18 Team | NHL Team | Draft Round (Overall) |
| --- | --- | --- | --- | --- | --- |
| Brady Tkachuk | F | Boston University | Boston University | Ottawa | 1 (4) |
| Quinn Hughes | D | Michigan | Michigan | Vancouver | 1 (7) |
| Oliver Wahlstrom | F | Boston College | U.S. NTDP (USHL) | NY Islanders | 1 (11) |
| Joel Farabee | F | Boston University | U.S. NTDP (USHL) | Philadelphia | 1 (14) |
| Jay O'Brien | F | Providence | Thayer Academy | Philadelphia | 1 (19) |
| K'Andre Miller | D | Wisconsin | U.S. NTDP (USHL) | NY Rangers | 1 (22) |
| Jacob Bernard-Docker | D | North Dakota | Okotoks (AJHL) | Ottawa | 1 (26) |
| Mattias Samuelsson | D | Western Michigan | U.S. NTDP (USHL) | Buffalo | 2 (32) |
| Jack Drury | F | Harvard | Waterloo (USHL) | Carolina | 2 (42) |
| Ruslan Iskhakov | F | UConn | CSKA 2 (Russia) | NY Islanders | 2 (43) |
| Scott Perunovich | D | Minnesota Duluth | Minnesota Duluth | St. Louis | 2 (45) |
| Jonathan Tychonick | D | North Dakota | Penticton (BCHL) | Ottawa | 2 (48) |
| Jack McBain | F | Boston College | Toronto (OJHL) | Minnesota | 3 (63) |
| Tyler Madden | F | Northeastern | Tri-City (USHL) | Vancouver | 3 (68) |
| Jake Wise | F | Boston University | U.S. NTDP (USHL) | Chicago | 3 (69) |
| Jordan Harris | D | Northeastern | Kimball Union Academy | Montreal | 3 (71) |
| Ty Emberson | D | Wisconsin | U.S. NTDP (USHL) | Arizona | 3 (73) |
| Sampo Ranta | F | Wisconsin | Sioux City (USHL) | Colorado | 3 (78) |
| Blake McLaughlin | F | Minnesota | Chicago (USHL) | Anaheim | 3 (79) |
| Seth Barton | D | UMass Lowell | Trail (BCHL) | Detroit | 3 (81) |
| Logan Hutsko | F | Boston College | Boston College | Florida | 3 (89) |
| Nathan Smith | F | Minnesota State | Cedar Rapids (USHL) | Winnipeg | 3 (91) |
| Matej Pekar | F | Miami | Muskegon (USHL) | Buffalo | 4 (94) |
| Jonathan Gruden | F | Miami | U.S. NTDP (USHL) | Ottawa | 4 (95) |
| Ryan O'Reilly | F | Denver | Madison (USHL) | Detroit | 4 (98) |
| Slava Demin | D | Denver | Wenatchee (BCHL) | Vegas | 4 (99) |
| Jasper Weatherby | F | North Dakota | Wenatchee (BCHL) | San Jose | 4 (102) |
| Jacob Pivonka | F | Notre Dame | U.S. NTDP (USHL) | NY Islanders | 4 (103) |
| Martin Pospisil | F | St. Lawrence | Sioux City (USHL) | Calgary | 4 (105) |
| Demetrios Koumontzis | F | Arizona State | Edina (Minn.) High School | Calgary | 4 (108) |
| Tyler Weiss | F | Omaha | U.S. NTDP (USHL) | Colorado | 4 (109) |
| Jachym Kondelik | F | UConn | Muskegon (USHL) | Nashville | 4 (111) |
| Jack St. Ivany | D | Yale | Sioux Falls (USHL) | Philadelphia | 4 (112) |
| Paul Cotter | F | Western Michigan | Lincoln (USHL) | Vegas | 4 (115) |
| Jack Perbix | F | Notre Dame | Elk River (Minn.) High School | Anaheim | 4 (116) |
| Curtis Hall | F | Yale | Youngstown (USHL) | Boston | 4 (119) |
| Alex Green | D | Cornell | Cornell | Tampa Bay | 4 (121) |
| Jack Gorniak | F | Wisconsin | West Salem (Wis.) High School | Montreal | 4 (123) |
| Mitchell Gibson | G | Harvard | Lone Star (NAHL) | Washington | 4 (124) |
| Angus Crookshank | F | New Hampshire | Langley (BCHL) | Ottawa | 5 (126) |
| Spencer Stastney | D | Notre Dame | U.S. NTDP (USHL) | Nashville | 5 (131) |
| Brandon Kruse | F | Bowling Green | Bowling Green | Vegas | 5 (135) |
| Hugh McGing | F | Western Michigan | Western Michigan | St. Louis | 5 (138) |
| Mikael Hakkarainen | F | Providence | Muskegon (USHL) | Chicago | 5 (139) |
| Michael Callahan | D | Providence | Youngstown (USHL) | Arizona | 5 (142) |
| David Hrenak | G | St. Cloud State | St. Cloud State | Los Angeles | 5 (144) |
| Michael Kesselring | D | NOT COMMITTED | New Hampton School | Edmonton | 6 (164) |
| Emilio Pettersen | F | Denver | Muskegon (USHL) | Calgary | 6 (167) |
| Gavin Hain | F | North Dakota | U.S. NTDP (USHL) | Philadelphia | 6 (174) |
| Liam Gorman | F | Boston University | St. Sebastian's School | Pittsburgh | 6 (177) |
| Peter DiLiberatore | D | Quinnipiac | Salisbury School | Vegas | 6 (180) |
| Dustyn McFaul | D | Clarkson | Pickering (OJHL) | Boston | 6 (181) |
| John Leonard | F | Massachusetts | Massachusetts | San Jose | 6 (182) |
| Cole Koepke | F | Minnesota Duluth | Sioux City (USHL) | Tampa Bay | 6 (183) |
| Jared Moe | G | Minnesota | Waterloo (USHL) | Winnipeg | 6 (184) |
| Jakov Novak | F | Bentley | Janesville (NAHL) | Ottawa | 7 (188) |
| Brett Stapley | F | Denver | Vernon (BCHL) | Montreal | 7 (190) |
| Matt Thiessen | G | Maine | Steinbach (MJHL) | Vancouver | 7 (192) |
| Josiah Slavin | F | Colorado College | Lincoln (USHL) | Chicago | 7 (193) |
| Luke Loheit | F | Minnesota Duluth | Minnetonka (Minn.) High School | Ottawa | 7 (194) |
| Christian Krygier | D | Michigan State | Lincoln (USHL) | NY Islanders | 7 (196) |
| Jake Kucharski | G | Providence | Des Moines (USHL) | Carolina | 7 (197) |
| Cole Krygier | D | Michigan State | Lincoln (USHL) | Florida | 7 (201) |
| Sam Hentges | F | St. Cloud State | Des Moines (USHL) | Minnesota | 7 (210) |
| Ty Taylor | G | New Hampshire | Vernon (BCHL) | Tampa Bay | 7 (214) |
| Austin Wong | F | Harvard | Okotoks (AJHL) | Winnipeg | 7 (215) |
| Riley Hughes | F | Northeastern | St. Sebastian's School | NY Rangers | 7 (216) |