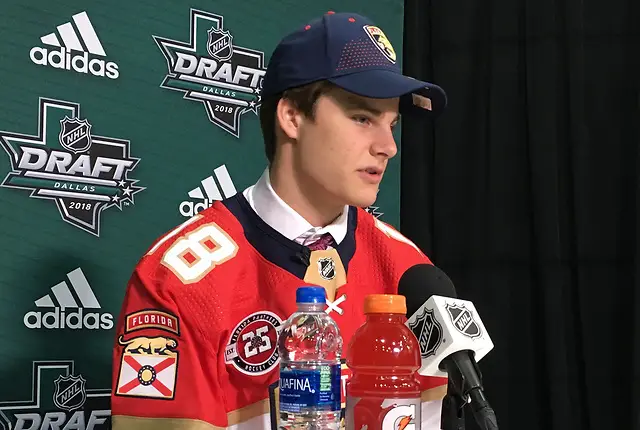 DALLAS — Saturday's first selection at the 2018 NHL Draft was a foreshadowing of a busy day to come for college hockey players and recruits at the American Airlines Center.
With the first pick of the second round, 32nd overall, the Buffalo Sabres drafted Western Michigan commit Mattias Samuelsson, the first of five future collegians selected in the round.
"My meeting with them at the combine went pretty well. I didn't know anything for sure, but I had confidence Buffalo might want to take me," said Samuelsson. "I'm literally shaking I'm so happy. Buffalo is a world-class organization. To be a part of that and spend time with my family has been an unbelievable experience."
Samuelsson was thought to be a first-round talent by many. The 6-foot-4 Voorhees, N.J., native posted 11 goals and 20 assists in 58 NTDP games this season.
"I have a long way to go to the NHL. I want to continue to develop. I try to play a two-way game. I like to move pucks north and be a good defender," Samuelsson explained.
His father, Kjell Samuelsson, is a former NHL defenseman who now is a development coach with the Philadelphia Flyers.
"He's taught me to stick up for myself, use my body to my advantage and to not back down and don't be afraid to play your style of game," said Samuelsson.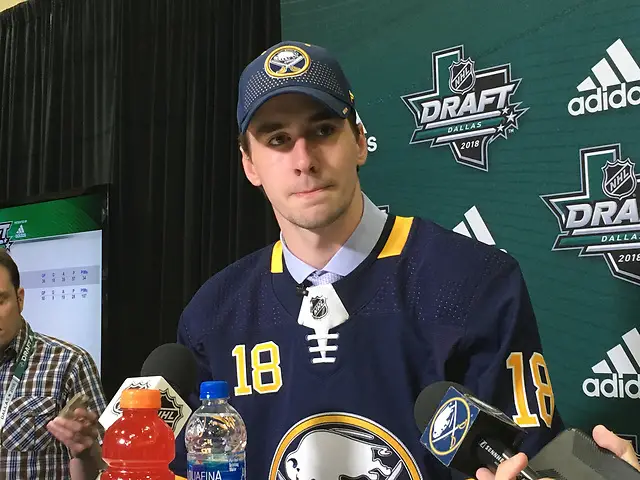 Samuelsson was at one point committed to Michigan, but switched to the Broncos to join his older brother, Lukas, who just finished his freshman season in Kalamazoo.
"They have a great coaching staff. Andy Murray coached my dad in Philadelphia. They've had a great relationship for many years. He's coached in the NHL and that's where I want to be. Western is a good team in the best division in college hockey," he added.
Harvard recruit Jack Drury began a run of four college-bound picks in seven selections midway through the second round when he was selected 42nd overall by the Carolina Hurricanes.
Drury is a familiar name to all hockey fans. His father, Ted, played at Harvard before playing in 428 NHL games and his uncle, Chris, won the 1998 Hobey Baker Award and the 1995 NCAA championship at BU before a long and storied NHL career.
The Waterloo Black Hawks product is a two-way center who plays a complete, 200-foot game. His skating needs improvement, but he's a high-character player who will block shots and do whatever it takes to win hockey games.
"If you watch the playoffs, you win by playing both ends. It's something I've always been carried towards," said Drury.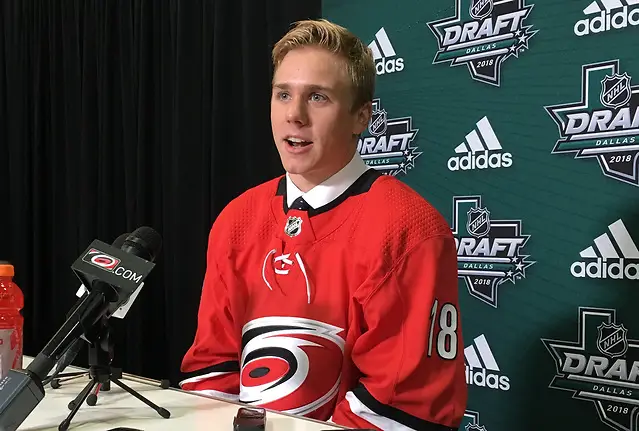 Connecticut commit Ruslan Izkhakov from Russia was selected one pick later by the New York Islanders. He's a diminutive forward with tremendous speed, skill and work ethic. NHL scouts who saw him in Europe universally raved about his potential to positively impact the Huskies.
The St. Louis Blues took Scott Perunovich, the leading scorer for national champion Minnesota Duluth, with the 45th overall pick. The puck-moving defenseman posted 11 goals and 25 assists en route to being named both the USCHO and Tim Taylor NCAA Rookie of the Year.
"The entire year at UMD, we had a lot of ups and downs. The national championship is something you'll remember forever," said Perunovich.
The final NCAA recruit taken in the second round was Jonathan Tychonich, selected 48th overall by the Ottawa Senators. The Calgary, Alberta, native is an offensive-minded defenseman who registered 12 goals and 52 assists in 59 BCHL games with Fred Harbinson's Penticton Vees, a perennial powerhouse in the league.
"At the end of the day, the main reason to pick NCAA was the professional environment Fred and the coaching staff and owners run in Penticton and their winning ways, "said Tychonick, who joined fellow UND commit Jacob Bernard-Docker as Ottawa picks. "North Dakota is another professional environment run by amazing coaches. The main reason I picked North Dakota was how comfortable I was with them and all the NHL guys they've produced.
"I talked to Tyson Jost on why he picked North Dakota. His main comment was you've just got to see it."
Boston College right wing Logan Hutsko was the second current collegiate player selected on Saturday. The Tampa, Fla., native was named the Hockey East Rookie of the Year after leading the Eagles in scoring with 12 goals and 19 assists.
Hutsko was in his second season of draft eligibility after being passed over last June. His selection is a remarkable story as he has recovered from serious injuries, including a broken neck, in consecutive seasons with the U.S. NTDP.
"I never thought I'd be here. To be able to accomplish what I did makes it so much more special to be here with my family," said Hutsko.
The Eagles missed the NCAA tournament in 2017-18 for a second consecutive year, but Hutsko is confident they'll make a return this upcoming season thanks to the returners and a solid incoming class that includes first-round pick Oliver Wahlstrom and third-round pick Jack McBain.
"I'm excited for next year. We're going to have a great team and can make a run. We overachieved this year. To bring in that kind of talent in next year, it will be really cool to see what we can do," said Hutsko.
Brady Tkachuk's first round selection made him and his father, Keith, the first father-duo to both be drafted in college hockey history. On Saturday, another familiar name to college hockey faithful was picked.
The Vancouver Canucks drafted Northeastern recruit Tyler Madden in the third round with the 68th overall pick. He's the son of former Michigan star and NHL journeyman John Madden, who is now the head coach of the Lake Erie Monsters in the AHL.
"It's amazing. I've waited my whole life for this moment. It's really special," said Madden, a center out of Tri-City in the USHL. "My dad didn't get drafted, but he had an idea of what happens. It was nice to have him by my side to calm me down.
Madden and fellow third-round pick Jordan Harris, a defenseman out Kimball Union, along with St. Sebastian's prep school forward Riley Hughes (seventh round, 216th overall) were the Northeastern recruits selected.
"The coaches," said Madden of why he chose the Huskies. "Jerry Keefe recruited me. He's one of the best guys I've ever met. He's one of the smartest hockey coaches."
Madden has terrific speed and scored 15 goals and 19 assists in 50 USHL games this past season after making the move from prep school.
"I think my hockey IQ, my speed and the way I handle the puck," said Madden of his strengths. "A big part of my game is controlling the pace of the game."
In total, 67 current or future college players were picked in the 2018 NHL Draft, the highest total since 2007. Nine of those were current players. The 2019 NHL Draft will take place next June in Vancouver.