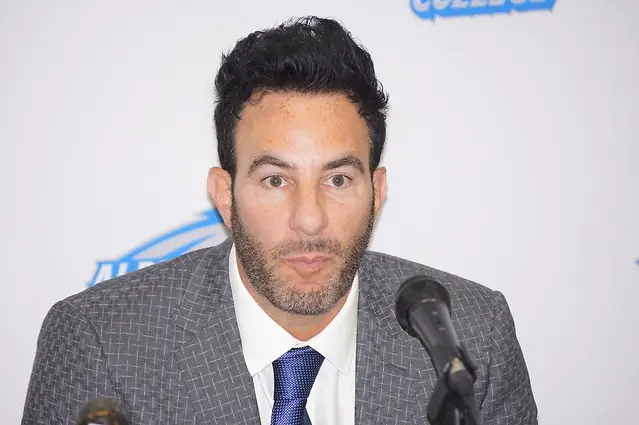 Albertus Magnus announced Monday that Kyle Wallack has been appointed as the first head men's coach at the school, which will begin NCAA Division III play for the 2019-20 season.
Wallack had been the associate head coach at Vermont.
"In a deep and qualified pool of more than 100 applicants, Kyle Wallack rose to the top as the right person to develop and lead the new hockey program at Albertus Magnus College," said Albertus Magnus president Dr. Marc M. Camille in a statement. "Kyle is a highly regarded hockey coach with a proven record of success in recruiting and coaching talented student athletes. His previous experience at Yale and Quinnipiac and his appreciation for the distinct advantages of Albertus' Catholic, liberal arts-based education will serve him well."
"My family and I are absolutely thrilled to become part of the Albertus and New Haven communities," added Wallack. "Being from Connecticut makes this opportunity extra special for us. I would like to thank president Marc Camille and athletic director Jim Abromaitis as well as all the members of the search committee for their efforts throughout this process. It's truly an honor to become the first head coach of the program and I am excited to lead and preach the values that Albertus is known for."
Wallack boasts 18 years of NCAA Division I coaching experience and one season as a head coach in the USHL. Serving as the associate head coach at Vermont since 2013, Wallack's responsibilities included offensive coaching, recruiting and the power play. Wallack helped lead Vermont to three 20-win seasons in a four-year span from 2013 to 2017, including a 2014 NCAA tournament appearance.
Prior to joining UVM, Wallack was the head coach of the USHL's Indiana Ice in the USHL. He also spent five seasons as an assistant coach at Yale and served as an assistant coach at Holy Cross for two seasons.
The West Hartford, Conn., native also spent three years as assistant coach at Quinnipiac, followed by two seasons at UConn.
As a player, Wallack was a four-year starting goaltender at Springfield College. He served as the team captain as a senior and earned All-NECHA honors twice during his career.