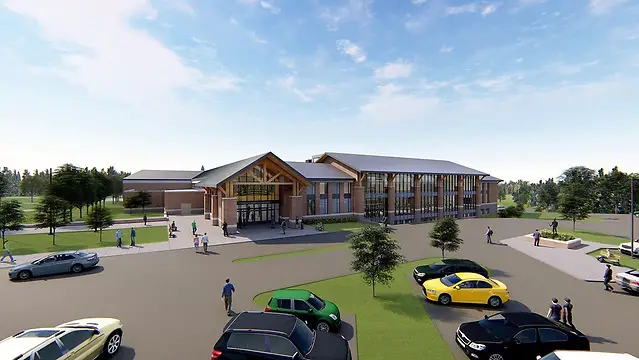 Cheel Campus Center and Arena on Clarkson's campus is undergoing a major overhaul that will modernize the building's infrastructure and expand its footprint to add more state-of-the-art features to enhance programmatic offerings, hockey facilities and student life at Clarkson while also providing further economic benefits to the surrounding community.
A groundbreaking ceremony is scheduled for Saturday, July 14 at 3 p.m. EDT near the Golden Knight statue in front of Cheel as part of Clarkson's reunion weekend activities and the Potsdam Summer Festival.
According to a press release, the decision by the Dormitory Authority of the State of New York to award $3.45 million to Clarkson's project through the NYS Higher Education Capital Match Program was the boost that the university needed to advance the review of bids and to hire the contractors to begin the project. At any given time during active construction, the university anticipates more than 100 workers will be employed on the project.
Combined with the fundraising to date from alumni and friends, and future matching funds to be raised, the university plans to begin Phase 1 this summer. The first phase of this multi-phase project is to build out an addition to the front to encompass athletic and wellness facilities – including a climbing wall as an extension of the popular Munter trails — as well as serve as a hub for professional development for students interested in construction engineering and health and safety experiences.
When all phases are completed, more than 30,000 square feet will be added to the building. The project will be implemented over several construction phases to ensure the space is at least partially functional at all times. The entire facility is expected to be completed before April 1, 2020 and will be among the venues for the Adirondack Global Sports Commission to use in the World University Games in 2023.
The upper level of Cheel will be renovated to include a dedicated space for the new Student Professional Development Center, where students will have the opportunity to acquire hands-on construction engineering management experience. A portion of Clarkson's facilities department will move to the upper level, freeing space at our downtown campus for further economic development. Cheel's large conference rooms will be upgraded for more efficient use of the space by our students and community members to host meetings and events.
On the main level, a state-of-the-art collegiate fitness facility for use by the entire campus community will be built. It will serve approximately 4,000 students, faculty, and staff. Nearly 50 student athletes from the men's and women's hockey teams will have access to state-of-the-art training facilities and fitness equipment on the basement level.