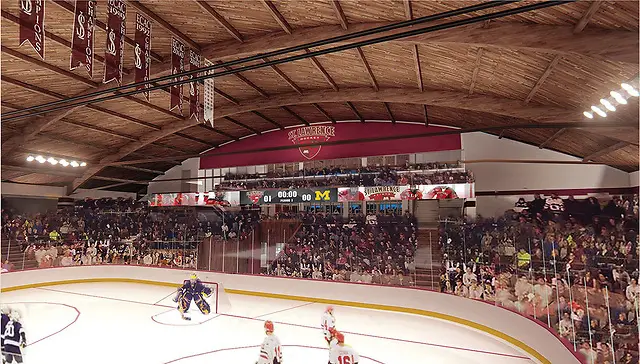 St. Lawrence has received two significant financial commitments that make plans to renovate historic Appleton Arena a reality.
A $10 million gift from alumnus Tom Dolan (class of 1974) and the Dolan Family Foundation has set the project in motion.
"I am very pleased to sponsor a grant from the Dolan Family Foundation to assist St. Lawrence in renovating Appleton Arena," Dolan said in a statement. "I congratulate the university for producing a plan that assures Appleton will retain the charm of its historic personality while adding important 21st-century amenities."
Improvements include a new entrance, widening concourses, expanding concessions, additional social spaces, and improving both broadcast and live streaming technologies. For the players, improvements involve providing the men's and women's hockey programs with superior athletic facilities. The project also creates new features and locker room space for Saints' Division III men and women's lacrosse, field hockey, softball and the men and women's rowing teams.
The changes will also result in more wellness space for students, faculty and staff in the Stafford Fitness Center, located in the Newell Field House complex.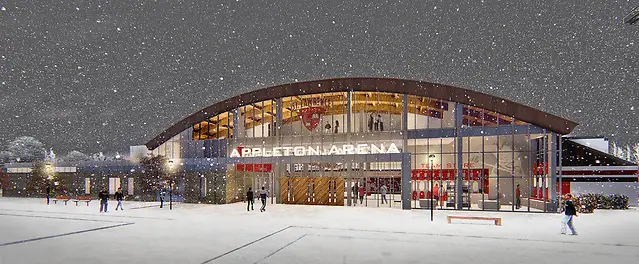 With the addition of a $1.5 million gift from the Torrey and MacAllaster families in memory of William A. (Bill) Torrey Sr. (class of 1957), current fundraising for the project totals $11.5 million.
"Appleton is a place that generations of Laurentians recall with fond memory, and these lead gifts will enable St. Lawrence to realize our vision for the future," said SLU president William L. Fox in a statement.
Detailed project plans, including construction timelines and costs, will be finalized this fall. Construction will not impact home games for either of the hockey teams.