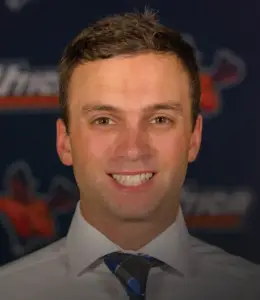 Utica has announced the hiring of former Pioneer standout Nick Therrien as the program's first full-time assistant coach.
Therrien, who is one of the top goaltenders in program history, returns to Utica after spending the last four years coaching at the NCAA and prep school levels.
"We're excited to welcome Nick back," said Utica head coach Gary Heenan in a statement. "His record speaks for itself – he has won at every stop. His knowledge of Utica and his recent success as a coach really makes him a perfect fit for this position. The fans will enjoy seeing Nick back on the bench and we're thrilled to continue to watch him grow as a coach right here at UC."
Therrien has also coached at Buffalo State and Plymouth State, in addition to serving as head coach and general manager with the Seacoast Spartans prep program.
"I want to thank Coach Heenan and athletic director Dave Fontaine for the opportunity to join such an illustrious program," added Therrien. "I look forward to serving our student-athletes and helping them develop on and off the ice. I am eager for the start of the season and to continue the proud tradition of Utica College athletics."