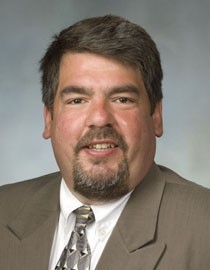 Buffalo State has named Jim Fowler the women's interim head coach for the 2018-19 season.
Fowler coached the Bengals men's team for nine seasons from 1996-2005. Since that time, he has remained a member of the athletics staff as the department budget manager and the manager of the Buffalo State Ice Arena. Fowler will continue to serve in each of those roles.
Prior to his arrival at Buffalo State, Fowler coached at Fredonia, serving as the head JV men's coach from 1993 to 1996 and as an assistant varsity coach from 1991 to 1996. During that time, the Blue Devils earned back-to-back SUNYAC titles in 1993 and 1994, while finishing third and second in the nation, respectively.
Fowler played at College of DuPage from 1987 to 1989 and was part of the NJCAA national championship team in 1988. He continued his playing career at Fredonia, helping the Blue Devils earn their first SUNYAC and ECAC bids. He completed his bachelor's degree in history in 1992.
Buffalo State will conduct a national search for a full-time women's head coach immediately upon the conclusion of the 2018-19 season.