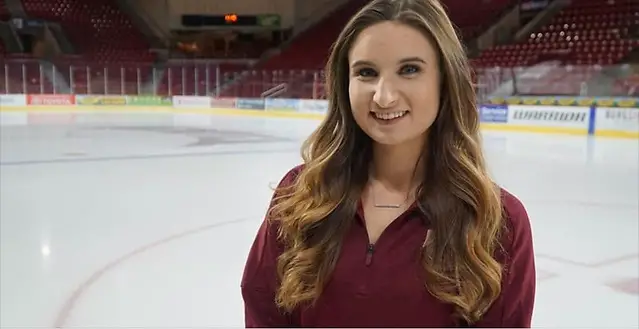 Denver has named Kelsey Bigham the program's director of hockey operations.
Bigham becomes the third active female director of hockey operations for a Division I college hockey program.
"I am honored to be continuing my career here at Denver as the director of hockey operations," Bigham said in a statement. "I am grateful for the opportunity to add to the rich tradition of Denver hockey in pursuit of the program's ninth national title."
Bigham spent last season as the sports program assistant, overseeing finances for men's hockey, women's basketball, men's and women's lacrosse and men's and women's soccer.
During her tenure with the hockey program, Bigham, 22, assisted with the preparation of video, organization and analysis of on-ice statistics and coordination of team events.
"Kelsey's passion for hockey and her desire to grow in this game are incredible," DU coach David Carle added. "Her details and work ethic are second to none. She will be a great addition to our staff and we are fortunate to have her join us in this role."
Prior to coming to Denver, Bigham served as the COO for the Colorado State men's hockey team where she oversaw team travel, game-day operations and statistics for the program. She graduated with a bachelor's degree from Colorado State in 2017.