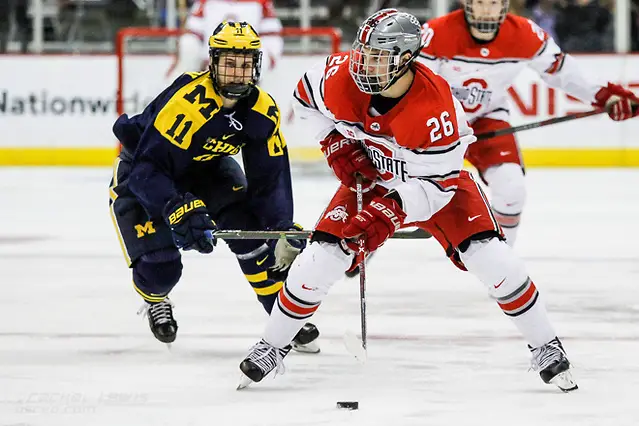 Ohio State was tabbed the favorite in the 2018-19 Big Ten hockey preseason coaches poll, the conference announced on Monday.
The coaches also selected a 15-member Preseason Watch List, including six unanimous honorees.
All seven schools were represented on the Preseason Watch List, led by Michigan, Michigan State and Ohio State with three honorees each.
2018-19 BIG TEN PRESEASON POLL
1. Ohio State
2. Michigan
3. Notre Dame
4. Minnesota
5. Penn State
6. Wisconsin
7. Michigan State
2018-19 BIG TEN PRESEASON WATCH LIST
QUINN HUGHES, Michigan
Josh Norris, Michigan
Jake Slaker, Michigan
TARO HIROSE, Michigan State
Patrick Khodorenko, Michigan State
Mitch Lewandowski, Michigan State
Rem Pitlick, Minnesota
Tyler Sheehy, Minnesota
CALE MORRIS, Notre Dame
MASON JOBST, Ohio State
Dakota Joshua, Ohio State
TANNER LACZYNSKI, Ohio State
Denis Smirnov, Penn State
Nate Sucese, Penn State
WYATT KALYNUK, Wisconsin
Unanimous selections in ALL CAPS