If anybody needed the perfect explanation for what happens in the WCHA year after year, just ask Mike Hastings.
"Welcome to the rat race," Minnesota State's coach said during the league's media teleconference last week. "The conference seems to get deeper and deeper, tighter and tighter."
In a league that has seen four different regular-season champions in five years, and three different tournament champions in that same timespan, it's safe to say that winning the WCHA is never a "gimme," no matter who you are.
Take Hastings' Minnesota State team, for example. The Mavericks are the defending regular-season champs, but had to fend off Northern Michigan until the very last weekend of the season to claim their third MacNaughton Cup title.
And this season, the Mavericks, despite returning a good chunk of their championship team, are without their two top scorers, their top defenseman, and their top goalie.
There's a reason why Hastings isn't taking anything for granted, despite the fact that the Mavs were chosen by both the coaches and the media to repeat as champions.
"We'll take that, and we're very appreciative of it," Hastings said of the preseason accolades. "But I know I'll have a lot of sleepless nights looking at the competition around our league."
Although two other teams — Bowling Green and Northern Michigan — received the first-place votes in the polls, the WCHA has shown year-after-year that one should expect the unexpected. Bemidji State won the title in 2017-18 despite being picked sixth by both polls in the preseason.
Northern Michigan, last season's runners-up, were picked to finish seventh.
It's no wonder, then, that even a team that finished in the bottom of the table can have hope to be the team that makes the surprise run this season.
"Everybody's talking about how tight this league is, and I'm in total agreement with it," said Alabama Huntsville coach Mike Corbett, whose team finished eighth last season and was picked to finish in a similar position this season. "It's going to come down to details, and it's going to come down to a program like ours hopefully getting into those dogfights and being able to get some wins along the way. Because it's going to be a battle every single night."
"When I look at the list, it's hard to argue with who we are going to climb over," Ferris State coach Bob Daniels added. "We just want to be higher than that, but I think it's a deep league. It's going to be highly competitive and very difficult."
Still, it's true that the tree teams picked to finish at the top were picked that way for a reason. Minnesota State, as mentioned before, is the defending champ and has tons of depth.
Bowling Green, looking to break their 28-year NCAA tournament drought, has what coach Chris Bergeron calls "the deepest team we've had," with the league's reigning defensive player of the year in Alec Rauhauser, two solid goaltenders (Ryan Bednard and Eric Dop) and basically their entire forward group.
And Northern Michigan, runners-up in both the regular season and playoffs last year, returns goaltender of the year Atte Tolvanen and a large, experienced senior class.
"The league has been dominated by one team," said Potulny, last season's WCHA coach of the year. "Minnesota State has five championships (regular-season and playoff) in five years. There's a reason they've been so successful. Michigan Tech has three championships, Ferris State has two, and Bemidji has one. As much as I'm excited by our group, until the rest of us win a championship, the guys at the top will have earned their light on the mantle and they'll stay up there until someone else can win a championship and join that group."
Even the newcomers (and relative newcomers) to the league are impressed with how deep it is. Both Alaska programs have new head coaches: Erik Largen at Alaska and Matt Curley at Alaska Anchorage. Largen, a former Nanooks assistant, has some experience behind the bench in WCHA action, but Curley is brand new.
"I've been hearing the same thing about what a great competitive league this is," Curley said. "The character of it, the level of coaching. It's real exciting to be a part of it."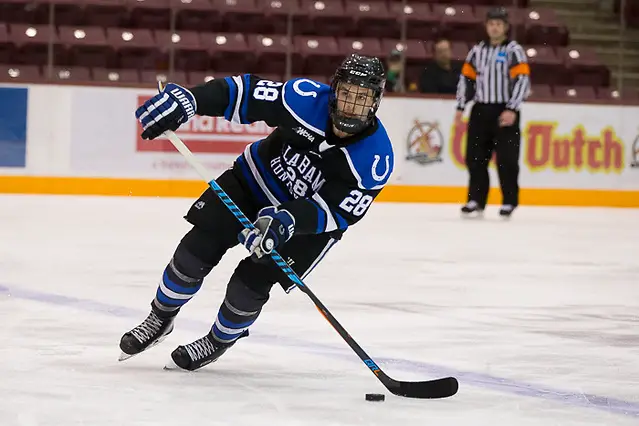 ALABAMA HUNTSVILLE
HEAD COACH: Mike Corbett, entering his sixth season at Alabama Huntsville
2017-18 OVERALL RECORD: 12-23-3 (10-16-2 WCHA, 7th)
KEY RETURNING PLAYERS: Senior defenseman Kurt Gosselin (5-11-16), sophomore forward Christian Rajic (9-6-15), senior forward Madison Dunn (5-10-15)
KEY LOSSES: Forward Josh Kestner (24-8-32), goaltender Jordan Uhelski (12-18-2, 3.05 GAA, .907 SV%), forward Tyler Poulsen (9-17-26)
KEY ADDITIONS: Forward Drew Lennon (2-16-18 for Lone Star Brahmans of NAHL), forward Jack Jeffers (23-56-79 for Markham Royals of OJHL), defenseman Bailey Newton (1-16-17 for Oakville Blades of OJHL), forward Dayne Finnson (5-35-50 for Victoria Grizzlies of BCHL), goaltender Jake Theut (graduate transfer from Northeastern)
KEY QUESTIONS
1. Head coach Mike Corbett has been at the helm long enough that his first recruiting class graduated last season, and that included standout forwards Josh Kestner and Tyler Poulsen. The next logical step for the Chargers should be this season — can they compete for home ice now that they are finally a steadier, more stable program?
2. Who is going to score for the Chargers? Kestner's 24 goals was tied the most for any UAH player in their Division I era. It would be hard to replace all his production, but will the Chargers have someone that will become the next Kestner, or will it be more of a by-committee approach?
NOTABLE QUOTABLE: "Everybody's got to take their game to another step. That's kind of what we're looking at around here and how we're continuing to build our program. I want four lines that are going to look the same and come at you in waves." – Corbett
2018-19 PREDICTION: Alabama Huntsville has seen steady, marked improvement since Corbett took the helm, going from just two wins in his inaugural 2013-14 season to 12 last season. If they can take the next step and become a home-ice team, they need depth. The top-line players are there, in forwards like Christian Rajic, Madison Dunn and Hans Gorowsky and defensemen Kurt Gosselin, Cam Knight and John Teets, but depth players beyond the top two lines and defense pairings are who really needs to shine in order for UAH to truly complete for home ice. If not, they'll be a solid sixth or seventh seed.
ALASKA
HEAD COACH: Erik Largen, entering his first season
2017-18 RECORD: 11-22-3 (9-17-2 WCHA, eighth)
KEY RETURNING PLAYERS: Senior defenseman Nikolas Koberstein (1-11-12); junior forward Colton Leiter (9-11-20); senior forward Ryker Leer (10-10-20); and junior forward Kyle Marino (2-5-7).
KEY LOSSES: Defenseman Zach Frye (11-23-34); defenseman Justin Woods (9-11-20); and forward Taylor Munson (8-6-14).
KEY ADDITIONS: Forward Sam Ruffin (20-37-57 with NAHL's Fairbanks Ice Dogs); forward Caleb Hite (19-21-40 with NAHL's Fairbanks Ice Dogs); forward Colin Doyle (17-37-54 with OJHL's Wellington Dukes); and goaltender Gustavs Grigals (.925 save percentage with NAHL's Shreveport Mudbugs).
KEY QUESTIONS
1. How will first-year coach Erik Largen hold up? While Largen has been an assistant with the Nanooks the past two seasons, he became the team's third head coach in as many years last spring. The team is in dire need of stability on its bench, and it's hoping it'll find it in Largen, a former goalie for the Nanooks from 2006-08 and the second-youngest coach in Division I men's hockey at 31 years old (Denver's David Carle is 28).
2. Who will emerge to be a star among the 10 freshmen? Ruffin and Hite were highly sought after during recruiting and should contribute well throughout their careers, but the Nanooks will need more stars to step up. One might be Chris Jandric, whose older brother, Steven, is already on the team. Another could be Matthew Doran, who had three points during the team's intrasquad scrimmage at training camp.
NOTABLE QUOTABLE: "We have a lot of challenges, but, obviously, we have a lot of opportunities as well for our program. You look at the depth for the league and you look at, from top to bottom, the great programs that are here, the great coaches, we know that it's going to be a challenge to get points. I've had the chance to see that over the last two seasons here (as an assistant coach at Alaska)." – Largen
2018-19 PREDICTION: The Nanooks' sole focus should be on developing their talent, depth and competitiveness. They'll likely dwell in the basement of the WCHA for yet another year but finding stability among their coaching staff as well as with the players on the ice should help them make progress toward future success.
ALASKA ANCHORAGE
HEAD COACH: Matt Curley, entering his first season at Alaska Anchorage
2017-18 OVERALL RECORD: 4-26-4 (4-21-3 WCHA, 10th)
KEY RETURNING PLAYERS: Senior forward Nicholas Erb-Ekholm (8-7-15), senior forward Jonah Renouf (3-11-14), senior forward Jeremiah Luedtke (4-7-11), sophomore forward Jordan Xavier (4-7-11)
KEY LOSSES: Goaltender Olivier Mantha (4-23-4, 3.43 GAA, .903 SV%), forward Austin Azurdia (13-6-19), forward Tad Kozun (5-10-15), forward Alec Butcher (8-5-13)
KEY ADDITIONS: Forward Malcolm Hayes (grad transfer from Maine), forward Zach Court (11-30-41 for the Merritt Centennials of the BCHL), forward Tanner Schachle (24-27-51 for the Fairbanks Ice Dogs of NAHL)
KEY QUESTIONS
1. Can anyone replace Olivier Mantha? The workhorse goalie didn't have the gaudy numbers that others in the league did, but he played more than 110 games for the Seawolves in his four years in Anchorage. The Seawolves have three sophomore goalies on the roster but only one has any college in-game experience.
2. How will Curley mold this team? Matt Curley takes over for Matt Thomas behind the bench, and has an all-new coaching staff with him. It's about as much of a clean sheet as a coach can have. It will be interesting to see what kind of hockey the Seawolves try and play with Curley.
NOTABLE QUOTABLE: "There's no illusions about where we are. We have a lot of work to do, but that's something we've embraced early on this year… Coming into this early onset of the season, there are a lot of guys who are looking to prove that they're better than what they have been." – Curley
2018-19 PREDICTION: First-year head coach Matt Curley comes in with a bit of a project on his hands. Since a Final Five appearance in 2014, the Seawolves have finished 10th and last three times (they finished ninth the other time). It would be optimistic to think the Seawolves would be competing for home ice right away in their first season — especially without the services of Mantha. But with a fairly veteran-laden squad — there are six seniors and seven juniors on the team — improving upon their four-win season and being in serious contention just to make the playoffs are both possible.
BEMIDJI STATE
HEAD COACH: Tom Serratore, entering his 18th season at Bemidji State
2017-18 OVERALL RECORD: 16-14-8 (13-9-6 WCHA, fourth)
KEY RETURNING PLAYERS: Junior forward Adam Brady (8-18-26), senior forward Jay Dickman (15-8-23), sophomore forward Charlie Combs (13-7-20), senior defenseman Justin Baudry (9-10-19)
KEY LOSSES: Goaltender Michael Bitzer (16-13-8, 2.24 GAA, .909 SV%), defenseman Zach Whitecloud (4-15-19), forward Kyle Bauman (9-21-30), forward Gerry Fitzgerald (7-18-25)
KEY ADDITIONS: Goaltender Zach Driscoll (23-9-1, 1.90 GAA, .934 SV% for USHL Omaha), forward Ross Armour (21-42-63 for Trail Smoke Eaters of BCHL), forward Owen Sillinger (33-34-67 for Penticton Vees of BCHL)
KEY QUESTIONS
1. Who's in goal? For the past four seasons, the easiest job head coach Tom Serratore had was writing Michael Bitzer's name in the "goalie" spot of the lineup sheet. He won't have that luxury this season. Bitzer graduated, and now the Beavers have a goalie battle on their hands since the Bitzer took over the job midway through his freshman year. Now they have one. Sophomores Henry Johnson and Jack Burgart have played in three games between them, while Zach Driscoll is a transfer from St. Cloud State, where he played 14 games in 2016-17.
2. The Beavers lost some other, perhaps less heralded players, too. Kyle Bauman maybe wasn't a name known to many like Bitzer, Whitrecloud, or the Fitzgerald triplets, but he was BSU's leading scorer last year. He was also one of their best defensive forwards, playing in pretty much every important defensive situation for them. Will the Beavers be able to slide the younger players up and match his all-around prowess on both sides of the ice?
NOTABLE QUOTABLE: "We all have that one cycle where you kind of don't know where you're at. That's probably this year with us." – Serratore
2018-19 PREDICTION: This edition of the Beavers will look very different than the green and white teams of seasons past, and that's due largely to the absence of Bitzer. Bitzer, one of the best goalies in the country in his four seasons at BSU, leaves a bit of a question mark in the back end for BSU, who also lost defenseman Zach Whitecloud to the NHL's Vegas Golden Knights after his sophomore season. The Beavers have 10 newcomers this season but do return a decent chunk of their scoring offense and most of their defensive corps aside from Whitecloud. They likely won't challenge for the MacNaughton Cup this season but I still expect them to be in home ice position if they can figure out their goaltending situation.
BOWLING GREEN
HEAD COACH: Chris Bergeron, entering his ninth season at Bowling Green
2017-18 OVERALL RECORD: 23-12-6 (17-6-5 WCHA, third)
KEY RETURNING PLAYERS: Junior defenseman Alec Rauhauser (9-30-39), sophomore forward Brandon Kruse (8-25-33), senior forward Stephen Baylis (9-22-31), junior goaltender Ryan Bednard (15-8-4, 2.24 GAA, .916 SV%)
KEY LOSSES: Forward Mitchell McLain (18-14-32), forward Tyler Spezia (10-6-16), forward Brett D'Andrea (9-7-16)
KEY ADDITIONS: Forward Evan Dougherty (13-6-19 for two USHL teams), forward Trevor St. Jean (14-12-26 for Langley Rivermen of USHL), forward Taylor Schneider (4-10-14 for Dubuque Fighting Saints of USHL), forward Alex Barner (7-10-17 for two USHL teams)
KEY QUESTIONS
1. Is this Bowling Green's year? The Falcons lost just one key player in leading scorer Mitch McLain, but return just about everyone else. If any team is going to send the Falcons back to the NCAA tournament for the first time in 28 years, it's this one.
2. Do the Falcons have one goalie or two? Last season, Bowling Green was able to use a two-man rotation with Ryan Bednard and Eric Dop for the first 2/3rds of the season with great success. Bednard won the job eventually, but both are back this season. It remains to be seen if the job is Bednard's to lose or if the Falcons return to the successful rotation system they used last year.
NOTABLE QUOTABLE: "As far as expectations go, we feel it's time. We've been close, but around here close isn't good enough. We feel it's time for us to kick that door down and really compete for a regular season or playoff championship. We hope this team has the capability of doing that." – Bergeron
2018-19 PREDICTION: If there's any team in the league this year that is a known quantity, it is Bowling Green. Unlike most of the top teams from last season, the Falcons didn't lose many players to either graduation or early departures, which means that they will be experienced up front, on defense and — maybe most importantly — in goal. Both goalies are back, which is so valuable in a league where so many teams will have brand-new starting goaltenders. BGSU also returns everybody on the blueline, including All-American and leading scorer Alec Rauhauser. If everyone stays healthy and Rauhauser, Kruse and Bednard have the kind of seasons they had last year, the Falcons will be a dangerous threat — both for the MacNaughton Cup and nationally.
FERRIS STATE
HEAD COACH: Bob Daniels, entering his 27th season at Ferris State
2017-18 RECORD: 14-23-1 (11-16-1 WCHA, sixth)
KEY RETURNING PLAYERS: Senior forward Corey Mackin (10-15-25); junior goaltender Justin Kapelmaster (.909 save percentage, 6-11-0 record); senior defenseman Ryker Killins (8-14-22); and sophomore forward Coale Norris (10-8-18).
KEY LOSSES: Forward Mitch Maloney (15-20-25); forward Drew Dorantes (5-11-16); and defenseman Tyler Dorantes (1-5-6).
KEY ADDITIONS: Freshman defenseman Cooper Zech (11-58-69 with BCHL's Wenatchee Wild; named WCHA Preseason Rookie of the Year); redshirt junior forward/transfer Oskar Andren (0-4-4 with Boston University in 2016-17); and freshman forward Hunter Wendt (17-44-61 with NAHL's Fairbanks Ice Dogs).
KEY QUESTIONS
1. Daniels believes FSU's depth at defensemen is the best it's had in years. While Killins will the position as a senior, which of the experienced juniors will step up and make a name for themselves in the WCHA this year? The juniors include Joe Rutkowski, Zach Yoder, Cam Clarke and Nate Kallan.
2. There's no question NMU's Atte Tolvanen is the WCHA's top goaltender. But will Kapelmaster take the next step as a junior to push Tolvanen for that title? Kapelmaster has 26 games under his belt and an experienced defense in front of him.
NOTABLE QUOTABLE: "I look where we are selected in both the media and coaches polls, we were picked for sixth. I feel we're a better team than that. But then again, when I look at the list, it's hard to argue with who we are going to climb over. We just want to be higher than that, but I think it's a deep league. It's going to be highly competitive and very difficult." – Daniels
2018-19 PREDICTION: Unless FSU's offense creates more scoring against better programs and its defense can find ways to help Kapelmaster in net, then the Bulldogs will likely finish in the middle of the pack of the WCHA like they have the last half-decade. They have the potential and incoming talent to be a top-four team in the conference.
LAKE SUPERIOR STATE
HEAD COACH: Damon Whitten, entering his fifth season
2017-18 RECORD: 10-22-4 (8-17-3-0 WCHA, ninth)
KEY RETURNING PLAYERS: Senior forward Gage Torrell (5-11-16); junior forward Max Humitz (13-10-23); senior forward Diego Cuglietta (7-16-23); and senior forward Anthony Nellis (12-7-9).
KEY LOSSES: Forward J.T. Henke (9-18-27); defenseman Kyle Chatham (1-5-6); forward Jake Hand (7-5-12); and forward Josh Nenadal (2-2-4).
KEY ADDITIONS: Forward Pierre-Luc Veillette (33-32-65 with CCHL's Ottawa Junior Senators); forward Jesse Tucker (17-33-52 with OJHL's North York Junior Rangers); and forward Miroslav Mucha (30-25-55 with NAHL's Minot Minotauros).
KEY QUESTIONS
1. LSSU returns all three of its goaltenders, including Nick Kossoff and Mareks Mitens, who saw plenty of playing time. How will that experience and consistency benefit the Lakers on defense?
2. The Lakers return five of their main seven defensemen from a year ago. With most of them a year older – and, most importantly, healthy – how will that position group grow and improve?
NOTABLE QUOTABLE: "We also think we have the ability to get more offense from the back end. The guys (defensemen) showed it in some spurts last year. With four freshmen in the lineup on the backend, it was difficult at times, and so I think we can take a step up on our back end and get more contributions and do a better job offensively, which is something we needed to do." – Whitten
2018-19 PREDICTION: Since Whitten's second season, the Lakers have regressed as far as wins and losses go. This season could be a turning point for Whitten's career at LSSU. A competitive season – finishing anywhere above .500 – will help him return for a sixth year.
MICHIGAN TECH
HEAD COACH: Joe Shawhan, entering his second season
2017-18 RECORD: 22-17-5 (12-11-5-2 WCHA, fifth)
KEY RETURNING PLAYERS: Senior forward Jake Lucchini (16-23-55; named Preseason All-WCHA); junior forward Gavin Gould (14-15-29); senior forward Jake Jackson (13-13-26); and sophomore defenseman Mitch Meek (3-7-10).
KEY LOSSES: Defenseman Mark-Evan Auk (9-22-31); forward Joel L'Esperance (12-15-27); defenseman Mitch Reinke (3-21-24); and Brent Baltus (11-12-23).
KEY ADDITIONS: Forward Andrew Bellant (16-25-41 with both NAHL's Philadelphia rebels and Bismarck Bobcats); forward Trenton Bliss (21-34-55 with USHL's Green Bay Gamblers); forward Alec Broetzman (25-25-50 with USHL's Madison Capitols); and goaltender Matt Jurusik (2.89 GAA and .906 save percentage with USHL's Sioux City Musketeers).
KEY QUESTIONS
1. The Huskies couldn't have been happier with how they transitioned from the Mel Pearson era to Shawhan's. The only question is will Shawhan and his team be able to replicate last year's success and get back to the NCAA tournament?
2. With MTU losing players like Reinke, who left early for the NHL, how will the Huskies quickly reload at positions they thought they were going to be deeper at this winter?
NOTABLE QUOTABLE: "Anytime you have a chance to play in a playoff series and get that experience – that do-or-die playoff elimination type of experience – it's growth. When you can do it basically for three series, it gives you a lot of growth. So what you get out of it is the experience and better awareness of how your athletes will perform when they're needed to be at their best." – Shawhan
2018-19 PREDICTION: If Shawhan can get the Huskies to play in the regular season how they did in the WCHA tournament last season, then the race for the WCHA championship should be an exciting one. They should finish anywhere in the top three alongside MSU and NMU.
MINNESOTA STATE
HEAD COACH: Mike Hastings, entering his seventh season at Minnesota State
2017-18 OVERALL RECORD: 29-10-1 (22-5-1 WCHA, first)
KEY RETURNING PLAYERS: Junior forward Marc Michaelis (18-22-40), sophomore forward Jake Jaremko (15-24-39), junior defenseman Ian Scheid (9-17-26), sophomore defenseman Conner Mackey (4-8-12).
KEY LOSSES: F CJ Suess (22-21-43), F Zeb Knutson (15-28-43), D Daniel Brickley (10-25-35), G Connor LaCouvee (23-6-1, 1.80 GAA, .914 SV%)
KEY ADDITIONS: F Chris Van Os-Shaw (51-46-97 for Spruce Grove Saints of AJHL), G Dryden McKay (19-24-2, 3.38 GAA, .907 SV% for Madison Capitals of USHL)
KEY QUESTIONS
1. How much will Minnesota State score? Despite losing their two top scorers (CJ Suess and Zeb Knudson), the Mavericks have tons of depth back — 10 returners were double-digit scorers last season. The players that return are all proven scorers, so how many can they pump in this season?
2. Who will be keeping the pucks out? Connor LaCouvee, a transfer from Boston University, was outstanding in his one season in purple. But he's gone, and so is backup Jason Pawolski. That means Minnesota State has two freshmen (Dryden McKay and Jacob Berger) and a transfer (Mathias Israelsson, a transfer who was most recently Atte Tolvanen's backup at Northern Michigan) to battle for a starting spot.
NOTABLE QUOTABLE: "We're very unproven at the goaltending position and that's the most important position you have on a team." – Hastings
2018-19 PREDICTION: It's a sign of a great program when one can lose its top two scorers, its best defenseman and its best goalie and still be considered somewhat overwhelming league favorites. That goalie question, though, is huge: Because the other main contenders for the league title this year have experienced goalies returning to backstop them, Minnesota State's lack of one is truly a huge question mark. But they've also won three league titles in the past four seasons and otherwise have ridiculous amounts of depth, so you can't look past the defending champions to do the same thing once again.
NORTHERN MICHIGAN
HEAD COACH: Grant Potulny, entering his second season
2017-18 OVERALL RECORD: 25-15-3 (19-7-2-2 WCHA, second)
KEY RETURNING PLAYERS: Senior forward Adam Rockwood (8-40-48; Preseason WCHA Player of the Year); junior defenseman Philip Beaulieu (11-31-42; Preseason All-WCHA); senior goaltender Atte Tolvanen (.908 save percentage; Preseason All-WCHA); and senior forward Troy Loggins (23-24-47).
KEY LOSSES: Forward Robbie Payne (24-10-34); forward Zach Diamontoni (6-18-24); and defenseman Jordan Klimek (3-15-18).
KEY ADDITIONS: Defenseman Matt Acciaioli (4-23-27 with NAHL's Corpus Christi IceRays); goaltender Nolan Kent (1.52 GAA and .934 save percentage with AJHL's Spruce Grove Saints); forward Jarrett Lee (13-27-40 with NAHL's Minnesota Magicians); and forward Griffin Loughran (18-24-42 with USHL's Fargo Force).
KEY QUESTIONS
1. Potulny said NMU's incoming freshman class is so deep and talented that it'll immediately compete for playing time, which leaves us wondering what veterans are going to lose playing time to a newcomer? This is the deepest NMU team, in general, in years.
2. With so many offensive-oriented forwards competing for ice time, it'll be interesting to see how that competition for playing time translates into scoring. How scary can this team be this season?
NOTABLE QUOTABLE: "We're going to rely heavily on our seniors. If you look at the history of college hockey and with teams that have been successful, most of the time they have seniors and most of the time their seniors have great years. That's going to be very important for our group." – Potulny
2018-19 PREDICTION: When most of NMU's top returners make up the Preseason All-WCHA team, you know the Wildcats have a talented team to compete with MSU and MTU for the conference crown. The loss of Payne, who had great chemistry with Loggins, will be felt, but the Wildcats might have the most talented roster.