Some things don't change year after year with the NCHC.
Member schools make up the last three national championship teams, and the five-year-old league quickly earned its reputation for being competitively unforgiving.
There is a surplus of narratives in the conference, though, with characters and characteristics that are evolving all the time.
Ask North Dakota, which won its eighth national title in 2016 but missed out on a NCAA tournament spot last season for the first time since George W. Bush's second year in the White House.
Ask Denver, national champion in 2017 but now breaking in a new head coach after Jim Montgomery left to lead the NHL's Dallas Stars. The Pioneers made five NCAA tournaments and two Frozen Four appearances in five years under Montgomery, but now the reins have been handed to DU alumnus David Carle. St. Cloud State has its own new bench boss after Bob Motzko left after 13 seasons for Minnesota, one of the Huskies' former WCHA rivals.
Ask UMD, the defending national champ despite entering last season under not especially high expectations from many outside of the Bulldogs' camp.
Don't forget about the league's supposed lower-echelon teams, either. Colorado College is on the rise after starting life in the NCHC slowly, and Miami's and Western Michigan's talent is overlooked at opponents' own risk. Ditto for Omaha, as second-year coach and Maverick alum Mike Gabinet's team will have experience on its side in the form of 10 seniors.
One thing all eight teams have at this point is confidence.
"Coming into the season, and I think everybody's in the same situation, players come into your program and players leave every year from your program, and it's about that early part of the season as far as figuring out where people are in their development and assigning different roles and players accepting roles and moving forward and growing together as a team," said Brad Berry, North Dakota's fourth-year coach who guided his first UND team to a national title.
"I'm excited about this time of year because it's a new group and we have a group that wants to get back to where we were before."
Other teams are looking for a spark that will last longer than what came before. Western Michigan started last season well and swept then-No. 1 Denver in November, but 30-point scorer Wade Allison was lost to a season-ending lower-body injury in January and the Broncos faltered down the stretch.
Now a junior, Allison is a preseason all-NCHC pick on a team looking to make its third NCAA postseason appearance in eight years under coach Andy Murray.
"We're trying to break through and be a team that gets into the national tournament again and do some damage when we get there, and we're a team that wants to get to the (NCHC playoff finals) and do some damage, which we haven't done yet," Murray said. "We've had some good teams and some good years here, but we haven't had that breakthrough."
What the Broncos have is a sense of drive. WMU players returned to Kalamazoo a month early after finishing the spring semester in order to get a leg up.
"They just wanted to get better, and we were disappointed with how we played at the end of last season so they're just trying to get better," Murray said. "Our fitness testing and everything we did has certainly improved, so I think we're looking forward to the start of the season."
Changes have also been made at Miami, which seeks a turn in fortunes after finishing at the foot the NCHC standings last season. Two graduate transfers in goaltender Jordan Uhelski (Alabama Huntsville) and defenseman River Rymsha (Dartmouth) join four seniors eager to help the RedHawks to what would be their first winning season since 2014-15.
"We're a very close group, but we've added a lot of parts to it from a year ago and a lot of change, but the seniors have done a nice job of setting the groundwork and the work habits and the way things are going to be done around here in terms of a team dynamic situation and daily behavior," said MU coach Enrico Blasi, entering his 20th season at his alma mater.
"Adding (Miami's eight freshmen) and the post-grads have helped that culture grow, and I think our culture was in a good place, but I think it's in an even better place right now with how the guys interact with each other."
The goal, as ever, is to keep that level up in a league with such quickly-established credentials.
"It's another NCHC (season), I'll tell you," Gabinet said. "Every team seems to get stronger every year and teams have done a great job of recruiting and preparing. It's going to be an extremely hard conference this season."
No change there, then.
Who finishes where, however, could be another story.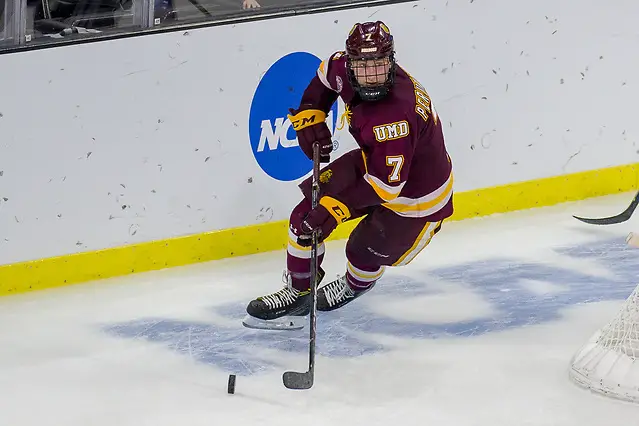 COLORADO COLLEGE
HEAD COACH: Mike Haviland, entering his fifth season at Colorado College
2017-18 OVERALL RECORD: 15-17-5 (8-12-4-3 NCHC, T-fifth)
KEY RETURNING PLAYERS: Junior forward Nick Halloran (19-26-45), senior forward Mason Bergh (18-22-40), senior forward Trey Bradley (7-24-31), junior goaltender Alex Leclerc (15-15-4, 3.20 GAA, .907 SV %)
KEY LOSSES: None
KEY ADDITIONS: Forward Ben Copeland, forward Erik Middendorf, defenseman Bryan Yoon
2018-19 PREDICTION: After struggling in the first three years under coach Mike Haviland, the Tigers finally got some consistent offense last year and had their best finish in their five years in the NCHC, tying with two other teams for fifth. The Tigers then forced a deciding third game against arch-rival Denver in the first round of the NCHC tournament before falling. With a strong core of returning forwards and good goaltending, things are looking better than they have in Colorado Springs since the 2010-11 season, the last time they made the NCAA tournament.
DENVER
HEAD COACH: David Carle, entering his first season at Denver as head coach
2017-18 OVERALL RECORD: 23-10-8 (12-6-6-4 NCHC, second)
KEY RETURNING PLAYERS: Sophomore defenseman Ian Mitchell (2-28-30), senior forward Colin Staub (7-15-22), junior forward Tyson McLellan (3-5-8)
KEY LOSSES: F Henrik Borgström, (23-29-52), F Troy Terry (14-34-48), F Dylan Gambrell (13-30-43), G Tanner Jaillet (22-9-7, 1.88 GAA, .928 SV %) F Logan O'Connor (7-14-21), D Blake Hillman (3-9-12), coach Jim Montgomery (125-57-26)
KEY ADDITIONS: Defenseman Slava Demin, forward Emilio Pettersen, forward Brett Stapley, goaltender Filip Larsson
2018-19 PREDICTION: Denver's roster was decimated by early departures after a terrible loss to Ohio State in the NCAA tournament quarterfinals. In many ways, it was the decimation that people expected after the Pioneers won the national championship in Chicago in 2017. Replacing all that scoring, and the leadership of coach Jim Montgomery, won't be easy. Denver will struggle out of the gate before finding some consistency in the second half, but this season looks a lot like Montgomery's first as coach of Denver.
MIAMI
HEAD COACH: Enrico Blasi, entering 20th season at Miami
2017-18 OVERALL RECORD: 12-20-5 (6-14-4-2, eighth)
KEY RETURNING PLAYERS: Junior forward Gordie Green (15-18-33), senior forward Josh Melnick (10-19-29), senior defenseman Grant Hutton (13-14-27), junior goaltender Ryan Larkin (12-18-5, 3.12 GAA, .886 SV %)
KEY LOSSES: Defenseman Louis Belpedio (9-21-30), forward Kiefer Sherwood (9-21-30), forward Carson Meyer (6-4-10)
KEY ADDITIONS: Forward Jonathan Gruden (28-32-60 for US NTDP), defenseman Derek Daschke (8-21-29 with USHL's Chicago Steel)
NOTABLE QUOTABLE: "I've been asked that in the last couple of days a couple of times, and I've never really thought about it other than that I feel fortunate and blessed and honored to still be a head coach at the Division I level, and here at Miami, it's obviously special to me, but to say I think about it from a day-to-day perspective, it's not the way I'm wired. I'm just focused on being responsible to our program and doing what I need to do as a head coach to make our program better." – Blasi, on entering his 20th season at his alma mater.
2018-19 PREDICTION: Eighth, and someone has to be, but Miami finished seven points adrift last season, was seventh the season before and last hosted a postseason game in 2015, the same year the RedHawks won the NCHC playoff championship. This is a talented team, and seniors like Melnick will want to go out on a high, but there are problems to shore up.
MINNESOTA DULUTH
HEAD COACH: Scott Sandelin, entering his 19th season at Minnesota Duluth as head coach
2017-18 OVERALL RECORD: 25-16-3 (13-11-0 NCHC, third)
KEY RETURNING PLAYERS: Sophomore defenseman Scott Perunovich (11-25-36), sophomore goaltender Hunter Shepard (25-14-1, 1.90 GAA, .925 SV %), senior forward Peter Krieger (11-19-30), junior forward Riley Tufte (16-13-29), sophomore defenseman Mikey Anderson (5-18-23)
KEY LOSSES: Forward Joey Anderson (11-16-27), forward Jared Thomas (11-15-26) forward Karson Kuhlman (13-7-20)
KEY ADDITIONS: Forward Noah Cates, forward Jackson Cates, forward Tanner Laderoute, defenseman Hunter Lellig
2018-19 PREDICTION: With all the players Minnesota-Duluth lost after a tough loss to Denver in the 2017 NCAA tournament championship game, expectations were low for the Bulldogs last year. However, the defense was strong right out of the gate, and Hunter Shepard ably stepped into the goaltender slot left by Hunter Miska. The Bulldogs got hot at the right time, and went one better, winning the national championship last season over Notre Dame. With perhaps the best returning defense in the league, it will be hard to score on the Bulldogs, and that should more than offset any difficulties caused by their score-by committee approach.
NORTH DAKOTA
HEAD COACH: Brad Berry, entering his fourth season at North Dakota
2017-18 OVERALL RECORD: 17-13-0 (8-10-6-3, fourth)
KEY RETURNING PLAYERS: Senior forward Nick Jones (15-15-30), junior defenseman Colton Poolman (7-22-29), sophomore forward Grant Mismash (9-13-22), sophomore goaltender Peter Thome (5-4-3, 2.31 GAA, .910 SV %)
KEY LOSSES: Defenseman Christian Wolanin (12-23-35), forward Shane Gersich (13-16-29), goaltender Cam Johnson (12-9-7, 2.14 GAA, .910 SV %)
KEY ADDITIONS: Forward Gavin Hain (11-20-31 with US NTDP), goaltender Adam Scheel (29 wins, 2.08 GAA, .927 SV % with BCHL's Penticton Vees)
NOTABLE QUOTABLE: "He was appointed by his peers as our captain and it was an outstanding choice. He has all the qualities you have to have to be a captain at North Dakota, and he exudes confidence on and off the ice and brings an approach that other players look up to, so we're very excited about him taking the captaincy." – Berry, on Poolman, UND's new captain
2018-19 PREDICTION: Motivation shouldn't be a problem for UND, which failed last season to qualify for the NCAA tournament for the first time in a generation. Exciting, established names like Jones and Poolman return, but much will come down to how well the Fighting Hawks replace Johnson between the pipes.
OMAHA
HEAD COACH: Mike Gabinet, entering second season at Omaha
2017-18 OVERALL RECORD: 17-17-2 (10-13-1-0, T-fifth)
KEY RETURNING PLAYERS: Junior forward Zach Jordan (16-12-28), junior forward Tristan Keck (10-12-22), senior forward Steven Spinner (10-10-20), senior goaltender Evan Weninger (15-14-1, 3.36 GAA, .899 SV %)
KEY LOSSES: Forward David Pope (20-21-41), forward Tyler Vesel (11-21-32), forward Jake Randolph (7-19-26)
KEY ADDITIONS: Forward Travis Kothenbeutel (24-43-67 for NAHL's Austin Bruins), goaltender Matej Tomek (15-8-5-2, 2.39 GAA, .907 SV % for USHL's Waterloo Black Hawks; formerly spent two seasons at North Dakota, will be a junior this season)
NOTABLE QUOTABLE: "I think we're a little bit of an unknown. We lost a lot of scoring last year, same as the year before, so I'm excited to see guys in different roles and see the new players, and when people leave, that makes new opportunities and now it's up to our returning players and our new players to prepare themselves appropriately to compete for playing time." – Gabinet, on his early assessment of the Mavericks.
2018-19 PREDICTION: Gabinet has a year under his belt now at his alma mater, but this will be a different team to what he inherited. The Mavericks had the NCHC's best power play last season but gone is a first-team all-conference player in Pope and other reliable forwards in Vesel and Randolph. A large senior class is on hand, yet the Mavericks will have questions to answer as they start playing against someone other than themselves.
ST. CLOUD STATE
HEAD COACH: Brett Larson, entering his first season at St. Cloud State
2017-18 OVERALL RECORD: 25-9-6 (16-4-4-1 NCHC, first)
KEY RETURNING PLAYERS: Senior forward Robby Jackson (15-27-42), senior defenseman Jimmy Schuldt (10-28-38), junior forward Ryan Poehling (13-17-30), sophomore forward Blake Lizotte (8-19-27)
KEY LOSSES: Forward Mikey Eyssimont (9-11-20), defenseman Will Borgen (2-13-15), coach Bob Motzko (276-192-49)
KEY ADDITIONS: Forward Sam Hentges, forward Nolan Walker, forward Micah Miller, defenseman Spencer Meier
2018-19 PREDICTION: There is a lot of returning talent in St. Cloud, as the team only lost two big players, and the Huskies did finish first in the NCHC last season. They had a bad loss to Air Force in the first round of the NCAA tournament that should leave the returning players hungry to do better. New coach Brett Larson was a big part of two NCAA championships at Minnesota Duluth, so perhaps he can help boost the Huskies.
WESTERN MICHIGAN
HEAD COACH: Andy Murray, entering eighth season at Western Michigan
2017-18 OVERALL RECORD: 15-19-2 (10-13-1-0, T-fifth)
KEY RETURNING PLAYERS: Junior forward Dawson DiPietro (13-22-35), junior forward Wade Allison (15-15-30), junior forward Hugh McGing (9-21-30), junior goaltender Ben Blacker (12-13-2, 3.17 GAA, .893 SV %)
KEY LOSSES: Defenseman Paul Stoykewych (5-8-13), forward Aidan Muir (4-8-12), defenseman Scott Moldenhauer (1-9-10)
KEY ADDITIONS: Forward Rhett Kingston (24-26-50 with BCHL's Salmon Arm Silverbacks), forward Jamie Rome (22-48-70 with BCHL's Victoria Grizzlies)
NOTABLE QUOTABLE: "As a coach, you worry about everything, but we plan to be a team that doesn't take as many penalties because we were a fast team last year and we've enhanced that. We don't want to take as many penalties as we did, and our goals-against and save percentage was not where it needs to be, and we can't just say that's the goaltender. It's everybody, so we're committed to being better." –Murray, on points of emphasis his WMU team is carrying into the new season.
2018-19 PREDICTION: There was a lot to like last season about Western, but only up to a certain point. A Broncos team that handed then second-ranked St. Cloud State its first home loss of the season in mid-January went on to win just two of their last 13 games. This season, 17 underclassmen make up the bulk of a team with something to prove.
PREDICTED ORDER OF FINISH
Candace Horgan
1) Minnesota Duluth
2) North Dakota
3) St. Cloud State
4) Colorado College
5) Denver
6) Western Michigan
7) Omaha
8) Miami
Matthew Semisch
1) Minnesota Duluth
2) North Dakota
3) St. Cloud State
4) Colorado College
5) Denver
6) Western Michigan
7) Omaha
8) Miami