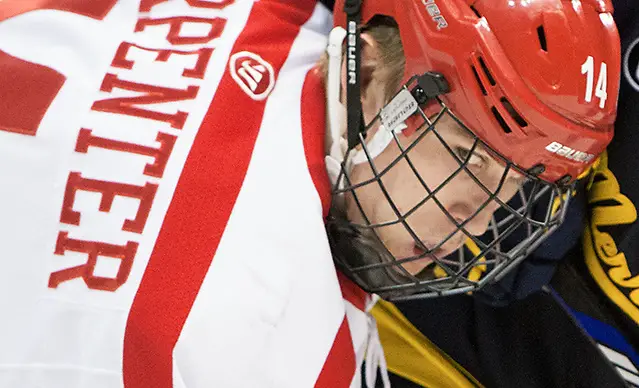 At times, it's difficult to believe that it's been 35 years since a group of athletic directors, led by Providence's Lou Lamoriello, came together to form what three and a half decades later would be considered one of the game's strongest sports conferences.
The formation of Hockey East prior to the 1984-85 season was a seismic shift in eastern college hockey. Since that day, the conference has grown to produce nine national champions and 10 Hobey Baker winners, including last season's award recipient, Adam Gaudette.
Yet no amount of past success for any league can predict what the present can be. And you only have to look back to a season ago to understand this.
Last season, the league posted a paltry .514 winning percentage against other conferences, and never won a game in either the regular season or postseason against the Big Ten, posting a combined 0-14-1 record.
"We had a tough non-league record [last season]," said commissioner Joe Bertanga. "Specifically, we had a losing non-league record at home.
"We had a lot of games against team in the bottom quarter of the RPI and didn't win a lot of those games.
"Last year, was an aberration. When you look back historically, typically we do better than we did last year and we paid a price for it by the time we got to the NCAA tournament."
The NCAA tournament, in fact, has been a tough road to hoe of late for the league. Since Providence and Boston University faced off in the 2015 national title game, just two Hockey East teams have reached the Frozen Four, one being lame-duck member Notre Dame in 2017 immediately prior to exiting the league for the Big Ten.
Conversely, over that time, the NCHC has sent six teams to college hockey's biggest stage and has grabbed each of the three national titles.
Certainly, that's something Bertagna and the Hockey East member institutions want to change.
"Before we make too much out of it, I want to see how we bounce back this year," said Bertagna. "It's such a small snapshot. But I'm not going to sugarcoat it. We can't keep having non-league results like that, and the coaches know that as well.
Speaking of coaches, this year's Hockey East season will feature three new faces behind the benches.
New, though, is a relative term.
With longtime New Hampshire coach Dick Umile retiring, Boston University coach David Quinn taking a job as head coach of the NHL's New York Rangers and Mark Dennehy being released after 13 seasons at Merrimack, that left three openings, all of which we filled by familiar faces.
Two programs elevated their associate head coaches to the head position with Mike Souza taking over at UNH and Albie O'Connell now leading BU. Both are alums of their respective programs, continuing a trend in the league. Five of the 11 Hockey East head coaches are now alumni of their respective programs.
At Merrimack, veteran coach Scott Borek, who served as an assistant at New Hampshire and most recently Providence, returns to the head coaching role after leading Lake Superior State for five seasons from 1996 to 2001.
All three face very different situations.
Boston University looks for continuity – in both success and the coach who recruited most of its players. The Terriers again feature a blue-chip recruiting class, one that O'Connell himself had a major hand in picking.
"Things will change," said O'Connell. "But the standard that has been set for our players has been really good. So we'll keep the same standards.
"On the ice, our standards are high. It doesn't mean we're going to play quite the same. [David Quinn] and I are different. Differently personality, different style."
O'Connell says he wants his team to be a fast, puck pressure team, with four lines that can skate.
"We have more speed that we had last year," said O'Connell. "So I think we're going to try to push the pace of the game. We're not as big, but we're much quicker."
New Hampshire is looking to return to dominance. The program that once made the NCAA tournament in 18 of 21 season missed the last five, making the native in Durham, N.H., a bit restless, most apparent in a significant drop in home attendance.
For Souza, he spent the last three seasons on Umile's coaching staff with a seeming gentleman's agreement that he would be the selection as UNH's next head coach. That, along with having played for the Wildcats, will help in the transition.
"Being an alum certainly helps," said Souza. "Knowing your way around campus besides just the Whittemore Center will certainly help.
"In terms of hockey, being here for a few seasons and helping with the recruitment of the majority of the players on the team has made the transition easier for me."
Still Souza knows that one of the most urgent things may be bringing the fans back to Towse Rink. Souza understands happens through winning.
"We've tried to make some changes in the ways we've done some things," Souza said. "We need to create an identity of a team that is hard to play against.
"If we play a detailed game that's incredibly competitive, I think we'll start to earn the trust of our fan base again. That's all I ask. I hope our fans recognize that and start to come back, because it is a special place to watch a hockey game."
For Merrimack's Borek, the challenge might be the most daunting but one his is happy to accept. The Warriors fired Dennehy after last season despite beating Merrimack Valley rival UMass Lowell in the opening of the playoffs and taking top-seed Boston College to the brink in each quarterfinal game.
But this isn't the first rodeo for Borek at a small school in a larger league. Lake Superior was a similar challenge, though recruiting there was geographically challenged. Being closer to a major metropolitan area like Boston and in a town like North Andover will make recruiting the right player a little different.
"You have to learn the fact that you're the little guy in a big guy's league," said Borek. "The top teams are very strong, both familiarity perspective and nationally. Clearly North Andover as opposed to Sault Ste. Marie, having access to Boston and a really nice town around you makes it easier.
"But we still face the challenge of being the little guy in the league."
Borek says he wants his team to possess a no-fear mentality. And most importantly he wants his team to play to win, rather than playing not to lose.
"I want our team to play on its toes versus its heels," said Borek. "There are no moral victories. Losing 2-1 or 10-1 is the same. I want them to empty the tank and go for it.
"Understand that you're playing against some great, storied programs, some of the best coaches in the country, but you're still playing 60 minutes. You're still putting the skates on the same way. We want to compete that day. You only have to compete that day."
Back to the league in general, year 35 promises to be another with plenty of excitement. The league will continue to partner with the ECAC and bring two teams from each league to Belfast, Northern Ireland, at Thanksgiving. This year's participants will be Connecticut and Boston University.
As well, the conference's postseason tournament will undergo a makeover, returning to a format similar to that used before the league's expansion in 2013-14. The bottom three teams in the regular season standings will be eliminated from postseason play, meaning positioning in the regular season standings will be paramount.
Additionally, Bertagna hopes to use the 35th anniversary for the league's members to return to its early days of working to tout the league.
"Back in the beginning it was important for all of the programs to get out of the gate knowing it's important to put the league first and your school second," Bertagna said. "I remember very clearly any time I'd see Jack Parker, or Ben Smith or Fernie Flaman, they'd be talking about Hockey East. They really talked up the league. It was a campaign.
"We've gotten away from that a little bit because we're not trying to sell anything new any longer. My mantra this year, is to get the [coaches] to remember that, maybe not ahead of their school but alongside of their school. What better year than an anniversary year to do it?"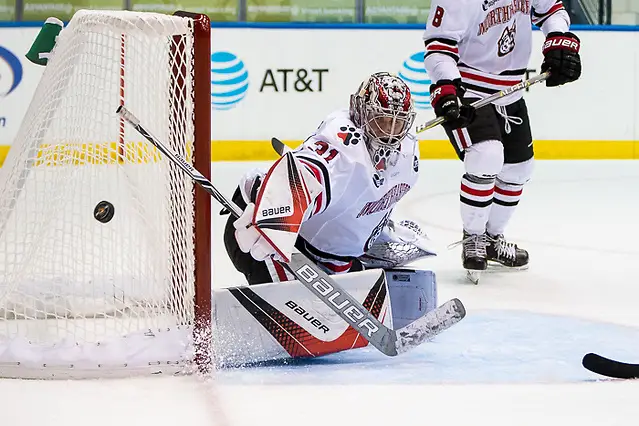 BOSTON COLLEGE
HEAD COACH: Jerry York, entering his 25th season at Boston College
2017-18 OVERALL RECORD: 20-14-3 (18-6-0 Hockey East, 1st)
KEY RETURNING PLAYERS: Sophomore forward Logan Hustko (12-19-31), junior forward David Cotton (9-19-28), junior forward Julius Mattila (13-14-27), junior goaltender Joseph Woll (17-11-2, 2.48 GAA, .915 SV %)
KEY LOSSES: None
KEY ADDITIONS: F Oliver Wahlstrom, F Patrick Giles
2018-19 PREDICTION: Any team that wins a regular season title and doesn't graduate or lose a single player deserves to be a preseason favorite. Boston College likely has their expectations on returning to the NCAA tournament, which means non-league play will be important, something that was a struggle for the Eagles a year ago.
Jim picks Boston College to finish first; Dave picks Boston College to finish first
BOSTON UNIVERSITY
HEAD COACH: Albie O'Connell, entering his first season at Boston University
2017-18 OVERALL RECORD: 22-14-4 (12-8-4 Hockey East, 4th)
KEY RETURNING PLAYERS: Senior forward Bobo Carpenter (20-15-35), sophomore Shane Bowers (17-15-32), junior defenseman Dante Fabbro (9-20-29), junior defenseman Chad Krys (7-20-27), junior goaltender Jake Oettinger (21-13-4, 2.45 GAA, .915 SV %)
KEY LOSSES: F Jordan Greenway (13-22-35), F Brady Tkachuk (8-23-31), D Brandon Hickey (6-8-14)
KEY ADDITIONS: F Joel Farabee, F Jake Wise
2018-19 PREDICTION: The Terriers were projected as the team to beat last year, but never quite lived up to that billing until the Hockey East tournament. Finishing strong may again be the operative phrase as they adjust to new coach Albie O'Connell.
Jim picks Boston University to finish third; Dave picks Boston University to finish second
CONNECTICUT
HEAD COACH: Mike Cavanaugh, entering his sixth season at Connecticut
2017-18 OVERALL RECORD: 15-19-2 (11-12-1 Hockey East, T-5th)
KEY RETURNING PLAYERS: Junior forward Alexander Payusov (12-8-20), junior forward Benjamin Freeman (8-13-21), junior goaltender Adam Huska (8-16-2, 2.59 GAA, .912 SV %)
KEY LOSSES: F Maxim Letunov (12-16-28), F Spencer Naas (12-12-24), D Johnny Austin (4-15-19)
KEY ADDITIONS: F Jachym Kondelik, F Kale Howarth, D Roman Kinal
2018-19 PREDICTION: UConn took its biggest step forward last season finishing in a tie for fifth in the league standings. Losing arguably their best player, Max Letunov, to the NHL leaves a big hole up front but returning players along with massive Czech forward Jachym Kondelik, a fourth-round NHL draft pick, as well as top-tier goaltender Adam Huska, provide a lot of hope that UConn can either remain an upper-middle of the pack team or maybe even take a step towards the league's elite teams.
Jim picks Connecticut to finish seventh; Dave picks Connecticut to finish eighth
MAINE
HEAD COACH: Dennis "Red" Gendron, entering his sixth season at Maine
2017-18 OVERALL RECORD: 18-16-4 (10-11-3 Hockey East, T-5th)
KEY RETURNING PLAYERS: Sophomore goaltender Jeremy Swayman (15-12-3, 2.72 GAA, .921 SV %), junior forward Mitchell Fossier (12-22-34), junior forward Chase Pearson (7-20-27), sophomore forward Eduards Tralmaks (11-14-25), junior forward Tim Doherty (11-22-23), sophomore defenseman Brady Keeper (6-16-22), junior defenseman Patrick Holway (6-13-19)
KEY LOSSES: F Nolan Vesey (11-14-25), F Canon Pieper (4-8-12), F Cédric Lacroix (6-5-11)
KEY ADDITIONS: D Simon Butala, F Edward Lindelow, F Adam Dawe, F Jacob Schmidt-Svejstrup
2018-19 PREDICTION: Maine suffered minor losses to a team that came within a game of .500 in Hockey East last year, so it seems the Black Bears should be even better this year. Even so, the projection here is that other clubs have improved even more.
Jim picks Maine to finish eight; Dave picks Maine to finish seventh
MASSACHUSETTS
HEAD COACH: Greg Carvel, entering his third season at Massachusetts
2017-18 OVERALL RECORD: 17-20-2 (9-13-2 Hockey East, 8th)
KEY RETURNING PLAYERS: Sophomore defensemen Cale Makar (5-16-21), sophomore forward John Leonard (13-15-28), sophomore forward Mitchell Chaffee (13-11-24), sophomore forward Oliver Chau (9-15-24)
KEY LOSSES: D Niko Rufo (8-11-19)
KEY ADDITIONS: F Jacob Pritchard (graduate transfer), D Ty Farmer, F Jeremy Davidson
2018-19 PREDICTION: UMass has been on an upward trajectory since coach Greg Carvel arrived. That should continue this season. The best news the program got was that Cale Makar was returning for his second season. Now the Minutemen need to take advantage as there likely won't be a third season in Amherst for Makar. If this team starts scoring goals, it may be one of the more dangerous teams in Hockey East.
Jim picks Massachusetts to finish fourth; Dave picks Massachusetts to finish fifth
UMASS LOWELL
HEAD COACH: Norm Bazin, entering his eighth season at UMass Lowell
2017-18 OVERALL RECORD: 17-19-0 (11-13-0 Hockey East, 7th)
KEY RETURNING PLAYERS: Junior forward Ryan Lohin (9-16-25), senior forward Ryan Dmowski (11-11-22), junior forward Kenny Hausinger (10-10-20), senior goaltender Christoffer Hernberg (14-10-0, 2.07 GAA, .921 SV %)
KEY LOSSES: F John Edwardh (9-11-20), D Tommy Panico (8-12-20), D Chris Forney (7-13-20)
KEY ADDITIONS: D Seth Barton, G Eric Green
2018-19 PREDICTION: In 2017-18, the River Hawks had their worst season in the last seven, struggling at times to score goals and allowing more grade 'A' chances than characteristic for this club. There are a few questions entering the season, particularly who will step up to provide secondary scoring and whether goaltender Tyler Wall, who two season ago set the school record for wins in net, can return to that form. Still, one thing we've learned about Norm Bazin-coached Lowell teams is that losing is an aberration.
Jim picks UMass Lowell to finish fifth; Dave picks UMass Lowell to finish sixth
MERRIMACK
HEAD COACH: Scott Borek, entering his first season at Merrimack
2017-18 OVERALL RECORD: 12-21-4 (7-15-2 Hockey East, 10th)
KEY RETURNING PLAYERS: Junior forward Sami Tavernier (8-13-21), junior defenseman Johnathan Kovacevic (2-15-17), senior goaltender Craig Pantano (11-14-2, 2.33 GAA, .915 SV %)
KEY LOSSES: F Brett Seney (13-19-32), F Jace Hennig (11-14-25), F Ludvig Larsson (13-8-21), D Jared Kolquist (4-20-24), D Marc Biega (5-5-10)
KEY ADDITIONS: F Chase Gresock, F Chase Olsen, F August von Ungern-Sternberg
2018-19 PREDICTION: After finishing next-to-last, the Warriors lost their top four scorers and brought in new coach Scott Borek. Borek will need to be a miracle-worker to move his new team up in the standings at all.
Jim picks Merrimack to finish 11th; Dave picks Merrimack to finish 11th
NEW HAMPSHIRE
HEAD COACH: Mike Souza, entering his first season at New Hampshire
2017-18 OVERALL RECORD: 10-20-6 (5-14-5 Hockey East, 11th)
KEY RETURNING PLAYERS: Sophomore defenseman Max Gildon (8-15-23), senior forward Ara Nazarian (9-13-22), junior forward Liam Blackburn (11-10-21), sophomore defenseman Benton Maass (4-13-17)
KEY LOSSES: G Daniel Tirone (10-17-6, 2.68 GAA, 9.17 SV %), F Michael McNicholas (5-19-24), F Jason Salvaggio (8-8-16), D Richard Boyd (3-3-6)
KEY ADDITIONS: G Ty Taylor, F Angus Crookshank, F Filip Engarås
2018-19 PREDICTION: It's hard to imagine UNH finishing last two years in a row, so expect some improvement. That said, it's likely to be modest until new coach Mike Souza rebuilds the recruiting machine in effect when he was skating with the likes of Darren Haydar and had Ty Conklin in net.
Jim picks New Hampshire to finish ninth; Dave picks New Hampshire to finish 10th
NORTHEASTERN
HEAD COACH: Jim Madigan, entering his eighth season at Northeastern
2017-18 OVERALL RECORD: 23-10-5 (15-6-3 Hockey East, 2nd)
KEY RETURNING PLAYERS: Sophomore forward Zach Zolow (5-21-26), junior defenseman Jeremy Davies (6-29-35), sophomore goaltender Cayden Primeau (19-8-5, 1.92 GAA, .931 SV %)
KEY LOSSES: F Adam Gaudette (30-30-60), F Dylan Sikura (22-32-34), F Nolan Stevens (24-18-42)
KEY ADDITIONS: F Tyler Madden, D Jordan Harris
2018-19 PREDICTION: It will be difficult to top 2017-18 for Northeastern. Posting the most wins since 2008-09 and producing the school's first Hobey Baker winner in Adam Gaudette, Northeastern also captured its first Beanpot since 1988. Losing Gaudette and his linemates Dylan Sikura and Nolan Stevens, the Huskies have a lot of scoring to replace. The fact they return one of the best goaltenders in the nation in Cayden Primeau provides some hopes, but it wouldn't be surprising if this season is a rebuilding year.
Jim picks Northeastern to finish sixth; Dave picks Northeastern to finish fourth
PROVIDENCE
HEAD COACH: Nate Leaman, entering his eighth season at Providence
2017-18 OVERALL RECORD: 24-12-4 (13-7-4 Hockey East, 3rd)
KEY RETURNING PLAYERS: Junior forward Josh Wilkins (15-16-31), junior forward Brandon Duhaime (7-19-26), junior forward Kasper Björkqvist (16-7-23), junior defenseman Jacob Bryson (4-21-25), senior goaltender Hayden Hawkey (24-12-3, 2.04 GAA, .919 SV %)
KEY LOSSES: Forward Eric Foley (16-19-35), forward Brian Pinho (12-20-32), defenseman Tommy Davis (1-10-11)
KEY ADDITIONS: F Jay O'Brien, F Mikael Hakkarainen, D Michael Callahan
2018-19 PREDICTION: Providence should once again contend for the Hockey East title, featuring one of the league's top defenses, and make a return to the NCAA tournament.
Jim picks Providence to finish second; Dave picks Providence to finish third
VERMONT
HEAD COACH: Kevin Sneddon, entering his 16th season at Vermont
2017-18 OVERALL RECORD: 10-20-7 (6-12-6 Hockey East, 9th)
KEY RETURNING PLAYERS: Sophomore forward Alex Esposito (10-10-20), junior defenseman Matt O'Donnell (8-8-16), junior goaltender Stefanos Lekkas (10-19-6, 2.43 GAA .903 SV %)
KEY LOSSES: F Ross Colton (16-7-23), F Jarrid Privitera (3-9-12)
KEY ADDITIONS: F Joey Cipollone, F Dallas Comeau, D Andrew Petrillo
2018-19 PREDICTION: After a disappointing 2017-18 campaign, there will be plenty of questions surrounding this year's Catamounts team. Goal scoring was a struggle for much of the season a year ago and, with the team's most reliable scorer, Ross Colton, signing an NHL contract, it's difficult to imagine this will significantly improve. On the back end lies the good news as goaltender Stefanos Lekkas returns for his junior campaign hoping to keep the Catamounts in many games this season.
Jim picks Vermont to finish 10th; Dave picks Vermont to finish ninth