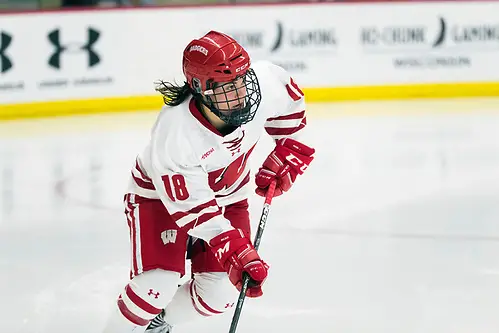 Robert Morris at No. 1 Clarkson
The Colonials pushed the defending national champions in the third period of each of their games, but the Golden Knights swept the weekend with 4-2 and 4-3 wins. Senior Loren Gabel led Clarkson with two goals on Friday and tallied her 150th career point with an assist on Saturday. Freshman Morgan Helgeson scored her first goal as a Golden Knight on Saturday.
No. 2 Wisconsin at Mercyhurst
On Friday, junior Abby Roque tallied her first career hat trick and Mekenzie Steffen added three assists as the Badgers won, 6-1. Summer-Rae Dobson was the lone goal-scorer for Mercyhurst. On Saturday, the teams traded first-period goals, and it was 3-2 at the start of the second. Five different Badgers scored, and Sam Cogan's empty-netter secured the 5-3 Wisconsin win. Alexa Vasko, Emma Nuutinen, and Emily Pinto scored for the Lakers in the loss.
No. 3 Minnesota at No. 4 Minnesota-Duluth
There were six first-period goals in this fast-paced game. UMD's Gabbie Hughes scored her first as a Bulldog just 1:07 into the game, but Minnesota answered with four straight en route to a 5-2 win. Taylor Wente had two goals, and Grace Zumwinkle led the Gophers with a goal and two assists. It was the opposite on Saturday, with a scoreless first period before Minnesota-Duluth jumped out to a 2-0 lead after two thanks to power-play goals by Hughes and Anna Klein. Minnesota fought back in the third to force overtime with goals from Nicole Schammel and Kelly Pannek. The game ended a tie, with the Bulldogs taking the extra conference point in the shootout.
No. 8 Colgate at No. 5 Ohio State
Ohio State outshot Colgate, 45-32, and used three second-period goals to grab a 4-3 win over the Raiders. Bailey Larson had a goal and an assist for Colgate, while Charly Dahlquist led Ohio State with a goal and two assists. In game two, the Buckeyes had a 2-0 lead after the first period, but the Raiders would not allow them to score again and answered with five straight goals to earn the 5-2 win and series split. Shea Labbe scored her second and third goals of the weekend, and Larson added two assists for Colgate in the win. Ohio State freshman Andrea Braendli made 32 saves in her first career start.
Syracuse at No. 6 Boston College
Five different Eagles scored en route to a 5-1 win, BC's first of the season. Lindsey Agnew tallied her first goal for Boston College while adding two assists, and Cayla Barnes earned her first career point with BC. Brooke Avery scored a power-play goal for Syracuse to break up the shutout. Freshman Maddy McArthur earned her first win in net.
Boston University vs. No. 9 Northeastern
Northeastern jumped out to a 2-0 lead after two thanks to power-play goals from Kasidy Anderson and Veronika Pettey, and it would be all Huskies on Friday as they cruised to a 5-0 win. Gillian Foote and Brooke Hobson each had two assists in the game. It was a different story in game two as Boston University had a 3-1 lead after the first thanks to goals from Jesse Compher, Sammy Davis, and Nara Elia. Alina Mueller and Pettey scored for Northeastern in the second to tie it up. BU outshot Northeastern, 18-6, in the third, but could not break the tie as it ended 3-3 and the Huskies took three of four points in their first league series.
New Hampshire at No. 10 St. Lawrence
In game one, the teams played to a tough 1-1 tie as Devan Taylor scored for New Hampshire and Rachael Smith scored for St. Lawrence. It looked like that would be all the scoring on the weekend as the teams played nearly all 65 minutes of Saturday's game without netting a goal, but Skylar Podvey hit a slap shot that crossed the goal line with .1 seconds left on the clock to earn St. Lawrence the 1-0 OT win. Her shot from the left side deflected off UNH goalie Ava Boutilier and dropped in. After referee review, it was determined she beat the final buzzer to give SLU their second win of the season.