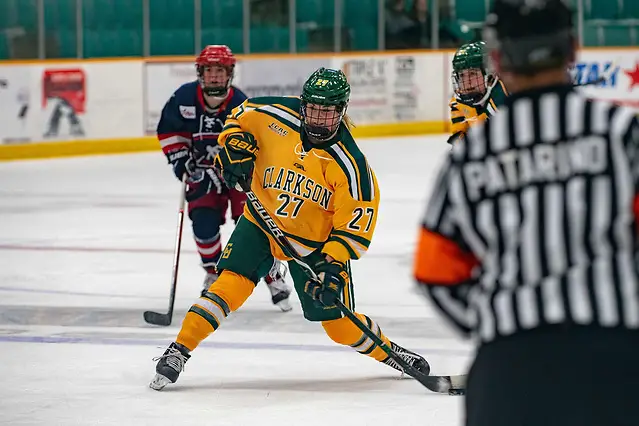 Nicole: Well we've got two weekends in the books, and most everything I thought before the season has been tested at least a little bit already. I didn't see Minnesota Duluth sweeping Boston College, nor did I expect close games from Wisconsin with Lindenwood and Mercyhurst or from Clarkson with Robert Morris. Five of the top 10 teams have at least a loss, and Colgate and Boston College each have two. Just three of our top 10 teams have a perfect record, and that's bolstered by the fact that Cornell hasn't even played yet.
It's early, but it feels like we're going to see a rotating cast of teams sitting in those bottom few spots in the rankings, as I feel like the gap between teams in that area is basically nonexistent at this point. There's a big handful of teams that can beat each other up on any given night, and the fight for those last two Pairwise spots could be very interesting by the time it's all said and done.
With just a handful of games, what's been the biggest surprise for you right out of the gate?
Candace: Thanks Nicole, and welcome back to our faithful readers of Wednesday Women, where we discuss all the ins and outs of our favorite game. As for your question, I have to go with Minnesota Duluth sweeping Boston College. They did it in two very different games as well. With three returning Olympic defenders, as well as a potent offense led by last year's Patty Kazmaier Award winner, Daryl Watts, I think many people were expecting the Eagles to be a juggernaut. It didn't help BC's cause that top scorer Caitrin Lonergan went down to injury in the first game, but offense wasn't the problem, it was the defense, which gave up four goals in a 4-2 loss in the first game. Admittedly, BC has new goalies, as Katie Burt graduated, but I think more was expected of BC's defense. At least one of those goals was a bad one given up by BC's goalie, Maddy McArthur. It probably didn't help either that BC's defense gave up 35 shots in that loss.
The defense was there in the second loss, but the offense was suffering a power outage in a 2-1 loss. Yes, Minnesota Duluth has Olympic standout Maddie Rooney in net, and BC didn't have Lonergan, but there should have been more pressure and more goals. BC got 27 shots to UMD's 23 in that loss.
Of course, that sweep, and a tie with Minnesota this weekend, showed the Duluth is going to be a strong team this year, which makes the WCHA even more of a bloodbath with the Bulldogs added to a mix that includes Minnesota, Ohio State, and Wisconsin.
What has stood out to you in the first two weeks?
Nicole: Yes, I suppose I should have started with a welcome. My apologies everyone! It's hard to believe we're two weeks in and it's only October 10. My mind is clearly still playing catch up.
I've been hyped for this season since before last season even ended, so I think I had everything a little too blown out of proportion in my head. On paper, we've got some incredibly good squads, but I probably gave everyone a little too much credit for the first few weeks. Teams are only officially allowed on the ice a week before those first games at the end of September, so everyone takes a bit to settle in. I shouldn't have been surprised by some of these early season stutters, but I still have been. It's a good thing we haven't done any picks yet, as I'd already be deep in the hole.
It took four weekends last season for the Badgers to give up as many goals as they have over the first two weekends this season. Same goes for Clarkson, which has allowed nine goals already. Last year, they led the nation in team defense, allowing 1.17 goals per game. Right now they're 15th, with 2.25 goals allowed per game.
Penn State was down a number of players due to team rules violations, but they gave then No. 5 Colgate pretty much all they could handle two weeks ago and split the weekend series. The next weekend, the Nittany Lions tied and then lost to Merrimack. Northeastern manhandled BU on Friday, but lost to the Terriers in overtime on Saturday. I didn't expect New Hampshire to cause so many problems for St. Lawrence, nor for Maine to sweep Quinnipiac (though that one I probably should have seen coming).
I feel like I need to recalibrate a bit and maybe readjust my expectations, which may be more on me than on the teams. Either way, it's not the script I'd imagined for the opening few games.
Has what you've seen so far changed the way you think the season is going to shake out long term?
Candace: A little perhaps, but I don't think too much. The top teams will still be the top teams in March. Over the last decade, what I have observed is that as the season goes on, the teams get better defensively, and the offensive numbers come down somewhat, but the games become much tougher, more physical, and more of a battle. That means for what I think we'd both consider the likely NCAA tournament teams, they will get even tougher to beat by the end of January.
Those teams all have either strong defense, strong goaltending, or both. They also have good offenses that will not be able to be completely contained by second-tier teams in the second half of the season. I guess that's my long-winded way of saying I don't think we will have too much in the way of surprises when the playoffs start.
You mentioned that we are only two weeks in, and while that's true, this season has already brought some interesting items. Holy Cross started its first season in Hockey East, and will open conference play this weekend against Providence and Connecticut after losing and tying RIT and then tying Rensselaer. I will be interested to see how the Crusaders adjust to their first full season in Division I.
The other thing that's happened is that Long Island University announced its decision to upgrade to D-I and participate in the New England Women's Hockey Alliance, which then stated its decision to seek recognition as an NCAA conference and play D-I teams and recruit at that level. Those teams used to play against Holy Cross in D-III and in last season's scheduling agreement. What did you make of that announcement? Do you think D-I teams will schedule many games against those teams? Do you think that the NCAA will give them an automatic bid?
Nicole: I'm a little torn on the whole thing, but I do think it's great for the growth of the game, especially since they're talking about scholarships. The more women that can continue to play at an advanced level is obviously a good thing. There are schools that are great about scheduling teams that have made the move to join D-I or are brand-new, but I'm not sure what would be in it for D-I schools to schedule these teams. Will we have to have new calculations for strength of schedule or Pairwise?
I don't want to be a curmudgeon, but I have to say I'm not yet sold. It feels a bit like limbo, and I hate that. I also worry that the programs won't get the institutional support they need to be successful in this manner. Some of the administrators at these schools were adamant about ensuring the teams stayed D-II, so I have some concerns about what that says about the schools' attitudes about these programs.
I certainly don't know enough about how this will all shake out or will affect rules and calculations, but since this is a legitimately formed conference that has to play up to D-I since D-II is sort of in limbo, if they meet all the conference requirements, I'm not sure how the NCAA could explain not giving them an auto-bid. If we end up at nine teams, I'd guess we'd see a 8-9 play-in game.
It feels like I just said a whole bunch of nothing, but I really am unsure how to feel about the whole thing. I'm all for growth, but not growth for growth's sake. I'm not sure I agree that any growth is good growth, and it all feels complicated in a way that I'm not on board with.
Do you have a different take on it? What are you most looking forward to this season?
Candace: Regarding giving the new conference an auto-bid, there's a part of me that thinks there are so few teams that get to play in the NCAA tournament, giving an autobid to a team that would likely struggle to beat many of the lesser teams in say, the WCHA, seems unfair. Could you imaging one of the D-II schools qualifying and Minnesota Duluth or Ohio State not getting a bid this year?
On the other hand, in a 64-team basketball tournament, one could make the same argument, but I feel like there are more teams in that tournament that end up being able to challenge, even if they come from a "lesser" conference. I'm still unsure on the whole thing.
As for this season, there are a lot of interesting storylines. I'm curious to see how Annie Pankowski plays at Wisconsin after being a surprise late cut from the U.S. Olympic team last year. I'm also curious to see how the Olympians on all the teams play in their return to the college game, and what their international experience does for their level of play.
One of the big stories from my perspective is how well the high-profile transfers at Clarkson will integrate with their new teammates. Getting Kassidy Sauvé to replace Shea Tiley in net is one of the biggest coups I can remember. Add to that T.T. Cianfarano leaving Quinnipiac to play for the Golden Knights, and Clarkson looks to be even more loaded than they have been in recent years. Cianfarano was near a point per game player for Quinnipiac, on a team that emphasized defense over everything else. It's early, but she seems to have upped her game, notching six points in her first four games for her new team.
Sauvé's numbers aren't quite what they have been at Ohio State the last two years, but they are still solid, and I'd imagine they will come up. Clarkson looks to be the team to beat early, but I feel like so many teams are in good shape this season. Sauvé was a key factor in Ohio State's run to the Frozen Four last season, so her leaving may also affect how the Buckeyes do.
What did you make of those two players going to Clarkson for their final year of collegiate eligibility?
Nicole: I actually wasn't expecting to see such a big splash from Cianfarano so early for the Golden Knights. In the coaches preseason phone call, Clarkson coach Matt Desrosiers made it seem like she would need some time to acclimate after recovering from injury. She's a great player that went through a lot at the end of high school and probably wasn't in the best situation to exploit her talents at Quinnipiac, so it'll be exciting to see her at full health with a complement of players that will bring out her best. I don't think we've seen near the potential that she has shown over the past couple of years.
I spoke to Sauvé this off season, and she said she didn't pinpoint Clarkson as her target when she decided to leave Ohio State. Desrosiers talked about both of these transfers as though they sort of fell in his lap. I suppose those sorts of happy accidents happen when you're the two-time defending national champions, but man, like you said — what a coup. That Clarkson offers a one-year accelerated MBA program certainly helps make them an incredibly appealing option for a player looking to use their fifth year of college to use up their athletic eligibility.
There were quite a few more transfer moves this off season than we're used to, and to some extent I think it was just a perfect storm of top teams with roster needs and scholarship money making themselves known.
You mentioned the Olympics and the return of so many players from international experience. What impact do you think USA's gold medal and the popularity of that team will have on the college game this year?
Candace: In terms of the popularity of women's college hockey and having bigger crowds, unfortunately very little. The Olympics always bring out casual fans, not only for hockey, but for many sports, but you don't see consistent bumps in viewership. I think in some ways you can look at women's soccer as an example. After the U.S. won the World Cup in 1999, the incredible media coverage and crowds that attended those games led to the launch of a women's pro league, but that league folded by the time of the next World Cup, which was also held in the U.S. but didn't attract nearly as many fans. It was like people forgot about it. The seeds from that game though led to the incredible Abby Wambach header against Brazil that captured the country during the 2011 World Cup, and momentum from that led to record crowds during the 2015 World Cup and, finally, a viable pro league that attracts many of the best players in the world.
I think it will affect younger players deciding to pursue the game, and that will affect things in about 18 years. Young girls saw Maddie Rooney make the big saves, and they saw Jocelyne Lamoureux's filthy deke on the game-winning goal, and those moments will be etched in their brains and lead more young girls to take up the sport. Perhaps in 15 years or so, the college game will also attract bigger crowds, and the NWHL will be a viable pro league where the players aren't essentially playing part-time while holding other jobs.
Do you think I'm being too cynical?
Nicole: I know it's not the best example, since Wisconsin has long had wonderful community support, but the Badgers had to put a cap on new season tickets this season. They've often sold out games against Minnesota, but last season also saw sellouts against Minnesota State. I'm with you in being a bit cynical about it all — just look at how few fans a team like BC gets — but I do think this season has a chance to make some decent strides. I like that the WCHA moved their streaming to one platform. It's a bit pricey, but it's still better than having to have multiple accounts between streaming through the Big Ten, NCHC, and Stretch. They had to be shamed into it, but even the official NCAA hockey twitter handle has been better about covering the women's game as equally as the men's game.
I'm definitely someone who hates that we have to take these small crumbs as positives and growth, but at the same time, I know they show that things have changed. Unprompted, I've seen numerous colleges make the switch from defaulting to their men's team as just "X College hockey" and their women's team as "X College women's hockey." I joke often that I cover the world's smallest niche, but these changes are the things that make the constant banging of the drum worthwhile.
I suppose you're right that we won't see major changes, which is frankly a shame. Minnesota coach Brad Frost said he thinks this will be the most talented group of skaters we've ever seen in women's college hockey. Folks that aren't paying attention are missing out.