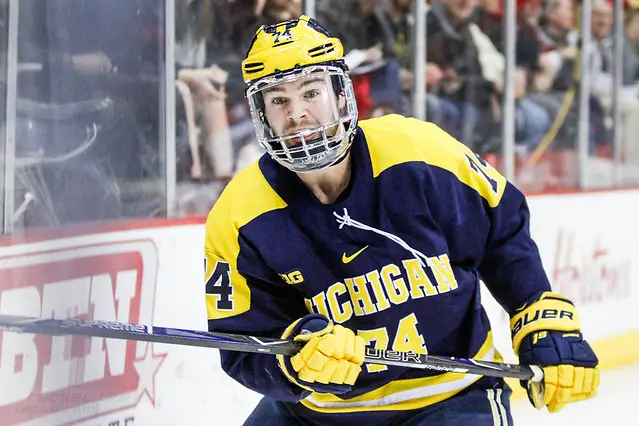 The Big Ten made some big noise by sending three teams to the Frozen Four in 2018, but when the only NCHC team in the field, Minnesota Duluth, captured the national championship, that noise was reduced to chatter and even snickering among college hockey fans.
Now several months later as a new season begins, it would be easy to dismiss what the conference accomplished in 2017-18 – and that would be a mistake, as any program's participation in the Frozen Four produces lasting effects.
It all starts with how the players themselves see their own teams after having reached the Frozen Four.
"Last year was a huge step for Michigan hockey after not being in the mix for quite a while," said Michigan captain and senior defenseman Joseph Cecconi. "That was huge for our confidence coming into this season."
The Wolverines have 25 Frozen Four appearances and nine national championships, but Michigan's 2018 national championship bid was its first since 2011 and last year's team had played in one previous NCAA tournament, in 2016. Cecconi said that making it all the way to St. Paul last year changed more than a few things for a Michigan team that already had confidence in its program's history and team's talent.
"The biggest thing was that all the guys in the offseason came back knowing what it takes to win a national championship," said Cecconi. "We know how to win, and now we know how to play in those kinds of games.
"My freshman year, we made it to the tournament and we won the first game lost the second, and so my class had a little experience. Now we have three classes that have that experience, that know what those kinds of games are like."
Ohio State senior forward Brendon Kearney said that there is a wealth of knowledge that comes from playing on that bigger stage.
"Coming back last year, we had a little confidence because we made the [2017] tournament, but it's a completely different feeling coming back from the Frozen Four, especially with how many veterans we have returning," said Kearney.
"We know what it takes to get there. This year, we're going to have to do that and more."
While both the Wolverines and Buckeyes have struggled to make the NCAA tournament in recent years, Ohio State's program hasn't built the tradition that Michigan's has, and just two years ago, the Buckeyes were a team that few regarded as having national staying power. Ohio State's first NCAA tournament appearance was in 1998, the only other time the Buckeyes advanced to the Frozen Four, and of the Buckeyes' eight NCAA tournament appearances, their only two in the last decade came in 2017 and 2018.
This season, though, Ohio State was picked to finish first in the Big Ten in the league's preseason coaches poll and voters this week gave the Buckeyes their first No. 1 spot in the USCHO weekly poll. Ohio State is no longer an under-the-radar team, and Kearney said that this will require a few adjustments.
"That's the best part of what we've gone through," said Kearney. "We've been on both sides of it now."
Kearney remembered when the Buckeyes were the underdogs heading into Penn State's Pegula Arena for a series after the Nittany Lions had just been awarded their first-ever No. 1 ranking.
"I remember the extra motivation that it gave to us," Kearney said. "We were going into their place and we just wanted to beat them. Now that's what teams playing us will think."
The Big Ten's third 2018 Frozen Four participant, Notre Dame, can provide a slightly different perspective on the tournament experience and effects, having reached the national championship tournament four times since 2008, while affiliated with three difference conferences, and all under head coach Jeff Jackson, now in his 14th season in South Bend.
Jackson said that it was Notre Dame's appearance in the 2008 Frozen Four in Denver that changed the program in ways that could not be anticipated.
"The first time we went, I think it had a huge impact on our program," said Jackson. "Notre Dame hockey hadn't been taken seriously for many years before that. The fact that it was in Denver probably helped us because we have a such a big alumni base there."
In addition to heightening the profile of the hockey program within the fan base, the appearance made an impression on the university's administration and athletic program. "I think that opened the eyes of the people within the university to how big college hockey really was. All they knew was the Joyce Center. Then you get them into the Pepsi Center and they see this spectacle, this big game on a big stage."
Less than a year after Notre Dame's first Frozen Four appearance, the university announced that it would be building a new arena for its hockey team. In 2011, the Fighting Irish moved from the outdated Joyce Center to the state-of-the-art Compton Family Ice Arena, a 5,022-seat on-campus arena that Jackson had a lot of say in designing.
"Certainly it had an impact on us eventually getting a new arena," said Jackson.
In Columbus, there has long been talk of a new hockey-only arena to house both the men's and women's teams. As the men were competing in their second Frozen Four in 2018, the women were competing in their first. Currently, the men's program shares Value City Arena in the Schottenstein Center with the men's and women's basketball programs while the women play in the Ohio State Ice Rink with its capacity of just over 1,400.
Next week, the university meets to further consider building a new facility at Ohio State.
"They've moved forward with the study," said Steve Rohlik, in his sixth season as head coach with the Buckeyes.
And while nothing is definite yet, Rohlik said, "This is as far as it's ever been. I think it's really exciting for the program that the administration has taken it this far into consideration."
Rohlik is quick to point out that Ohio State itself has a long-storied athletic tradition and that the recent success of men's hockey is something that he and his team are happy to contribute to.
"What women's hockey and men's hockey have done in the last few years is say that we're part of this," said Rohlik. "We understand that we're part of one of the great athletic universities in all of college sports and that hockey's relevant. Yes, this can be a hockey program here as well, part of the culture here at Ohio State athletics."
Ohio State captain, senior forward Mason Jobst, said he sees how the Frozen Four appearance helps build the program in tangible ways beyond the possibility of a new arena.
"We've always been a good program but not a program like the North Dakotas and the Boston Colleges that have that tradition," said Jobst. "From a coaching standpoint, it's going to help with recruiting. Kids always want to go to the schools with traditions of success."
Like his counterpoint on the Michigan squad, Jobst sees the Frozen Four appearance as a confidence builder for the returning team, but he added that the Buckeyes also returned with a keen sense of having fallen short, a great motivator common to the Wolverines and Fighting Irish as well.
"We had a great season last year," said Jobst. "We made it to the Big Ten championship and got to the Frozen Four but we have nothing to show for it – no rings, no banners. We are hungry."
That hunger is something shared by all Big Ten teams, said Jackson, not just the three that return this season after ending their seasons in St. Paul.
"You've got such rich tradition programs within the Big Ten," said Jackson. "And they're all accustomed to getting to the Frozen Four, all except Penn State, but they'll get there, too."
Jackson said that the success of the Big Ten last season elevates the play of every team in the league and with three teams having been to the national championship weekend recently, all seven Big Ten teams will benefit from the experience.
"I think it's great for conference," Jackson said.
Added Rohlik: "There's no question it's good for the Big Ten. There could be four other teams in the Frozen Four from our league. Everyone's always improving and we have so much respect for each other. At the end of the day, you know how hard it is to win in college hockey. In our league right now, from top to bottom, the compete level is there and it'll only get more intense."
The general idea is that the league as a whole returns for the 2018-19 season changed in fundamental ways by the 2018 Frozen Four experiences of Michigan, Ohio State and Notre Dame. Every program that didn't go to St. Paul is chasing three teams that did. Every veteran player whose team went to the Frozen Four now knows what it takes to get there – and every other play in the league wants to know. Even the perceptions of the incoming freshmen will change because of how far three Big Ten teams got last year.
"For the four teams that weren't there, it pushes them more" said Kearney. AAnd our freshmen are coming into a winning program."
"That Frozen Four game we lost in the last five minutes," added Cecconi. "So we know that one shift can change a whole season."