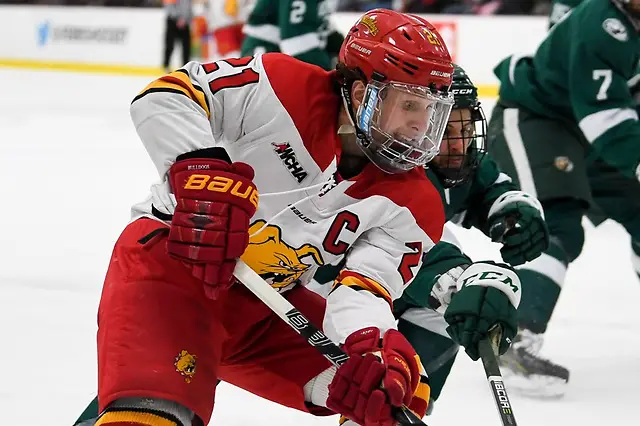 Corey Mackin tied with Mitch Maloney for most points (25) during the 2017-18 season for Ferris State.
While most players would be proud of that, Mackin was actually disgusted he couldn't produce more.
The Philadelphia native entered last season under-conditioned and far from 100-percent healthy. He underwent two surgeries and endured a sports hernia leading up to the season. Doctors didn't even clear him to play until the week of the Bulldogs' season opener.
Fast forward to this current season, and Mackin is ready to make an impact his senior year after having an entire off-season to train and prepare.
"I obviously have high expectations for him," said Ferris coach Bob Daniels, who's in his 28th year. "Even though last year he tied for most points on the team, it wasn't the type of year he wanted. He wasn't do anything all summer because of the two major surgeries.
"Last season was all about recuperating for him. He had zero time in the weight room. All of a sudden, he got cleared, and he played. But he was also chasing his conditioning. We had to limit his ice time. Now he's injury free, he looks ready for a breakout year."
Mackin was productive, but he lost the athletic abilities he's relied on as a Bulldog. He remained elusive with the puck, but he was clearly a step slower. That forced Daniels to limit his minutes. At one point during the season, Daniels had to remove Mackin from the penalty-kill unit altogether.
The things Makin excelled at – like puck protection and using speed deep in the offensive zone – became a challenge. He wasn't conditioned, and it bummed him out, especially because he couldn't create scoring opportunities for his teammates.
"I was able to play right away, but I missed two games, and I played most of the games just not feeling 100 percent," Mackin said. "That's incredibly frustrating. You think you can do certain things out there, but the fact is you just can't. That's pretty frustrating, and I'm happy now that it's over with."
Thanks to his tireless work ethic, Mackin has bounced back. He was already a hard worker, and both Daniels and Mackin's teammates agree no Bulldog gives as much attention to even the littlest details as he does. But now that he can train at full strength, he's taken his off-ice preparation to the next level.
Whether it's eating healthy at the cafeteria, getting in bed early for a full night's rest or working extra after practice, Mackin has taken care of business.
"That's the reason he wears the 'C' on his jersey," Bulldogs defenseman Ryker Killins said. "He leads by example both on and off the ice. He had a tough start last year, but he came back, and he's a special player. I love playing with him, especially on the power play.
"He just leads by example in the gym and is always working out, or he's working his hardest and making sure he's the best he can be on the ice by shooting pucks, working on stick handling and doing the little things that younger guys are slowing catching on to and are starting to do."
Daniels said he's eager to work Mackin back into the fold much more than he was as a junior.
"He's ready for a lot of minutes," the coach said. "He was a captain as a junior, and he'll be more comfortable in that role this year. He knows what to expect, and he'll be more comfortable.
"The way he approaches the game is what has made him the captain, and, for one, he's outgoing and gets along with everyone in the locker room. Through his actions on the ice and away from the arena, how he conducts himself and how he trains has been fantastic. He's taken care of his body."
During the Bulldogs' two scrimmages this past weekend, Mackin didn't record any points, but he won a bulk of the faceoffs he took against the U.S. Under 18 team and Lethbridge. What's more, he proved to be a great example for the other forwards on the team, like Lucas Finner, who had two goals and two assists on the weekend, and Coale Norris, the team's star sophomore.
"I've learned about the determination it takes to get back from injury from him," Norris said. "He's been a great player since he's been here. He clawed back after his surgeries. He leads by example on the ice, and he shows he really works hard to return to being a great player again."
The Bulldogs open the regular season with a home-and-home series against Western Michigan on Friday and Saturday. Ferris will host the Broncos for the opener, and then it'll make the trip to Kalamazoo the following day.
Mackin is excited to finally move on from last season.
"It was very difficult and really frustrating last year," he said. "With the recovery process, you don't have enough time to get back to a certain (health) percent, especially when no hockey player wants to miss time. I wanted to get back as quick as possible. But I was able to play right away. I missed two games, but I played most of the games just not feeling 100 percent, and that's incredibly frustrating.
"It really gives me a lot of confidence going into this year, knowing I was able to have a full summer of strictly strength and conditioning training. Not having a setback was huge for my confidence."