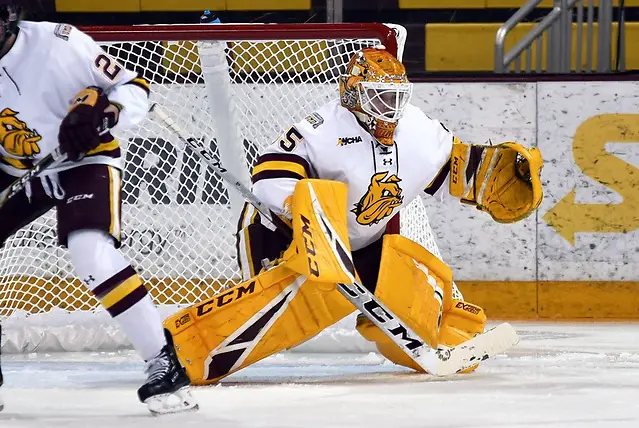 On Wednesday night, Minnesota Duluth goalie Maddie Rooney added one more accolade to her already impressive year as she was named the 2018 Team Sportswoman of the Year by the Women's Sports Foundation.
After stopping four of Canada's six shootout opportunities and making 29 saves in the Olympic gold medal game at Pyeongchang — including seven in overtime — during the game, Rooney became a bit of national darling, making appearances on talk shows and magazine covers as the team took a very public victory lap. Most of that has died down as the redshirt rejoined the Bulldogs for the 2018-19 collegiate season, but Wednesday's award only goes to show that Rooney made a massive impact on the national consciousness this year.
It's going to be basically impossible for Rooney to live up to her own hype after she so calmly led Team USA to a gold medal in Pyeongchang eight months ago. Rooney is an interesting study in contradictions. She seems most at home on the ice and with her teammates, where she's laughing and loose. Off the ice, she's more reserved. She's become much more aggressive during games, moving out of the ice and handling the puck. She was famously loose and laughing on the ice in the tense minutes before the deciding shootout, seemingly immune to the immense pressure that by all rights should have been on her in that situation.
Even before she led Team USA to Olympic gold, she was setting records and impressing as a mere sophomore. She showed what she was capable of during her historic performance in the 2017 WCHA Final Faceoff, backing the Bulldogs to a 2-1 double overtime win over Minnesota in which she made 62 saves — a UMD record. She followed that performance up with 50 saves less than 19 hours later in a loss to Wisconsin in the tournament final. Her 112-save weekend was a WCHA Final Faceoff/Playoff Championship record.
Of all the collegiate Olympians returning to school this year, Rooney may be facing the toughest task. She played with just six women she shares the roster with this season, and only one of those players is back with her on the blue line. Six games into the season, Rooney has faced 40 more shots than any other goalie in the country.
In the second game against Minnesota, she nearly single-handedly held the Gophers off the board for two periods while playing with a defense made up of rookies and a converted forward. She's facing an average of nearly 40 shots per game, a pace that's going to be tough to keep up with as the season goes on.
This past weekend, Rooney faced 87 shots from the Wisconsin Badgers. Afterwards, Rooney said those are her favorite games to play.
"It wouldn't be fun if I only saw five shots," she said.
The Bulldogs were coming off an impressive opening series where they swept Boston College followed by a loss and tie (with shootout win) against Minnesota, but they couldn't find their groove in Madison, getting outshot, 87-28.
Those only familiar with the gold-medal-winning Rooney might look at the way the season has started and wonder what happened, but Rooney said she can't get caught up in expectations or hype.
"I focus on myself and the team. I don't let the outside things bother me. I thrive off my team's energy," she said.
The Bulldogs are still working to find out what exactly that energy will be. They've held their own thus far as they've worked to solidify a team that features nine freshmen and 17 total underclassmen. Despite a disappointing weekend result at Wisconsin, Rooney knows it's a long season, and there were positives to take from the series.
"We also learned a lot; my team was good with clearing rebounds," she joked. "We know what we can do. I think we can push ourselves a bit more and not get outworked. I feel like we got outworked in the defensive zone. We know our capabilities, and I don't think we matched them this weekend. We know the intensity level has to be higher, and we need to have quicker starts."