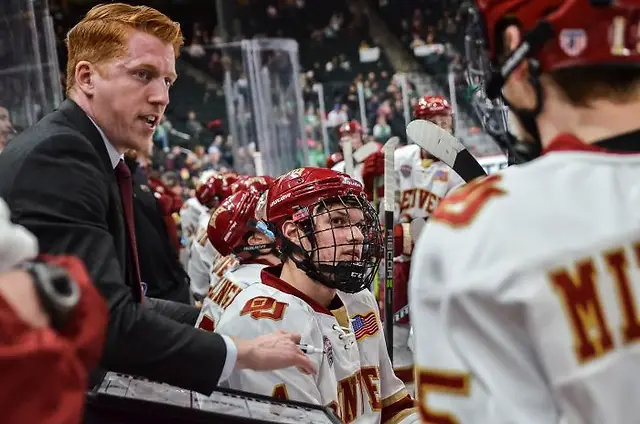 Question marks surrounded Denver heading into this season, largely because of the Pioneers' newness.
Eleven freshmen make up much of the roster, and there's a new head coach in 28-year-old David Carle.
He spent two separate stints as an assistant at his alma mater before succeeding in May new Dallas Stars coach Jim Montgomery. Denver is off to an imperfect but strong start a week and a half into the regular season, and Carle credits his team's relatively few older heads.
"There's four of them who wear letters and we have seven upperclassmen, and I think there's a big responsibility that they relish to try and bring these freshmen along," Carle said. "We've met a lot as a staff with them, and especially in the summertime on what to expect, how they can help, and they've done an unbelievable job the first five weeks of being on the ice together.
"It's little things, and it's taking guys for coffee. It's our captains and our older players taking guys for coffee, grabbing them on the bench in between reps. There's a freshman on every line, and it's incumbent on the older guys to teach as much as it is for us as coaches. Those are the moments that we've talked about with guys making a big impact, and they're doing that."
Preseason games are there to smooth out edges, but Denver made an interesting start with its 6-4 win Oct. 6 over Alberta. DU conceded three power-play goals and trailed 3-2 before senior forward Jarid Lukosevicius scored in the final minute of the second period. The Pioneers got good showings from its youth that night too, with freshman forward Emilio Pettersen netting two goals and two sophomore forwards, Jaakko Heikkinen and Ryan Barrow, bagging one each.
Denver put in more complete performances last weekend, starting Friday with a 4-1 win at Air Force before the Pioneers beat Alabama Huntsville 6-0 at home Saturday night in DU's homecoming game. Four different players scored in the win at Air Force, and junior forward Liam Finlay had a four-point game (three goals, one assist) against UAH.
Carle said the Alberta game taught his team to become more disciplined with regards to penalties, but Denver's penalty-killing units limited Air Force and UAH to a combined 1-for-12 on power plays.
"That's still a point of learning, but the Alberta game was really good," Carle said. "It was nice to get live reps and get some teaching and some videos of live reps to teach off that, but we did a lot of really good things against Alberta, but we improved a lot from Alberta through the first weekend."
Denver is already getting plenty out of its underclassmen, and four freshmen (Pettersen, forwards Brett Stapley and Cole Guttman and defenseman Slava Demin) all have at least a point to their names from the Pioneers' first two counters.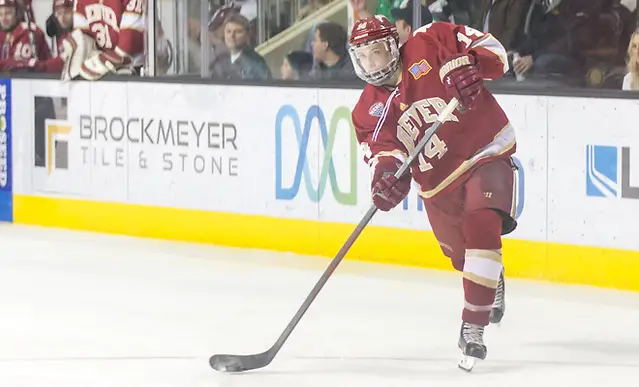 "I think we're probably further along tactically and how we want to play than we even thought we would be," Carle said. "We're more further along than we have been in years past, and in particular I'm speaking more to our freshmen.
"In years past, it's taken our freshmen a little bit more time to get acclimated into how we play, and I just think that our leadership group has done an unbelievable job getting those guys up to speed as quickly as possible.
"Our young players are picking up concepts at a really fast rate, and our leadership is really helping our young kids too," Carle continued. "Colin Staub, Jarid Lukosevicius, Ian Mitchell, Tyson McLellan, Liam Finlay, Michael Davies, they're really embracing, I think, the youth of our team and trying to help bring them along as fast as they can, and I think you saw that over the weekend. We played fast and particularly our freshmen contributed right away."
Denver (2-0) hosts Alaska (0-4) this weekend before the Pioneers wrap their early five-game homestand Nov. 2-3 by opening NCHC play against Western Michigan (2-1-0). Carle hopes to see his team stay on its current trajectory through those games and beyond.
"It's just continuing to build and executing our details at a high level," Carle said. "Every weekend's going to be a challenge, home or away, and we're just looking and trying to get better in practice and over weekends."