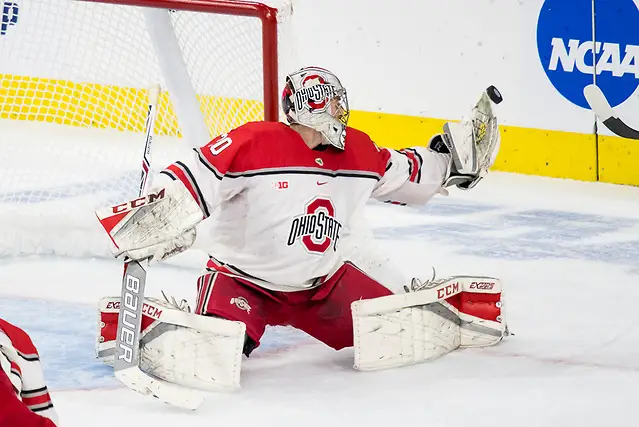 For No. 1 Ohio State and goaltender Sean Romeo, the sunshine in Arizona last weekend was representative of a positive season last year and the potential to do even better this year.
The team is coming off its second Frozen Four berth in program history, and the Buckeyes return most of the pieces from the squad that lost a close game to eventual champion Minnesota Duluth.
And Romeo, a senior goaltender from Cary, N.C., is coming off of a breakout season his first year on campus after transferring from Maine.
Romeo started the season opener against Arizona State and had 24 saves in the Buckeyes' 3-2 win. The team completed the sweep the next night with Tommy Nappier in net.
"It's always good to be alone with the guys and kind of just get away from everything and focus on hockey," Romeo said of the early-season road trip to the Grand Canyon State. "Going to Arizona, too, great weather and kind of just a great place to start the year off, so I think it was good for us.
"First game of the year, you always have some rust to shake off, some things to work out. I thought for the most part our team played well. We definitely battled hard and anytime you get two wins in a weekend, you can't be too upset."
If Romeo is able to shake off said rust and replicate his performances from last season, the Buckeyes should be in good shape. His first season in a scarlet and grey sweater, he appeared in 37 games and amassed a 22-10-5 record with a 2.06 GAA and a .927 save percentage.
He was 2018 Second Team All-Big Ten, a Mike Richter Award semifinalist and the most outstanding player at the NCAA Midwest Regional. However, as the player himself noted, the loss to Duluth coupled with Notre Dame winning the Big Ten regular-season and tournament titles means that Ohio State ended last season without a trophy.
"From the outside, people would say we had a good year, [and] I think we were picked fifth at the start of the year in the Big Ten, so yeah, we exceeded our expectations from an outside (perspective)," he said. "But we came up short of our goal and I don't think you're ever happy with the year unless you win so from that perspective, we have a lot to improve upon this year."
The Buckeyes gave up a stingy 2.07 goals per game last season. Head coach Steve Rohlik likes to preach five-man defense and his goaltender said that when that plan comes to fruition, it's a beautiful sight from the net.
"I love it — it makes my life 10 times easier," Romeo said. "It's just all about guys playing connected, you don't have guys off doing their own thing. You've got forwards and defensemen blocking shots everywhere. I think when everyone buys into playing defense, it leads to more offense and it helps us have more success."
Romeo started his career at Maine, where he appeared in 23 games as a freshman. Time in net was much harder to come by his sophomore year and near the midpoint of the season, he contemplated transferring.
"Things didn't really work out sophomore year, so I knew I had to find a new home and around Christmastime, I figured things weren't going to get better there so I had to look elsewhere," he said. "I'm lucky something was open, and I found such a great spot at Ohio State."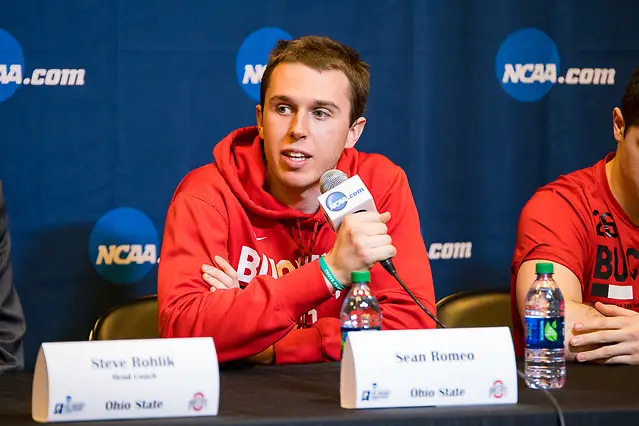 Transferring meant that Romeo had to take a redshirt season during the 2016-17 campaign. Put simply, it wasn't easy.
"It's never fun not playing in a game," he said. "You're on the team but you're not really part of the team — it's kind of a weird feeling. The guys made it as good as it could have been, they were really supportive and very positive with me. Just saying 'next year's your year, just get whatever you can out of this year,' and I really tried to do that every day and support them and not get in the way of what they were trying to do that year, too."
Now, despite this being only his second year on campus, Romeo is one of the senior leaders this season for the Buckeyes.
"As a goalie, you always want to be a leader and kind of take control whenever you can," Romeo said. "Having more experience and playing in those big games, you kind of get more confidence and a little more voice because you've got guys coming in that weren't here last year that kind of look up to the older guys."
The Buckeyes were predicted to win the Big Ten this year, and when Minnesota Duluth stumbled against Minnesota to start this season, they jumped to the top of the polls.
Lofty expectations from other coaches and media, however, don't hold a candle to what the Buckeyes expect from themselves.
"We've heard a lot of preseason rankings and stuff like that, but I think at the end of the day we'll have the highest expectations out of anyone," Romeo said. "The guys in the room expect more than anyone else. There's definitely pressure, but it's nothing that we can't handle.
"We have a lot of skill in our locker room and when our team buys in and everyone plays the right way, it's scary how good we can be."