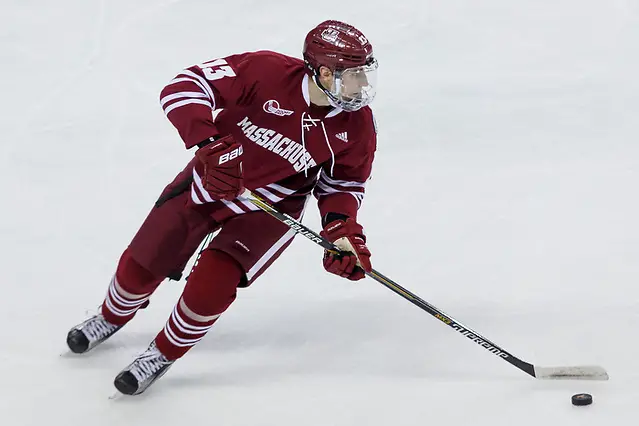 If you're a fan of the Massachusetts Minutemen, we don't blame you if you feel like you've ridden a roller coaster over the last decade-plus of hockey.
There were some lean years in the early days of the Don 'Toot' Cahoon era, followed by what most believe was the glory days of the program.
But after Cahoon left, it certainly felt like the roller coaster was at the bottom and the amount of cranking needed to get that car back to the top seemed unachievable.
In Year 3 of his tenure, though, Greg Carvel, seems to be tugging that roller coaster cars back towards the top.
The Minutemen return one of the best sophomore classes in the country led by two defensemen – Cale Makar and Mario Ferraro. Makar is a scorer and offensive threat and Ferraro is the steadying force on the back end gives UMass a solid one-two punch.
Add up front plenty of young talent, not just sophomores but freshmen alike, and this UMass team becomes a legitimate threat both in Hockey East and nationally.
"[The sophomores] are the backbone of our team," said Carvel. "Last year, our five leading scorers were five freshmen and a lot of the time, our first power-play [unit] was five freshmen on the ice.
"That class, not only do you have the high-end guys like Makar and Ferraro, but you have the depth. These are all kids who are on our top two lines. Right now, our top two [forward] lines are all sophomores and a grad transfer [Jacob Pritchard from St. Lawrence].
"That class is really what's driving the program right now. We're 19 freshmen and sophomores right now. But we don't feel young because that sophomore class played such important roles last year, so they feel like juniors and seniors instead of sophomores."
Possibly the biggest place the sophomore class will play its role is on special teams, in particular the power play. Last year, the UMass power play finished the year ranked 51st out of 60 with the man advantage, scoring just 15.2 percent of the time.
Last weekend, in a two-game sweep of Rensselaer, UMass went 4-for-10 with the man advantage, all four goals coming in Friday's 6-1 win. But even on Saturday, when the team went 0-for-3, Carvel was pleased with the ability to control the play and move the puck with the extra man.
"I liked that our special teams were effective," said Carvel, whose penalty killing unit also killed 10 of 12 penalties on the weekend. "We felt that last year we were a strong 5-on-5 team, but we lost a lot of games because of special teams. We lost special teams battles almost every night.
"So getting better on the power play and penalty kill was a real focus through the summer and the first weeks of practice."
So what makes good special teams, and in particular, a good power play? Consistency stands out to Carvel.
"As our team is growing and we're bringing new kids in here, we feel like we have more guys to choose from who are capable of playing [special teams]," Carvel said. "Last year, we basically had one [power-play] unit and the second one was a mismatch of players.
"[This year] we think we have two good units. It's about getting reps with the same guys and a mindset. We have a different mindset that we need to get pucks to the net and how important it is to retrieve pucks."
Carvel said that last year, still feeling there was a lot of growth for the program to do, there was a significant need to focus on the 5-on-5 play. With that a place that is satisfactory, now the focus can switch to special teams and working harder on that day in and day out.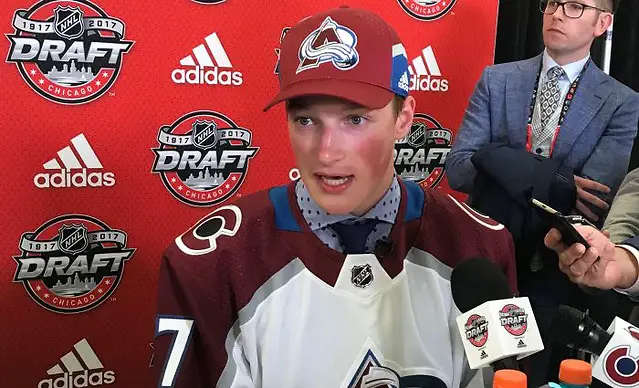 Another area that should feel different this season for the Minutemen is goaltending. With sophomore Matt Murray returning, having earned 23 of the 39 decisions a year ago posting a 9-12-2 record with a 2.70 GAA and a .911 save percentage, Carvel also wanted to add a goaltender who could step into an immediate role and potentially have impact.
Enter 19-year-old Fille Lindberg.
A native of Finland, a goaltending factory that has produced netminders like Tuukka Rask, Antti Niemi and Niklas Backstrom, among many others, Carvel was lucky to work the network of associate head coach Ben Barr.
Barr attained footage of Lindberg playing a season ago for TUTO Hockey U20 team in the Jr. A SM-Liiga. Never seeing him play in person, Carvel and his staff extended the invitation to join the team.
Since that time, Lindberg has participated in Finland's national under-20 team and played in this past summer's Five Nations tournament. With that, there's a good chance he'll be playing for Team Finland during this winter's World Junior tournament in British Columbia.
"The nice thing about having Ben Barr and Jared [DeMichiel] on your staff, Ben has some nice connections over in Europe, recruiting kids there before; he had people recommend Fille," said Carvel. "We watched film on him, and we were a little bit desperate because we needed a goaltender. It was just a perfect marriage.
"Things happened quickly. We were very fortunate, because beyond his goaltending abilities, he's a first-rate kid. He's a tremendous addition to our locker room."
With things all looking up for UMass, they'll get an almost immediate litmus test this weekend as they travel to Columbus to take on the No. 1 team in the nation, Ohio State.
Carvel is well aware that, as nice as it was to open with a sweep, this weekend could bring his team right back to the ground if they can't keep up with the elite company of the Buckeyes.
All he has to do is remember back to a series with Ohio State last season in Amherst.
"I remember last year when we hosted them for two games, and they beat us," Carvel said. "They were low-scoring, good hockey games. I came off the ice and the first person I saw was my athletic director, and I said, 'Those are the big boys. We just played the big boys.'
"I don't really think they lost much from last year's team. This is a great challenge in the second weekend of the year.
"We're going on the road, playing a really good team. It's the right challenge at the right time, and I think it will help us grow as a team."