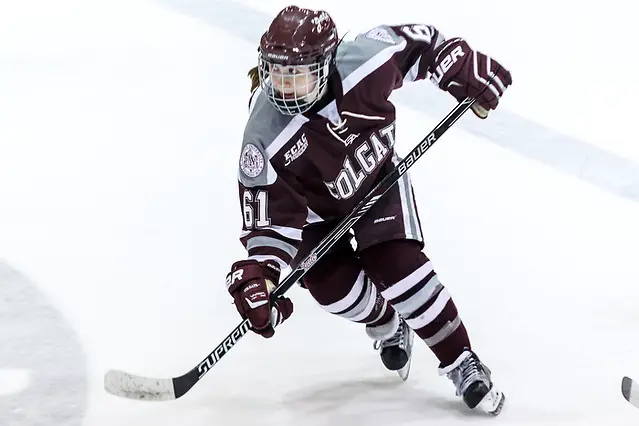 Nicole: We had another set of interesting outcomes this week, and though there are a few teams I still haven't figured out, there are others that I feel like I've got a better handle on.
Boston College looked more like the team I expected them to be this season, but they still needed overtime both days to eke out 2-1 wins over St. Lawrence. We talked last week about how surprised we were about their games against Minnesota Duluth, and now this weekend Wisconsin outshot the Bulldogs, 78-28, and never really let Minnesota Duluth in the game. The Bulldogs had 6-on-4 to end the second game and could barely enter the zone.
Of course, the Badgers lost Emily Clark to a lower body injury that they're saying will keep her out indefinitely. Even still, it's not often we can so easily compare the top teams with a common opponent. Just looking at these teams and how they stack up, based on these early games, I'd say it shakes down as Badgers, then Minnesota, then BC and UMD.
What do you take away from UMD's first three series and what they might tell us about how these teams compare?
Candace: I'm not sure I can put Boston College ahead of the Bulldogs when UMD's losses are to the top two teams in the country. I want to see how they do next weekend against Bemidji State before I'm willing to move the Eagles up to No. 5. I did drop UMD behind Ohio State in my ballot this week though, simply because the Buckeyes keep winning. Right now, to answer your question, I'd probably put the Badgers on top in the WCHA, then Minnesota, and then right now I'm not sure about the difference between Ohio State and Minnesota Duluth.
This weekend did seem to indicate that the Badgers are starting to come together as a full team. The offense has been there all season, but the defense, ironically, has struggled some in the first few games. Holding UMD to three goals on the weekend seems to indicate the Badgers will be a tough out over the year. I'm sure many of the players feel a sense of unfinished business, especially after falling to Colgate in that OT thriller last season in the Frozen Four.
As I said last week, I think the WCHA is going to be a bloodbath this year. Four teams could be in NCAA tournament, at least in terms of their strength of play early season, but it's awfully hard for that to happen because of the PairWise. Also, there will be a lot of Eastern teams in the mix. One team that seems to be struggling early is Colgate, which is only .500. I thought Colgate would start slowly because of some of the players they lost. I'm not sure what the split they had with Northeastern tells me about those two teams. Is Colgate struggling more than expected, or is Northeastern better than expected?
Nicole: I agree that I'm not entirely sure how UMD and Ohio State compare, and I should have been a bit clearer in saying that I think UMD and BC are about even in my early estimation. I meant to say that those two teams are next, but I'm not necessarily sure in what order. I was with you on Ohio State, but then they struggled to score against Mankato in game two and needed a goal in the final minute of OT to pull out the win. My guess is it was a letdown and will be an anomaly for the Buckeyes, but without more information, it's definitely got me wondering. Coach Nadine Muzerall said it was a bit of a wakeup call for her team, so I guess we have to wait and see how they respond.
I do think that Northeastern is better than most people gave them credit for. I definitely think Alina Muller was undervalued, but they've also been getting contributions from across their lineup. Sophomore Veronika Pettey had 10 goals all of last season and already has four through the first four games and is averaging 1.75 points per game. The team seems to have a lot of chemistry, and points are being spread out. They've also been successfully deploying a goalie platoon. There's not a lot missing from their game, and I think they could be more of a threat than even they thought. They split the series with Colgate, and I thought it was telling that after losing a close one in the first game, they won with authority in game two.
I have no idea what to think about Colgate. I thought it was odd they split with Penn State, especially as the Nittany Lions had a short bench due to some suspensions. Then Penn State lost and tied Merrimack and needed a late goal on Saturday to beat Union. That Colgate struggled against this team has me absolutely baffled. And figuring out what the heck is happening in Happy Valley is even more head-scratching.
The other big surprise this weekend was Rensselaer beating Robert Morris. It was a 1-0 victory that it sounds like Lovisa Selander stole for the Engineers, but what do you make of that win?
Candace: Honestly, I was figuring that after losing Brittany Howard and Elijah Milne-Price, this would be a down year for the Colonials, and a loss like that isn't too terribly surprising. It's going to take a little while for the Colonials to find consistency when they lose their top scorer and their starting goaltender. Jaycee Gebhard is producing still, but the offense falls off pretty sharply after that. Robert Morris has been shutout twice in six games, and in a third scored two, while in the other three scored three, but one of those was a loss, though it was against Clarkson.
The loss to Rensselaer will kill Robert Morris in the PairWise, so their only way into the NCAA tournament right now is to win the CHA. Luckily, a hot weekend can make that happen, and since the league got an autobid, its seemed more often than not the team that wins the regular season does not win the CHA tournament and the autobid. I think all the CHA teams are probably focused on working out the kinks and then getting hot come February. Rensselaer's only win so far this season was the one over the weekend against Robert Morris, and that includes a game against new D-I team Holy Cross, which struggled mightily in its first weekend out in Hockey East.
This season really isn't starting the way I expected it to at all, and it's not just Colgate. A lot of teams have shown inconsistency early. In the CHA though, Mercyhurst got off to a hot start by sweeping Syracuse over the weekend. What did you make of that series?
Nicole: It was one of the sloppier series we've seen recently, and while the Lakers get the two wins, I can't imagine coach Mike Sisti is happy with how his team looked.
There were 17 penalties in the second game, and Mercyhurst had 11 power-play opportunities. Syracuse has to play a cleaner game, period. If they're going to surprise opponents and steal a few games, they can't be playing down a skater for more than an entire period. And while the lack of discipline from the Orange is bad, so is Mercyhurst going 0-for-11 on the power play. Even with all that time on the penalty kill, Syracuse outshot Mercyhurst. If the Lakers want to return to the NCAA tournament, they need to find a way to make their offense more potent and threatening. The win on Saturday was by the narrowest of margins and easily could have gone the other way.
It's still likely Mercyhurst's conference to lose, but at this point it seems like the conference autobid is the only way into the tournament and teams like Syracuse are showing that stealing a single game come March might not be all that out of reach.
We talked BC, but I was impressed by the showing from St. Lawrence. Coaches talk about complete games, and you can bet the Saints will be thinking about what they can do to close out tight games. It's still early in the season, so there's room for growth there, but they hung with a tough team all weekend.
Elsewhere in Hockey East, Merrimack tied BU and New Hampshire continues to show that they're not a team to overlook this season. What did you see from that slate of games?
Candace: The only sure thing I can take away is that Boston University is still not the team it was when Marie-Philip Poulin reigned supreme for the Terriers. It would be good for BC and for Northeastern to have another in-conference team to push them. That might turn out to be Providence, but I need to see more from the Friars before I'm willing to say anything definitive. The Terriers were outshot, 29-27, and were on the short end of the stick with power-play chances, only getting one while giving up four, which is not a path to success in the future.
The Terriers held a late lead in the third period, but gave up a goal with under three minutes left in the game, as Katelyn Rae tied it. Merrimack outplayed the Terriers in the third, and outshot them, 10-7, so it's not like the Warriors just got a lucky bounce. The overtime was pretty evenly played. Merrimack will be a tough opponent this year, and I think the bottom of Hockey East, sans Holy Cross, will be very competitive for the final playoff spot.
If BU isn't possibly the challenger it was, Maine is off to a quick start and is in position to take up that spot. The Black Bears are 4-0. We can't learn too much from their whitewash of Sacred Heart, but they did sweep Quinnipiac the weekend before.
Speaking of Sacred Heart, those two crushing losses made me think more about the NEWHA. Sacred Heart won the NEWHA last year, beating Holy Cross and St. Anselm en route. However, the Pioneers lost two 8-0 decisions to Maine, after the prior work beating conference opponent Post, 6-0 and 7-1. Last weekend, Franklin Pierce beat Post, 9-0 and 5-0. With Long Island University slated to join the conference, the NEWHA can qualify for an autobid, but I don't think personally its in the interests of those teams, and it certainly isn't in the interests of the other teams fighting for the tournament. Those teams will kill the PairWise for any team playing them, so there's no incentive to play them. It won't do anything for them competitively either. Sacred Heart played one series against Brown last year, getting a split. Prior to the series with Brown, they hadn't played a D-I series since getting crushed by Yale a few years ago.
At least the Pioneers have scheduled D-I teams. None of the other conference teams have, and I have to wonder how they will do given some of those goal disparities. Do you have any more thoughts on the NEWHA and trying for a conference autobid?
Nicole: I understand the argument that any hockey is good hockey and this means more scholarships, but I'm not sold. If nothing else, I don't love the optics of numerous blowouts for women's hockey as a whole. Some folks have said that more programs and the autobid will convince other schools to add women's hockey, but I'm not necessarily that optimistic. I don't see how anyone looks at the blowout scores and think positive thoughts. Getting people to buy in on women's hockey has always been a fight, and we continue to see folks calling for it to be pulled from the Olympics every time there are too many lopsided games. We know what the prevailing attitude is about women's hockey. Signing up for all these blowouts feels like an unnecessary feeding of those trolls and their perceptions.
Though we continue to see the growth of girls youth hockey enrollment numbers, we're not at a point right now where the pool of players is deep enough to competitively fill all the rosters — D-I, D-II or D-III — that we have. It may be a chicken or the egg argument, but I'd rather see the advancement of the programs already in existence before spreading that pool even thinner. There's an argument that more schools means more exposure and therefore more youth players, but since all these schools are grouped in the Northeast, that point holds less water with me.
I've said I'm skeptical about expansion, but it may be inevitable and if that's the case, I'd like to see more schools and programs in under-represented areas. If the NEWHA and the autobid mean we might see schools in Colorado or Arizona or Michigan look into starting a program with an eye toward doing what the NEWHA schools have done, then the growing pains are obviously worth it. Adding more schools in an area already saturated with programs doesn't leave me feeling like there are greater or better opportunities for women's hockey players.
I'm being fairly pessimistic about the whole thing. What are your thoughts on the idea of expansion when we're in the 20th year of women's hockey as a sanctioned NCAA sport?
Candace: That's a loaded question in some ways, but I tend to agree with you. What I find interesting is how some of these schools are approaching hockey in the men's game. Post is a D-II independent, and Saint Michael's, St. Anselm, and Franklin Pierce are all D-II in the Northeast-10. Long Island University Brooklyn is the school adding a D-I women's team, but they have not decided to do so for men's hockey in any division. LIU Post and LIU Brooklyn can obviously play as rivals, but the rest of the geography is pretty spread out.
Turn to Sacred Heart. The Pioneers do have a D-I men's team that competes in Atlantic Hockey. Three other D-I schools from that conference have women's teams in the CHA, Holy Cross is in Hockey East, and Niagara killed its women's program a few years ago. When I look at places to grow the game, I always look to the schools that currently have men's teams, because let's face it: hockey is low on the list of priorities for most schools. I can only think of a few schools, like Denver, Minnesota Duluth, Colorado College, North Dakota, Michigan Tech, and Boston University where hockey is THE sport on campus.
I always think some of these schools should start women's programs, but you've got two schools in Niagara and North Dakota that compete in men's D-I hockey that have killed their programs. I've always felt that schools like Michigan and Michigan State should have D-I women's hockey. The long-rumored roadblock for Michigan was men's coach Red Berenson, but nothing has happened there since he retired, so perhaps there are more institutional issues. However, in some ways it's good that Michigan and Michigan State don't have women's teams, because then we'd have the women's Big Ten, and what would THAT do to the structure of the game?
Look at some of the big schools that don't have D-I women's programs and never have: Denver, CC, Michigan, Michigan State, Notre Dame, Michigan Tech, Western Michigan, Miami, and others. Of the current WCHA teams, only two have women's teams. Two of the 11 schools fielding teams in Hockey East don't have a women's team. Six of the 11 teams in Atlantic Hockey don't field a women's team. There are built-in rivalries at a lot of these schools that should be tapped for women's hockey and aren't. I think expansion just for expansion's sake is not a good thing. It needs to be approached with a long-term plan to sustain its viability.
Getting back to the NEWHA, I just don't feel the institutional support is there. We've all seen that the transition to D-I can be rocky. Holy Cross struggled in its first two Hockey East games. RIT, after a couple of successful seasons, has not been able to compete with the upper-echelon CHA teams. On top of that, even having a successful team, like North Dakota, doesn't ensure the viability of the program with the powers that be at the school, so I feel like there are a lot of uncertainties.
I also agree with you regarding the blowout part. Unless an administration is fully on board and knows the difficulties involved, I could see an administration see a lot of blowouts, and then the big line item in the budget, and wonder if it's worth spending on.
We've got some pretty interesting games on tap this weekend. We'll find out more about new No. 10 Maine when the Black Bears face No. 9 Northeastern, and we'll also learn more about No. 4 Ohio State when they battle No. 3 Minnesota. The Buckeyes went 3-0-1 against the Gophers last year, so I'd imagine Minnesota is itching for payback.
We also have an interesting series on tap in your neck of the woods as Wisconsin hosts Princeton. The Badgers don't schedule too many Eastern teams, and it's nice to see it happen when it does. What is your take on the weekend?
Nicole: We've seen a lot more cross-country scheduling overall, which is nice. The Badgers have Syracuse, Mercyhurst, Harvard, and Princeton this year. Minnesota is also playing Mercyhurst and is heading to the Windjammer Classic, and obviously we've talked about the UMD/BC series.
It'll be a tough series for Princeton if for no other reason than it's their very first of the year, while Wisconsin has been playing for three weeks already and looked like they really settled in last weekend against UMD. It's Princeton's second season under coach Cara Morey, and I would think everyone will just feel a bit more settled, but there's nothing like heading across the country to one of the toughest and loudest arenas to play in to kick off your year. Last weekend, the Badgers won their 100th game at LaBahn, which opened in 2012. Wisconsin has a 33-game unbeaten streak at home as well.
The Badgers lost Emily Clark to injury in Friday's game against Minnesota Duluth, and she's listed as out indefinitely with a lower body injury. Brette Pettet stepped up to the top line and looked good for Wisconsin, which ran four lines for much of the weekend. That's why they're a tough out for most opponents. Maddie Posick played her first game for the Badgers, but was second on the team with four shots. Annie Pankowski moved to center with Clark out and looked really good on Sunday. She was all over the ice, and there was a play where she took three straight shots — she gathered her own rebounds, reset, and put the puck back on net.
Not only is it a big test for both Ohio State and Minnesota, but as I mentioned briefly earlier, Ohio State needed overtime to beat Mankato. How the Buckeyes respond and handle this week's challenge of the Gophers is going to tell us a lot about the makeup of the team, I think. The Buckeyes, to some extent, had the underdog label and took people by surprise last season, but that's simply not the case now. I thought the team was nice and plucky last season, and they took on a mentality about proving people wrong. Now, they've got much more of a target. I like what we've seen from them in terms of handling their newfound success.
I haven't had a chance to watch Maine play yet, so I'm also excited for that series with Northeastern. The Huskies have been my favorite story so far. Their skating and shooting is so pretty, it's made for the highlight reel.
One team we haven't talked about much is St. Cloud State, but the Huskies have two of the top scorers in the country right now. Hallie Theododopoulous is tied for first in the country with five goals, and Julia Tylke leads the nation with nine assists. It's super early to be looking at stats, but the Huskies went from 35th in the country, scoring 1.58 goals per game last season, to thus far averaging 2.83 goals per game, good for 12th in the nation. They are 2-4 through their first six games and are still giving up more goals than they score, but the massive increase in output is definitely worth noting.
Are there any other teams surprising you through these first few weeks?
Candace: Yes, but for the most part it has been teams being a surprise for the wrong reasons. For instance, with the talent that Boston College has at both offense and defense, I expected more from the Eagles early. They didn't look by any means to be a team to be feared when they played St. Lawrence. They also got swept by Duluth, which I just don't think should happen.
We've already discussed Robert Morris, but I think they are on the wrong side of impression as well. This is a team that is the defending CHA regular season champion, but they are 2-4 to start, and one of their wins was in OT. Granted they have played Clarkson and St. Lawrence, but I would think you'd have more solid play.
Colgate is also a middling 3-3 so far. Julia Vandyk has not played well in net, giving up over three goals per game and only having a .910 save percentage. Liz Auby got the call in one of the Ohio State games and posted a win with a .950 save percentage, and I have to wonder if she's been injured given that it's the only game she's played so far. Yes, Colgate lost seven seniors from last year's team, including several top scorers such as Breanne Wilson-Bennett, who was second on the team in scoring. Maybe the leadership suffered a little, but the Raiders still have seven seniors in the lineup, including top scorers Bailey Larson and Shae Labbe. I think we expected more from the Raiders early.
As far as pleasant surprises, I look to Huskies. In addition to Northeastern, I have been impressed by Connecticut, which has started 4-1, the only loss being on the road to New Hampshire. Connecticut hasn't exactly played the toughest schedule, but in previous years a two-game set against St. Cloud is exactly the type that would result in a tie. That sweep bodes good things for the Huskies.