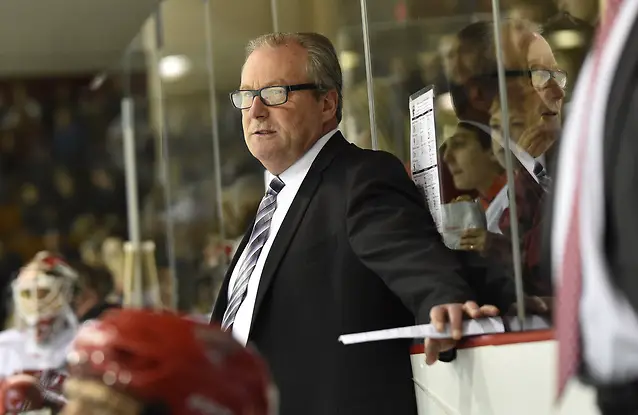 If St. Lawrence wants a blueprint for the team's rebuild under Mark Morris, the Saints got a good look this past weekend when they faced Maine.
Black Bears coach Red Gendron, who's in his sixth season guiding Maine's flagship program, appears to have team heading in the right direction after a good first season.
Then with players leaving for a multitude of reasons, Gendron had to quickly fill holes on his roster.
Sound familiar?
Morris, in his third year with the Saints, had a good season in his first year behind St. Lawrence's bench, finishing fourth in the ECAC. The team then had a roster turnover before and during the season and finished last in the conference.
The Black Bears didn't quite hit rock bottom in Gendron's second season, going from sixth in Hockey East in 2013-14 to ninth in 2014-15. Their third season, they finished 11th out of 12 teams. After another 11th-place finish in 2016-17, Maine climbed to sixth in Hockey East last season.
The coaches and media picked Maine to finish fifth this season.
Does Morris see Maine as a program providing a blueprint for his team's rebuild? In a roundabout way, yes.
"We are excited, [and] we have some good commits coming down the pipe," Morris said after Saturday's game. "But the fact of the matter is we have to make the players we have now better. That's our job as a coaching staff. We will continue to chip away at it. It's no fun being in this situation, but there's been a transition that's happened. There's a big hole and it's starting to surface now because we have (two) senior forwards and a senior goalie."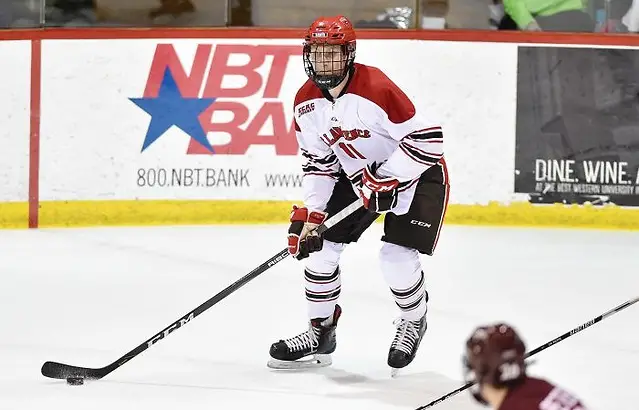 Shrewd recruiting moves will be the key to the Saints rebuild. It's what Gendron and his staff have done during their tenure by finding diamonds in the rough recruiting from leagues and regions that are maybe under-recruited by Division I programs.
Morris pointed out that while it's good to be excited by the freshmen or future incoming players like a Martin Pospíšil, who was drafted by Calgary in the fourth round of the NHL Draft this past summer and has two goals and six assists in four games with the USHL's Sioux City Musketeers, they are still young.
The results of this past weekend's series were what you would expect from a team that's on the rise versus a team full of underclassmen. The Black Bears won Friday night 3-1 while skating to a 4-1 win on Saturday night.
Gendron didn't want to speak for Morris on whether he saw similarities between St. Lawrence and some of his previous teams at Maine. What he did say was Morris knows what he's doing as a coach.
"I don't want to put myself in his shoes," Gendron said after Saturday's win. "What I do know is the coach on the other side has won over 300 games in both professional and college hockey. OK? He knows what he's doing. I think as you guys also saw, they played their tail off both nights. As they continue to recruit players they want to have in the program, I am sure they will have more success. I can also tell you that program had a lot of freshmen and sophomores in the lineup this weekend and I can tell you I've been in that place (also)."
While the Saints didn't pick up a victory up in Orono, Morris did see personal growth with some of his players over the weekend. With a lineup littered with freshmen and sophomores this season, developing as college hockey players will be one of the keys to this season.
At the same time as the underclassmen are learning on the job, the veterans need to play just like veterans.
"We aren't the most talented group, so we got to make sure we are in good position," Morris said. "We got continue to work on that to build this team. With this much youth, there's really no shortage of things to work on, so we will continue to chip away, but we need to get our upperclassmen to play like upperclassmen. I thought Arthur Brey did a good job in net, but we didn't have everybody going. I thought our kids grew tonight. Michael Schumacher played his first game tonight. He played really well for us. We learned something about his game on the back end."
What it boils down to is two programs with rich histories trying to get back into the national landscape to when they appeared in eight NCAA tournaments together. One is on its way, the other is laying the foundation, but it shouldn't be long before both teams are partying like it is 2007 – the last year both teams made the NCAA tournament in the same year.